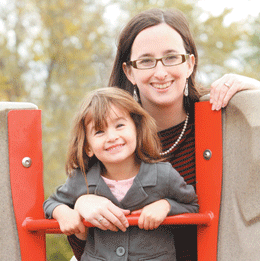 Editor's Note: December, 2012
I've received a lot of great advice over the years from people I've interviewed—mostly revolving around the sources of their inspiration and what led to their success in life—but there's really one piece that has always stood out.
It came from a highly successful area executive who said she wouldn't be where she is today without the understanding that life should be split into three priorities: your health, your family, and your career. And yes, it does always have to be in that order.
You see, without your health, you can't be the mother or the father you want to be. Your health is the No. 1 key to being able to care for your family to the best of your ability; and if they aren't cared for, the resulting distraction means you can't possibly be giving your job the kind of commitment it needs either.
I bet a lot of parents out there (and I'm one of them) will admit that they often put their family before their own health, and it's tempting; the priority lines get blurred as we feel pulled in all directions, forgetting that while we may not be coming down with flu symptoms, that doesn't necessarily mean we're well.
In many ways, that's what this special issue—our 2013 Health & Wellness Guide—is all about. It's to encourage our readers to embrace this time of year as an opportunity to focus on more than the words of a New Year's resolution and instead on the deeper meanings involved. Only by examining the "why" of your goals will you be able to focus on your overall well-being—both physically and mentally—and accomplish what you're after, no matter what it may be.
In this edition, you'll learn ways to make fitness more fun, such as making the commitment with a friend, which will only increase your chances of success (see "Shaping Up" on Page 12). You'll also find out, in "The Physical Truth" on Page 22, what physicians have to say about the importance of annual checkups and why each one has important benefits for both you and the doctor. And in "New Year, New You" on Page 18, local experts will help you embrace the all-important "me time" that's missing in too many people's lives.
So as we enter 2013, just remember one thing: It's OK to focus on yourself for once. Your family will thank you for it.
To Good Health,
Colleen Patrice Clark
Executive Editor
Published (and copyrighted) in Suburban Family Magazine, Volume 3, Issue 10 (December, 2012).
For more info on Suburban Family Magazine, click here.
For information about advertising in Suburban Family Magazine, click here.
To find out where to pick up your copy of Suburban Family Magazine, click here.