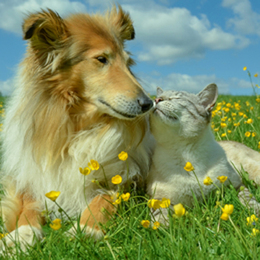 All About Pets
Tips from professionals about how to best provide for your furry friends.
Pets are an integral part of the family, and caring for their individual needs will lead to their happiness—and yours. So we tapped some local experts to get their advice and tips for feeding, grooming and training your pet.
What type of products are best for a healthy dog diet? What about cats?
"We always like to recommend to feed the animal in front of you. What might work well for one dog or cat won't always work well for another—which is why we rely on our highly trained staffs to help customers find the right fit for their particular animal's needs. In general though, we suggest diets that are certified by The Association of American Feed Control Officials and are made in facilities that are held to high standards, treats that are high quality and made from premium ingredients, and enrichment toys and chews to help with mental stimulation."
Lindsay Mutschler, CFO – Concord Pet Foods
What advice would you give to owners who are bringing their pet to a groomer for the first time?
"For first-time visitors, we like to have them in earlier in the morning where it's a little bit more of a relaxed atmosphere and that pertains to the high-anxiety dogs. We try to get them in and out as fast as possible before the main push of the day comes in. It could be a little bit too stimulating for a dog that has high anxiety."
Millie Santarpio, Owner – Millie's Jiggles & Wiggles
When is the best time to start training your puppy?
"At WonderDogs, we start puppies in class as early as nine weeks because we know that the critical period for early learning and socialization ends, according to the latest studies, at 12 weeks. Yes, pups can continue to learn and be socialized after that, but what they learn first, they learn best, so we start them as early as possible. The American Veterinary Society of Animal Behavior also recommends early puppy-training classes."
Barbara Kahn, Training Director – Wonderdogs Training and Activity Classes
"Training really should be started the minute somebody receives a dog. So if they're getting a puppy—and that puppy is between eight to 10 weeks old, they're getting it from the breeder—training can begin right then and there. Or, if you're rescuing a dog and that dog is 3, 4, 5 or 6 years old, my answer would be the same as that: get professional training in there sooner than later. You're going to start to build your relationship through obedience and training. You are building that bond … it's a way of communication. So when we ask our dogs to do certain things or certain tasks, it's a respect thing. …We want to really encourage that the first time that you get a puppy or a dog, that training really starts immediately."
Chris O'Prandy, Owner – CTO Dog Training
Published (and copyrighted) in Suburban Family Magazine, Volume 13, Issue 13.
For more info on Suburban Family Magazine, click here.
For information about advertising in Suburban Family Magazine, click here.
To find out where to pick up your copy of Suburban Family Magazine, click here.