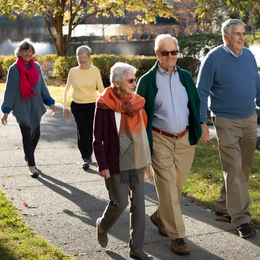 The Fun Starts Here
Renovations worth celebrating are in the works at The Evergreens.
On a warm summer afternoon, the brand-new game room at The Evergreens, a premier Acts Retirement-Life Community in Moorestown, is full of laughter and buzzing with activity. Residents greet each other with grins and friendly challenges to try out all the activities available in the new space. Outside, the sun is shining and the bocce court hosts a lively competition and more than a few curious spectators.
The game room is only the most recent addition to The Evergreens' transformative renovation process, which has brought new life and upgraded amenities to the beautiful and historic campus.
"The new renovations bring a new excitement to our campus," says Farryn Harte, Senior Manager of Sales and Marketing at The Evergreens. "When we are presenting our community to a prospective resident or family member, the ability to showcase the enhanced services and amenities of the project is a pleasure. This renovation will just add to the delight and gratification of living and working at The Evergreens for everyone."
The Evergreens has long been a thriving community of people making the most of an active retirement. Whether they are enjoying sports and games, engaging in community service, or tending to its active garden and resident honeybees, residents have the time to explore the activities they love thanks to a maintenance-free lifestyle and the promise of long-term security that comes with Acts Life Care®.
The scenic 32-acre community features expansive outdoor spaces, including a 9-hole putting green, maintenance-free gracious living options, and a wide array of superb amenities and activities enjoyed by the vibrant, engaged residents who live there. Alongside new changes, The Evergreens continues to offer the easy, worry-free lifestyle it has long been known for and Moorestown's location makes it easy to explore the best of Philadelphia, New York City and the New Jersey Shore.
"I keep pretty busy," says Dr. Elliott Coleman, a resident of The Evergreens and former cardiologist, who has been able to explore his lifelong enthusiasm for photography both on and off campus in his retirement. "There is a wealth of activity going on here. I have fun."
That spirit of sociability and dedication to celebrating the best of life is an ethos the design team sought to reflect in their renovations. While updates to the historic manor house, Matthews Hall, at the heart of campus have rolled out, more exciting changes are on the way. "The two-year project, which we expect to complete this year, includes a fully renovated clubhouse, lobby area and front entrance," says Executive Director, Tom Burke. "This renovation project—the most ambitious in our history—is part of a master plan that has been carefully developed with the next generation of retirees in mind."
Jim Petty, Senior Vice President for Strategy and Mission for Acts Communities says, "We've been very successful offering the best of today's healthy lifestyle while providing long-term peace of mind and security. And increasingly retirees that come to Acts are hungry to share their talents in service of the greater good, whether through advocating, volunteering, taking care of others or simply shifting their focus to something bigger than they are, that continues to provide real purpose, meaning and inspiration."
For Elliott and his friends and neighbors at The Evergreens, that translates to a retirement that offers more than relaxation, but also a way to explore passion and purpose, at a community built on loving kindness that continues to encompass what its residents want and need to live their best lives.
"We're getting better every day," says Petty.
The Evergreens, an Acts Retirement-Life Community
309 Bridgeboro Road | Moorestown
(888) 521-3972
AboutActs.com/SubFamilyMag
Published (and copyrighted) in Suburban Family Magazine, Volume 13, Issue 13.
For more info on Suburban Family Magazine, click here.
For information about advertising in Suburban Family Magazine, click here.
To find out where to pick up your copy of Suburban Family Magazine, click here.