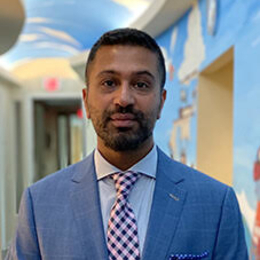 Putting Patients at Ease
The friendly and caring team at Growing Smiles Pediatric and Family Dentistry offers high-quality treatment in a warm and inviting atmosphere.
As the founder of a bustling practice with two locations, Dr. Sonny Sekhon isn't able to personally attend to every patient who walks through the doors of Growing Smiles Pediatric and Family Dentistry. That's why finding dentists, specialists and office employees who share his philosophy on care has been so critical to his business' success and its ability to craft a stellar reputation throughout the region.
"Our focus has been to cater to patients who have an underlying fear of the dentist or doctors in general," Dr. Sekhon says. "So the first thing I look for in staff, by far, is compassion—people who can put themselves in the patients' shoes and see things through their eyes. On top of that, our whole business mindset is there's never any pressure. Our goal is to simply diagnose and inform our patients what their treatment options are."
He understands that patients may fear the dentist because of a traumatic childhood memory, the sounds of the drill or a previous experience with an unfriendly professional. "We all carry the same types of reservations so we want to make sure we make our patients as comfortable as possible. The color choices on the walls, the music that we play, all of that plays into creating an atmosphere of comfort and allowing you to let your guard down," he says.
Originally drawn to pediatric dentistry during his residency when he formed an easy rapport with young patients, Dr. Sekhon now recommends parents bring their children in for a first visit by age 1. The main purpose is to give parents tips, such as keeping their babies away from sweets that can lead to an early addiction to sugar, and educating them about the ties that dental health has to overall health.
He also offers laser frenectomies to fix tongue ties in newborns, but Growing Smiles sees patients of all ages, all the way up to seniors in need of dentures. The staff includes an oral surgeon specializing in wisdom teeth removal and implants and an endodontist proficient in root canals, and other available services are periodontal therapy, custom mouthguards, crowns and bridges.
Growing Smiles has become a trusted name in dental care in South Jersey and Dr. Sekhon even has thoughts about expanding to a third location. "Our goal is to provide the highest quality of care and I'm grateful that our patients are able to receive that. We've been fortunate enough to have established a good reputation and we hope to continue to service our community for the foreseeable future."
Growing Smiles Pediatric and Family Dentistry
2140 Voorhees Town Center, Voorhees
(856) 245-8317
3107 Route 38, Suite 2, Mount Laurel
(609) 257-2693
MyGrowingSmile.com
Published (and copyrighted) in Suburban Family Magazine, Volume 13, Issue 10.
For more info on Suburban Family Magazine, click here.
For information about advertising in Suburban Family Magazine, click here.
To find out where to pick up your copy of Suburban Family Magazine, click here.