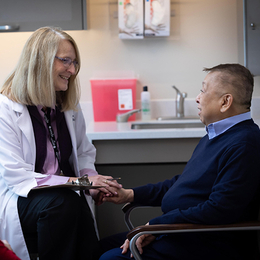 Sunny Days Ahead
For Cora and Ned Ortanez, the good life just keeps getting better.
Cora and Ned Ortanez are a magnetic couple. Their infectious smiles and easy laughs frequently put them at the center of social gatherings and activities. They instantly engage with the people around them. They are warm, curious and eager to make new friends, which they did almost as soon as they walked in the door at The Evergreens, a beautiful Acts Retirement-Life Community in historic Moorestown.
"We immediately felt at home here," says Ned. "Everyone we met, from our first visit on, was so welcoming. It was like we were already part of the community and had come home."
Cora and Ned were also struck by the lively energy of the scenic campus. No matter where they turned—from the dining room and lounges, to the fitness center, a putting green, the garden and along the verdant banks of the community's pond—activity was everywhere. The Evergreens was a lively place, with plenty of people keen to celebrate the good life.
"We were thrilled, and frankly a little surprised, by how vibrant the community was," adds Cora. "I don't know what we expected at a retirement community, but we found something so spirited here. There's something for everyone, depending on your interests and hobbies. We're flourishing!"
The commitment to healthy living, the profound sense of well-being, and the spirit of community and friendship are found throughout the campus. Jim Petty, senior vice president for strategy and mission for Acts Communities, is proud to add, "We've been very successful offering the best of today's healthy lifestyle while providing long-term peace of mind and security. But it's the communities themselves, the social networks built among residents, the relationships with staff, and the pervasive dedication to service and compassion that extends through every part of living here."
As a continuing care retirement community (CCRC), The Evergreens offers more than just maintenance-free living today, but also long-term comfort and security. With Acts Life Care, residents know they'll pay for future care in today's dollars should they ever need it.
"When we began investigating retirement communities, it was paramount we felt safe and cared for if we ever needed another level of care," adds Ned. "We really appreciate the quality of health care here. There's a gerontologist on staff—and we love the physician's assistant we see for routine care. No one knows what the future will bring. Living here, we feel secure in whatever is in front of us. I can't tell you how gratifying it is that we don't worry about tomorrow."
Moreover, The Evergreens is in the process of an exciting new renovation project that will feature both new construction and extensive upgrades to existing common areas, giving residents even more to celebrate.
"The two-year project, which we expect to complete this year, includes a fully renovated clubhouse, lobby area and front entrance," says The Evergreens executive director, Tom Burke. "The clubhouse will feature a new bistro, coffee shop, theater, wellness center, salon and rehabilitation space as well as an expanded fitness center and renovated restaurant, library and game room. This renovation project—the most ambitious in our history—is part of a master plan that has been carefully developed with the next generation of retirees in mind."
Current residents, like Ned and Cora, have enjoyed watching The Evergreens transform into an even better version of the community they love.
"The new renovations bring a new excitement to our campus," says Farryn Harte, senior director of sales and marketing at The Evergreens. "When we are presenting our community to a prospective resident or family member, the ability to showcase the enhanced services and amenities of the project is a pleasure. The Evergreens is a very warm and welcoming place. You can feel that as soon as you walk through the door. This renovation will just add to the delight and gratification of living and working at The Evergreens for everyone."
The Evergreens, an Acts Retirement-Life Community
309 Bridgeboro Road | Moorestown
(888) 521-3972
AboutActs.com/SubFamilyMag
Published (and copyrighted) in Suburban Family Magazine, Volume 13, Issue 10.
For more info on Suburban Family Magazine, click here.
For information about advertising in Suburban Family Magazine, click here.
To find out where to pick up your copy of Suburban Family Magazine, click here.