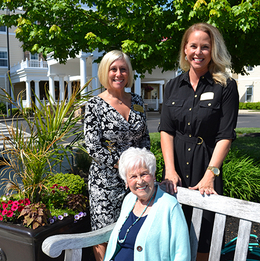 A Day in the Life: Executive Directors of Brightview Senior Living
Get to know the leaders ensuring that residents at all three Brightview communities feel right at home and part of a warm, vibrant community.
With three locations in South Jersey, Brightview Senior Living cares for hundreds of aging residents in a compassionate community while employing dedicated associates in an environment that feels just like home to all.
Much of the health and happiness of its residents is owed to the qualified people behind the scenes who strive every day to raise the bar on care for our aging family members. One of the many things each of the three South Jersey communities share is the leadership: At the helm are three executive directors who are committed to their careers and dedicated to ensuring that the residents at Brightview thrive in every way they can. In addition to caring for the residents, these executive directors set an example for all associates who work at Brightview to give the very best care possible to everyone calling the communities home.
Lavanda Clinkscales, Executive Director, Brightview Mount Laurel
Clinkscales, who has been with Brightview Senior living for 13 years, feels the most important part of her job includes standing side by side everyday with her team when needed and spending time with her residents just having a conversation. "I want to ensure I have the best possible relationship with my residents, associates and their families. I want everyone here living their best, most vibrant life."
Not only Clinkscales but also her entire management team are all very hands-on and will do whatever it takes to see to it that residents are safe, happy and well-adjusted in the Brightview community.
It's because of her grandmother that Clinkscales entered into the business of caring for the aging. "She was suffering from a terminal illness and I became part of her caregiver team. During this process, I knew that my purpose was to take care of the senior population."
Jennifer Steen, Executive Director, Brightview Greentree
Steen has been with Brightview for over four years and says that working here is amazing. "We have wonderful support from our home office in Baltimore and our regional team. We are always provided with the help we need and all the tools we need to care for our residents."
The most important part of Steen's job is being visible to the residents and associates, and keeping the lines of communication open. "It's rewarding to have a strong team of not only coworkers but friends, as well as being part of so many lives of the residents and their families." She loves hearing stories from families about how Brightview changed their loved ones' lives for the better.
Steen knew from a young age that she loved helping older people. "When it was time to look into options for college, my mom found gerontology as a major so I pursued my passion and I have been working in senior living since I graduated in 2002."

Tracy Gill, Executive Director, Brightview Woodbury Lake
Gill has been with Brightview for more than four years and truly feels valued and supported as a director. She says Brightview always offers a great deal of support, especially through very challenging times, such as in 2020, and continues to seek out ways to further enhance the support and resources available for associates and residents.
She strongly believes in a culture that puts residents first, ensuring associates are well-trained on Brightview's standards and expectations. "It's rewarding to know that I make a difference in the lives of our residents here at Woodbury Lake. Our directors and associates alike are our extended family for our residents." Gill believes that both actions and words make an impact. For example, she says knowing each of the residents by name, knowing their life stories, and their likes and dislikes makes them feel loved, valued and appreciated.
Something Gill always encourages is for potential families or residents to spend time in our community, walk through the halls, and sit through a meal or an activity program. She feels it won't be long before they get a vibe that sets Brightview apart from other communities.
Brightview Senior Living
Mount Laurel: 400 Fernbrooke Lane | (856) 457-3822
Marlton: 170 Greentree Road | (856) 528-0818
Woodbury: 752 Cooper Street | (856) 324-3447
BrightviewSeniorLiving.com
Published (and copyrighted) in Suburban Family Magazine, Volume 13, Issue 10.
For more info on Suburban Family Magazine, click here.
For information about advertising in Suburban Family Magazine, click here.
To find out where to pick up your copy of Suburban Family Magazine, click here.