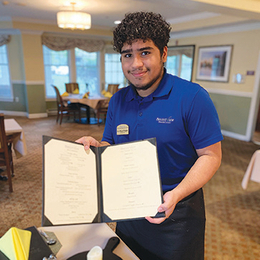 Who's Who at Brightview Senior Living
Meet the folks at this Mount Laurel community who take care of our aging loved ones and love it.
Suburban Family spoke with members of the Brightview Senior Living team in Mount Laurel and here's what they had to say about their job and the residents they care for each and every day.
Lavanda Clinkscales
"I am in this field because of my grandmother. She was suffering from a terminal illness and I became part of her caregiver team," says Lavanda Clinkscales, executive director at Brightview Senior Living in Mount Laurel. "It was during this process with my grandmother that I knew my purpose was taking care of the senior population."
Clinkscales says the 13 years she's spent at Brightview have been amazing and it has provided her the opportunity to connect with its residents on a deeper level.
"The most important part of my job is showing up for work every day, standing side by side with my team when needed, and spending time with my residents just having a conversation. I want to ensure I have the best possible relationship with my residents, associates and familes because it takes all of us to help our residents live their most vibrant life."
Clinkscales and her entire management team are hands-on and will do whatever it takes to provide a safe, happy adjustment into their community not only for residents but for their families too.
Giovanni Rojas Vargas
A smile is on the menu at Brightview Senior Living in Mount Laurel as senior dining server Giovanni Rojas Vargas can attest. Gio, as he is called by most of the residents, has worked at Brightview's Mount Laurel community for approximately two years. He found his job through is mom who worked for Brightview for over 15 years.
"I provide residents with an outstanding dining experience three times a day. I ensure that they are staying hydrated and have and enjoyable meal," says Vargas.
Gio is often referred to as the best part of the residents' day, especially when he brings them their desserts. "We are like one big family here," he says.
Gio recalls that one of the best experiences he's had at Brightview was being recognized as the Associate of the Quarter. "I was told it because of the positive impact I have had on the community. It is funny how far kindness will get you in this world—a little thing like a smile can make a big difference in someone's day.
"Knowing that you make a difference it what I am most proud of. I know this was the right job for me when our resident, Miss Bobby Jean greeted me with open arms and was the first to learn my entire name," Vargas says. "She took an interest in my schooling, always asking about my classes and grades. Last February I asked her to be my Valentine and brought in her favorite flowers and chocolates. She has repaid me with lots of special notes of encouragement. I consider her my family … like I said, we are one big family."
Janet Gonzales
Janet Gonzales is a senior medication administer and was one of the very first associates hired at Brightview 24 years ago. "My primary job is to pass out medications to our residents in our dementia care neighborhood, but my job entails much more than that. Every day I get to learn from our residents," she says. "They are the joy that makes me show up every day. I get back from them so much more than I give. I am proud to say that I work with a fantastic team of associates that are just as dedicated as I am."
Gonzales says Brightview routinely shows that they not only care so deeply for its residents, but for its associates as well.
"During the pandemic, when some of us had spouses that lost their jobs, Brightview set up a food pantry at the community to help associates feed their own families. I don't know of any other company that went above and beyond like Brightview did."
Gonzales adds that her favorite part of her job is the connection she has with residents. Her days are filled with moments of joy that she gets to experience with them.
"Even though I work in the dementia care neighborhood, it is so rewarding when a resident recognizes me and calls me by name. I love when Helen introduces me to her family and says, 'This is Janet, she helps me with my medicine.'"
Brightview Senior Living
400 Fern Brook Lane
Mount Laurel
(856) 457-3822
BrightviewSeniorLiving.com
Published (and copyrighted) in Suburban Family Magazine, Volume 13, Issue 5.
For more info on Suburban Family Magazine, click here.
For information about advertising in Suburban Family Magazine, click here.
To find out where to pick up your copy of Suburban Family Magazine, click here.