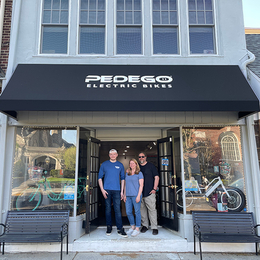 An Unforgettable Journey
One fateful ride on an electric bike while on vacation helped this local family create lasting memories and a new family business.
Wendy Reilley remembers the moment that changed her family's lives forever. Even if she didn't realize it at the time.
While on vacation in Bar Harbor, Maine with her husband Patrick and their three sons, Wendy came across a Pedego bike shop and immediately became intrigued. Pedego makes electronic bikes, or e-bikes, that have an integrated electronic motor that assists with pedaling. A fairly new concept at the time, Wendy immediately saw the possible benefit of an electric bike for the family.
"Pedal assist provides some help while pedaling, but they also have a throttle so you can just cruise," she told her husband back at the hotel.
After suffering a back injury at work years before, Patrick dealt with chronic pain which severely affected his ability to walk and limited his physical activities.
"Wendy and the boys would go hiking and exploring the island and climbed to the top of Cadillac Mountain. I stayed back at the hotel and worked on my laptop," explains Patrick.
The bikes allowed Patrick to pedal as much as he was able and with the pedal assist and throttle, Patrick and Wendy were able to keep up with their three teenage boys. It was not just a quick ride around the block. The family rode the island's miles of bike path together all afternoon.
"It was the best four hours of the vacation," Wendy exclaims. "I was so sad to return those bikes at the end of the rental."
"It was joyful," says Patrick. "I could not imagine riding a regular bike with my back issues, but an electric bike gave me the confidence to try. And it was the most fun I had had in a long time. We realized immediately that we needed to tell everyone about how great these Pedego bikes were. It really got our wheels turning."
"We contacted Pedego about opening a store but it was not the right time," says Wendy. Patrick had broken his foot, had surgery and then rebroke the same foot which put their Pedego plans on hold.
A few years later, as Wendy and Patrick got ready to mark their 28th wedding anniversary, they decided to celebrate in style and so they made their way to Spring Lake, the only Pedego store in New Jersey at the time, to purchase their very own bikes. It wasn't long before everyone in the family was enjoying taking a ride around the neighborhood.
One day as Patrick attempted to call the Spring Lake store to ask a question about the bikes, he realized he had accidentally dialed the company's headquarters. He found himself on the phone with the same woman he and Wendy had spoken with a few years earlier when inquiring about opening up their own store. What happened next was pure fate.
"Cynthia said she was just talking about us because an opportunity opened up for a Pedego store in Haddonfield," says Wendy. "She asked if we would be interested. We told her, 'Yes, we would!'"
Now, two years later, the couple are the proud owners of both Pedego Haddonfield and Pedego Princeton. Their three sons have also joined the business, working in different capacities and led by their eldest who manages the Haddonfield store.
For that shared experience on vacation to come full circle is something Wendy doesn't take for granted and to have the business truly be a family affair is extremely rewarding.
"Going to work is a pleasure. We get to introduce people to these wonderful bikes every day. Maybe they are looking for ecofriendly transportation. Or perhaps they want to get more exercise or need a bike to ride to work. We especially enjoy getting people who haven't ridden a bike for a long time back on one. Maybe a mobility issue or some other health concern has prevented them from getting out and enjoying the outdoors. Our favorite part is when they come back and tell us how their Pedego has changed their lives. There is nothing like sharing the joy of riding a Pedego."
Reasons Why an Electric Bike is Right For You
Why do people want electric bikes?
Electric bikes are so much fun, you don't want your ride to end. Studies have shown that you will go farther on an electric bike and ride more often. Our largest battery can get up to an 80 mile ride on a full charge. The bike speed also maxes out at 20 mph, so it is still considered a bicycle and does not have to be registered as a motor vehicle.
Who exactly is in the market for these kind of bikes?
Everyone! We have a lot of couples looking for activities they both can enjoy together. We have an employee who was unable to drive due to a medical condition. He bought a Pedego and it changed his life. He loved it so much, he asked for a job and is the best advocate for our product. Several of our customers use Pedegos to get to work.
Are there still health benefits?
Yes, it's like a regular bike, only better! You can pedal as much as you want or not at all. People get outside and get the benefits of fresh air and exercise which certainly helps with mental and physical health.
Why is it worth the investment?
Unlike other e-bikes, we have a brick and mortar store and a 5 year warranty on most of our bikes. You can bring your bikes to us for service and repairs with our onsite mechanic. We are also here for general questions and offer scheduled group rides and tours. We are all about fun and enjoying life.
Pedego Haddonfield
31 Kings Highway E.
Haddonfield
(856) 651-7469
PedegoHaddonfield.com
Published (and copyrighted) in Suburban Family Magazine, Volume 13, Issue 5.
For more info on Suburban Family Magazine, click here.
For information about advertising in Suburban Family Magazine, click here.
To find out where to pick up your copy of Suburban Family Magazine, click here.