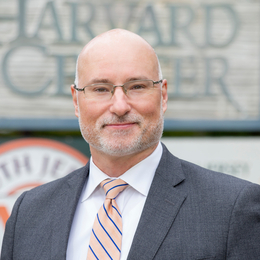 Going Above and Beyond to Enrich the Lives for Complex Neurology Patients
South Jersey MS Center at Bromley Neurology offers cutting-edge treatment and a personalized approach.
The South Jersey Multiple Sclerosis Center at Bromley Neurology brings expert, personalized care to South Jersey not only for patients with multiple sclerosis but also for those with a wide range of neurological disorders. Since Dr. Steven Bromley founded the South Jersey MS Center in 2015, it has been his mission to help people with complex neurological problems who can't find help elsewhere, and to enrich the lives of those dealing with these debilitating aliments that leave them struggling to function every day.
With locations in Audubon and Linwood, Dr. Bromley and his team of clinicians have grown into the largest private practice for neurology in South Jersey and have a well-earned reputation for offering innovative, state-of-the-art treatments for many types of neurological conditions close to home. At this point, the team consists of three neurologists, two nurse practitioners, numerous infusion nurses and a large dedicated administrative staff.
"I love my job and I'm told it shows," says Dr. Bromley. "I get very excited to get to know and take care of our patients. I've been practicing in the region for more than 20 years, and you hear a lot these days about how doctors get burned out and can't handle the business aspect of medicine. But we have taken on these issues successfully, which translates into better care for our patients. It takes a dedicated and smart team to do it and that is exactly what we have."
South Jersey MS Center specializes in neuro-immunology and the treatment of conditions that affect both the nervous system and the immune system. While the treatment of multiple sclerosis is a major focus, the practice manages all types of complex neurological conditions. "Our doctors hold multiple board certifications, and we manage all kinds of conditions from seizures to dementias, neurodegenerative disease, movement disorders, migraines and neuropsychiatry," says Dr. Bromley.
Dr. Bromley has worked for large health care systems to which the practice still has close ties, however South Jersey MS Center can offer the intimate attention that is sometimes difficult to find in hospitals. The South Jersey MS Center team always welcomes patients who have been to other practices and academic centers and still do not get the help they need. The practice accepts most insurance plans.
"The opportunity to create an office like this has been amazing. People are jumping on board because they see the unique and beneficial nature of a true medical center approach, without limitations seen with hospital-based practices," says Dr. Bromley.
"I think our outcomes are generally better than anyone else in this area when it comes to the complex nature and management of our patients' conditions. The patients have minimal, if any, hospital days because we take care of most acute- and long-term care needs within the center. We essentially function as urgent care for our patients within the practice and encourage them to call us and come in when they have a problem. We provide a personal touch to the management of each and every patient."
South Jersey MS Center is one of the largest, state-of-the art private infusions suites in the state and can infuse anything from normal saline to cutting-edge biologic therapies.
"When it comes to autoimmune diseases, the idea that your own immune system is the enemy is problematic. In most cases, you no longer need chemo-like drugs to destroy a 'misguided' immune system. Instead, biologic therapies help to redirect functions of the immune system and diminish excessive inflammation," says Dr. Bromley. "In our world, the newest drugs are biologic in nature, which means they are proteins just like we have in our own body. They are monoclonal antibodies that target some specific aspect of an abnormal function associated with disease, and then your own immune system kicks in and helps the healing process along."
South Jersey MS Center at Bromley Neurology
Audubon & Linwood
(856) 546-2300
SJMSCenter.com
Published (and copyrighted) in Suburban Family Magazine, Volume 13, Issue 5.
For more info on Suburban Family Magazine, click here.
For information about advertising in Suburban Family Magazine, click here.
To find out where to pick up your copy of Suburban Family Magazine, click here.