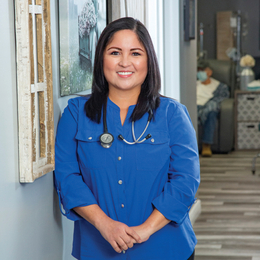 A Compassionate Calling
Emma-Ruth Paz-Querubin, a nurse practitioner who recently joined Comprehensive Cancer & Hematology Specialists, brings her philosophy of treating patients like people rather than their diagnoses to a like-minded team.
In the Philippines, where Emma-Ruth Paz-Querubin was born and raised, she says it's common for children to follow their parents' prescribed professional paths. Paz-Querubin found herself going to school to be a nurse at her mother's urging, considering it the "next best thing" to following her dream of becoming a doctor, the education for which was too financially untenable to pursue.
But it didn't take long for Paz-Querubin to realize that nursing was actually exactly where she belongs.
"I ended up really loving it," she says. "I love talking to patients and helping them out in any way possible."
These days, after a journey that's taken her from her Philippines birthplace to Texas to finally New Jersey, Paz-Querubin is among the newest members of the Comprehensive Cancer & Hematology Specialists (CCHS) team, where she works as a nurse practitioner (NP).
She's covered a lot of ground before joining the South Jersey practice, and not just geographically. After beginning her education in her home country, Paz-Querubin moved to the U.S. in 1995, received her nursing degree two years later, and launched into her oncology career at The University of Texas MD Anderson Cancer Center in Houston. While in Houston, she began working toward becoming an NP.
She moved to The Garden State a few years later, finishing her NP program while working at Hackensack's John Theurer Cancer Center. Paz-Querubin began her NP career at an East Orange oncology center, and eventually headed south to join Washington Township's Jefferson Health location.
Paz-Querubin notes that having such a diverse background in cancer treatment is an asset at CCHS.
"Here at the center, we see everything," she confirms. "I've been lucky, through the many years I've been working as an oncology nurse and then a nurse practitioner working in oncology, that I've worked with so many great people and learned about so many specialties."
Paz-Querubin joined CCHS this past June, bringing that wealth of oncology experience she's cultivated for decades to a team she was initially drawn to on the strength of her previous experiences with Trina Poretta, D.O., the practice's physician president and managing partner.
"I knew Dr. Poretta and I knew how she works," Paz-Querubin notes. "I had worked closely with her patients who had breast cancer, and I learned how compassionate she is."
In just a few months, Paz-Querubin has seen how well the entire CCHS team works together. And being part of a like-minded professional family is especially important given how emotional the job can be, as supporting those in their care is often a team effort.
"Our goal is to provide an excellent service to our patients, and we do that by being compassionate and helpful as a team," she says. "What really makes this team different is how much they love coming here. It makes a big difference overall in how patients perceive the group of people working here."
But for all that she and the CCHS team give their patients, Paz-Querubin says those same patients have given her plenty in return, especially in terms of the lessons she's learned from them over the course of their treatments.
"Being involved with cancer patients makes you realize what matters in life," she says. "You can see what patients are going through, you get to know them and their families, you know their struggles. … You're not just treating cancer: You're treating the entire person, including their families."
After all, it is that human connection that makes being an NP so rewarding for her—and so important to her patients, most of whom she sees on a regular basis.
"I always think about that, how it's not just the disease itself, it's the individual," she continues. "It's the anxiety that comes with a being diagnosed with cancer. It's how it affects their families. … In a majority of our patients, we see them regularly—it's not just a one-time visit. You know them and you become like a family to them because this facility is like their second home, and so you tend to know them and understand them better."
And it takes a special kind of personality to handle the daily ups and downs of being an oncological NP, especially since the very nature of the work "can take a whole lot of you, especially if a patient is not having a good day."
"Honestly, it's just about being compassionate, understanding and patient—I think those three things are what really make a difference," she says.
But whether she's helping absorb the blow of one patient's bad news or rejoicing in another's promising prognosis, Paz-Querubin has seen time and again what a positive impact she and her teammates can have. It's why she loves her often rewarding and sometimes gut-wrenching role enough to pursue it with her whole heart.
"It's always hard for me, and I think anybody, who has to deliver bad news to patients. … The best day is one where I get to deliver good news," says Paz-Querubin.
"I found my calling and I've never turned back."
Comprehensive Cancer & Hematology Specialists
Voorhees: 705 White Horse Road, Suite D-105
Turnersville: 188 Fries Mills Road, Unit K-2
(856) 435-1777
ComprehensiveCancer.com
Published (and copyrighted) in Suburban Family Magazine, Volume 13, Issue 4.
For more info on Suburban Family Magazine, click here.
For information about advertising in Suburban Family Magazine, click here.
To find out where to pick up your copy of Suburban Family Magazine, click here.