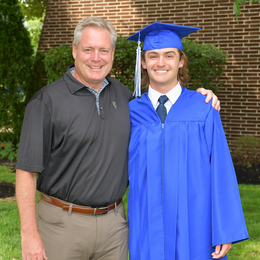 Six Special Moments in the Life of a Paul VI Parent
Those times that life tells you yes, you made the right decision.
1. When the uniform looks just so. Sure, the Paul VI uniform takes some of the pain out of the morning routine, and there are a host of benefits to a dress code. But there's that one moment, when the necktie is perfectly knotted, and the Paul VI monogram blouse is crisp, and the smile is genuinely proud, and suddenly, all is right with the world.
2. When you can just go ahead and call it the Christmas Concert. While we all enjoy a good winter concert, there's something very special about hearing that soloist from the sophomore class hit the high notes of O Holy Night . It's the moment that makes you realize the best gift you gave your Paul VI child this Christmas isn't under the tree.
3. When you're told there is no school supply list. Between the individual iPad, and the book order that takes care of everything from the religion class journal to lab goggles, Paul VI parents can avoid the spirit-crushing search for three-hole punched two-pocket folders in exactly 11 different colors. So you can skip Staples and catch up some long-delayed binge watching.
4. When you can't recall the hours of your town library. While any library is worth a trip, Paul VI parents can skip the post-dinner run to the see what Encyclopedia Britannica has to say about Descartes. The Paul VI Learning Media Center houses every resource students need for their research papers and it's open every day from 7:45 a.m. to 6 p.m. The Learning Media Center also provides unlimited copies of e-books for downloading on the iPads. A couple of clicks, and Jane Eyre's in the house!
5. When your high schooler comes to you with the college plan. Paul VI warmly welcomes its students and then methodically prepares them to leave. The Paul VI guidance mini-class, taken each of the four years of high school, takes students through the college process so they enter senior year armed with meticulous records, glowing recommendations, accurate resumes and a spot-on college application list. While there's still plenty for a parent to do, none of it will be done in panic mode.
6. When you hear your child self-reference as a number. Which seems weird, since parents choose private schools for the smaller size, but the number in question is the graduation year. Paul VI students soon learn to think of themselves in terms of their graduating class—"I'm a 2026, and my dad is a 1994"—placing themselves firmly in the school's history and traditions.
Paul VI
Haddonfield
(856) 858-4900
PVIHS.org
Published (and copyrighted) in Suburban Family Magazine, Volume 13, Issue 4.
For more info on Suburban Family Magazine, click here.
For information about advertising in Suburban Family Magazine, click here.
To find out where to pick up your copy of Suburban Family Magazine, click here.