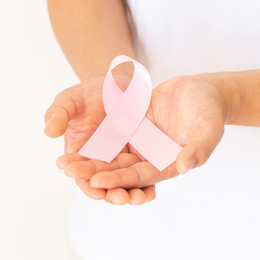 'We Want to Cure Them'
Premier Surgical Network offers extensive breast care services and top breast cancer treatments—all personalized to each individual patient.
At Premier Surgical Network, it's about more than just treating cancer.
It's about treating the whole patient.
"We offer all services of breast care in our offices, from basic to the most advanced," Dr. James H. Frost says. "We are able to basically offer every type of surgery that is available worldwide."
While the goal at Premier Surgical Network is to take care of patients, this goes far beyond curing a patient of breast cancer or identifying the cause of breast pain. The staff takes into account what a patient wants and needs with their treatment, from start to finish.
"We want to cure them. But we also cosmetically want to cure them so that when they look in the mirror in the morning and at night, they don't constantly say, 'Oh, I have breast cancer,'" Frost says. "It's really an important thing that we do, by watching and treating women and making sure that we take care of them and they get cured of this disease."
The medical field is ever-evolving, and the field of breast health and breast cancer is certainly no exception. Frost has been involved in this specialty "for a very long time," and his extensive experience—particularly since going into private practice in 1988—has also given him the opportunity to observe the evolution of breast care firsthand.
"We're doing better and better today with breast cancer than ever before," Frost says. "It's really been a remarkable progression from what it was in the '80s to what it is today."
And Premier Surgical Network is in the business of offering that top level care to its patients. In addition to Frost, the company employs the talents of surgeons Dr. Anjeanette T. Brown, Dr. Desiree D'Angelo, Dr. Ann Chuang and Dr. Lisa Iucci. The team covers eight offices across the state—in Cape May, Egg Harbor Township, Florham Park, Hammonton, Jersey City, Linwood, Manahawkin, Montclair, Palisades and Union—which are all affiliated with well-established, reputable hospitals.
"We're all very driven as far as taking care of our patients and making sure our patients get the best treatment," says Frost. "Every doctor in this group—that's what we're interested in. It's really a very high level of care."
Despite working more than 100 miles apart at times, the Premier Surgical Network team is always in close contact via technology. They use Microsoft Teams to keep in touch and never hesitate to query one another regarding a patient.
"You get a consultation on your patient from four other breast surgeons in a matter of hours," Frost says. "I don't know how many other people are able to do that."
Something else that's different at Premier Surgical Network? Frost would also rather hear of any problems or concerns sooner rather than later, so he gives his personal cell phone number to all of his patients.
"They know they can call me if they're having a problem," he says.
And while the doctor says there is nothing wrong with wanting to get a second medical opinion, he has also found these second opinions are sometimes sought after not understanding details of what Premier Surgical Network has to offer a patient. In providing a cell phone number, these questions can be answered quickly and accurately.
"Just opening up the communication channels has made my life so much easier and has made it easier for the patients and their families," says Frost.
A board-certified general surgeon, Frost joined Premier Surgical Network in 2017. He attended medical school at Universidad Autonoma de Guadalajara—where he became fluent in Spanish—and Mount Sinai School of Medicine's Fifth Pathway before completing a general surgery residency at the University of Illinois Metropolitan Group Hospital in Chicago.
With a slate of prestigious awards in surgical excellence, Frost is also a member of the American Society of Breast Surgeons and a Mastery of Breast Surgery program participant.
Training in breast surgery under Dr. Yosef Pilch, one of the original investigators of the National Surgical Adjuvant Breast and Bowel Project, sparked Frost's interest in breast cancer. In 2016, he opted to limit his practice to breast care only.
When it comes to his patients, he has three main goals:
ensuring women who don't have breast cancer are treated correctly and do not undergo unnecessary breast surgery;

treating high-risk women early if they develop breast cancer, as well as treating them prophylactically if they have a genetic predisposition; and

screening women appropriately and diagnosing women early by needle biopsy when they are found to have lesions early.
"The bottom line is breast cancer treated early gets cured. Not 100% of cases, but most cases," Frost says. "I can't tell you we have it cured completely. We don't. But we do cure the majority of our patients."
Premier Surgical Network
Multiple Locations
(833) 615-2566
PremierSurgicalNetwork.com
Published (and copyrighted) in Suburban Family Magazine, Volume 13, Issue 2.
For more info on Suburban Family Magazine, click here.
For information about advertising in Suburban Family Magazine, click here.
To find out where to pick up your copy of Suburban Family Magazine, click here.