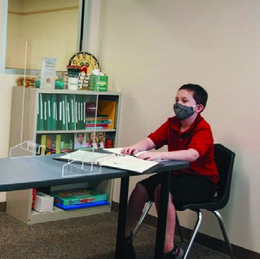 The Top 5 Reasons Your Child Needs Tutoring This Summer
With the pandemic's academic interruptions and summertime's inevitable learning loss, there's never been a more advantageous time to enroll your child in tutoring services.
For Rich Bernstein, Executive Director of Huntington Learning Center's Cherry Hill and Turnersville locations, there's no better compliment than positively impacting students.
"The best thing anyone can say to us is, 'You have changed my child's life,'" he affirms. "And we hear that on a very regular basis."
South Jersey's only Middle States Association of Colleges and Schools-accredited tutoring company, Huntington Learning Center works directly with area schools so its team of trained and certified tutors are closely acquainted with those curricula and expectations, helping them deliver high-quality, individualized sessions.
Whether your child is struggling with one subject, still adjusting to a pandemic-interrupted education or looking for rigorous standardized-test prep, Bernstein highlights five reasons why every K-12 student can benefit from supplemental instruction this summer.
1. To Combat COVID's Learning Loss
The reliability of a regular tutoring schedule can be a welcome routine after three disjointed academic years of remote learning, hybrid lessons, independent work and interrupted instruction. Plus, as Bernstein points out, when children have been in the classroom, "it's very difficult to learn something like phonics when teachers and students have a mask on."
The compounded impact, he continues, is that "what we're seeing today is that so many of these kids just plain aren't ready for the next grade level."
2. To Avoid the Summer Slide
"Data says that lots of students lose skills over the course of the summer every summer—that's why so many schools start the year in review," Bernstein points out. "The summer slide is real."
With academic skills and knowledge growing even rustier these past few summers, one-on-one attention and an individualized tutoring plan help ensure that students don't backslide even harder and risk beginning the next grade level from an even more disadvantageous position.
"In the last couple years, we've seen it magnified, so why not get your child some instruction so they can catch up when everyone else is falling behind?" he says.
3. To Keep the Mind Active
"Just a few hours a week can keep your child's mind fresh, engaged and more prepared for learning when they go back to school," says Bernstein.
As Huntington offers online tutoring, families don't even have to adjust their summer travel plans: A child can keep learning on the road, at the Shore or while staying with their grandparents without skipping a session.
4. For SAT/ACT Prep
With national student statistics and studies indicating that GPAs are going up while test scores are steadily declining, "one way to make students stand out is with an improved SAT or ACT score."
Citing a rubric from West Virginia University, Bernstein says the difference between a 1360 SAT score and a student who submits grades but not an SAT score is $4,000 per year in scholarship awards. "Some people say test scores don't matter, but they do—that's real money," he notes.
5. To Get Ahead
For students who are tired of landing in the middle of the pack, summer tutoring can be what propels them to the top of the class.
"It can mean going into an advanced math class, it could mean going from a regular class to an honors-type class," Bernstein says. "The perfect time to focus on academic growth is when they don't have a lot of other classes, homework and activities to worry about."
Huntington Learning Center
Cherry Hill | (856) 795-1933
Turnersville | (856) 227-0033
HuntingtonHelps.com
Published (and copyrighted) in Suburban Family Magazine, Volume 13, Issue 2.
For more info on Suburban Family Magazine, click here.
For information about advertising in Suburban Family Magazine, click here.
To find out where to pick up your copy of Suburban Family Magazine, click here.