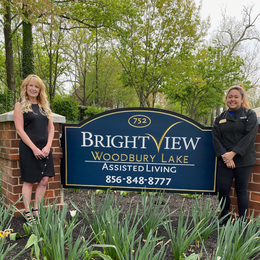 Comfort, Safety and a Sense of Belonging
Brightview Senior Living in Woodbury feels like home right from the start.
Home can mean a lot of things to a person but, above all, it's the place where one feels most comfortable and safe. As a person ages, the physical sense of home may change, yet those feelings of calm and security should remain. And while the walls within Brightview Senior Living in Woodbury may look a little different, those feelings of being comfortable, safe and welcome are always present.
All new residents are enthusiastically greeted by a welcome committee when they walk through the door of their new home and community. Brightview prides itself on every associate knowing every resident by name. It starts from the top with Executive Director Tracy Gill knowing not only each resident by name but also their life stories. Knowing their history helps Gill and her staff to know what each resident likes and dislikes, their interests and what activities they might enjoy.
"I always encourage our potential families or residents to spend some time in our community, walk through the halls and sit through a meal or an activity. Before long, they get the sense of our camaraderie that sets us apart from other communities," says Gill.
Pat Wilkins, a new resident at Brightview in Woodbury, had contemplated a move to assisted living for a while.
"I like to be with people," says Wilkins. "I had a fall, it was hard to get up and, at my age, I knew I shouldn't be living alone." Wilkins was initially hesitant about making the move; however, she knew it would be better for her to have people around who could help her when she needed it.
Wilkins says what most new residents of Brightview say upon their arrival: "It was like I was home." It was so important to Wilkins that everyone knew her name right away.
When asked what she loves most about living at Brightview, she says she loves how friendly everyone is and how they easily intermingle with each other. Wilkins loves the exercise classes and the great musical programs. "You go to an activity, you sit next to someone you don't know and, in a few minutes, you have a best friend."
Wilkins is absolutely pleased with her decision to move to Brightview in Woodbury. "I feel like I moved right into my own home. My family furnished my new apartment and it's all I need."
Brightview Senior Living
752 Cooper St., Woodbury
(856) 848-8777
BrightviewSeniorLiving.com
Published (and copyrighted) in Suburban Family Magazine, Volume 13, Issue 2.
For more info on Suburban Family Magazine, click here.
For information about advertising in Suburban Family Magazine, click here.
To find out where to pick up your copy of Suburban Family Magazine, click here.