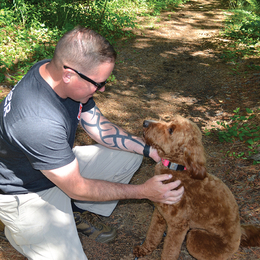 Animal Instincts
Chris O'Prandy, the owner and lead trainer of CTO Dog Training, uses his unique background to give clients a happy, obedient pet for the entire family to enjoy.
Most dog owners view their animals as not just a pet, but truly a member of the family. Dogs are there to jump into the pool next to us on a blistering summer day, to dive into Christmas presents under the tree, to protect our homes and to make cherished memories with our children.
Of course, finding that sweet spot isn't always easy, whether the dog comes to a family as a puppy or as an older rescue. There can certainly be growing pains along the way, and if they're not addressed early enough, behavior issues like barking at the door, jumping on guests, counter surfing and digging can all become commonplace and have a negative effect on the home.
"We all love our dogs and they're always going to be part of our family," says Chris O'Prandy, the owner and lead trainer of CTO Dog Training. "But what I'm finding is that many of our clients are changing their lives around their animal. They don't have their friends over; they isolate the dog in certain parts of the house; instead of walking the dog during the daytime when it's prime time for exercise and to bond with their pet, they're walking the dog in the middle of the night or taking it to an isolated area. They don't have the confidence and the trust."
Much to these pet owners' surprise, however, O'Prandy can often fix those problems in one two-hour session in their residence. Suddenly, they can enjoy all of the wonderful moments they were missing out on with their dog and get back the freedom in their daily lives.
"We are definitely getting that shock effect when we're able to get those results because it's something they've been dealing with for a year, 18 months or more," O'Prandy says. "People can't believe what we can accomplish and it literally changes their lives."
CTO Dog Training has blossomed into one of the premier businesses of its kind in a short time thanks to O'Prandy's extensive knowledge gleaned from experts all over the country and his unparalleled communication skills. But remarkably, he never envisioned this career and stumbled onto it thanks to the persistence of his daughter Paige.
It was about a decade ago when Paige, 9 years old at the time, had her heart set on getting a German shepherd and continually pestered her dad about it. He finally relented and brought one home for the family, but little did he know how it would lead to him discovering his life's calling.
O'Prandy, who had spent four years in the Marine Corps before transitioning to law enforcement, eventually acquired a second German shepherd and ended up resurrecting the K9 unit of the Mount Laurel Police Department. Gunner became his patrol dog and O'Prandy was promoted to canine handler and K9 unit leader. Together they entered national competitions and were soon ranking among the top dog detector teams in the country.
"To my knowledge, Gunner was one of the youngest police dogs ever certified for patrol," O'Prandy says. "Your average dog, especially a German shepherd, starts maturing around 18 months or 2 years old. At 11 months old, he was a fully certified patrol/narcotics dual-purpose dog. It was very exciting for me and our community."
O'Prandy eventually had three active working dogs in the K9 unit (bomb, narcotics and patrol), and became obsessive about learning different training methods and techniques. He started training additional dogs on the side, and last year made the decision to retire from the police force and devote all of his time to CTO Dog Training.
He is happy to work with dogs of all sizes and breeds and offers programs in puppy training, basic obedience, advanced obedience, behavior modification, service dog certification, personal protection services and more.
"What's unique about us is that we don't have a facility so I'm coming right to your property where your dog has a level of comfort," he says. "If the clients give me a laundry list of things to accomplish, I want to accomplish every single one before I leave in that two-hour session, or we can sign them up for a package and come back for more training."
Of course, as O'Prandy points out, not all dogs are the same, as some have come from backgrounds of abuse and may need additional training. He also encourages owners to start training with their puppies as soon as possible so he can establish a foundation and work with them until they are mature dogs.
While O'Prandy is passionate about the animals he works with, he sets himself apart from other trainers who just rely on their enthusiasm for dogs with his breadth of knowledge.
"You have to become creative, take in all the training principles that you have, and give the client the results so that they can have a dog they enjoy," O'Prandy says. "The common theme for all dog trainers is training without conflict, without stress and not pushing the dog too hard. It's exciting to talk to these dogs in their language with the assistance of these training principles.
"My ideal dog is one you can have beside you, off leash, anywhere you go, in any environment," he continues. "To me, that's the complete animal—a happy dog."
CTO Dog Training
Marlton
(856) 912-6821
CTODogTraining.com
Published (and copyrighted) in Suburban Family Magazine, Volume 13, Issue 2.
For more info on Suburban Family Magazine, click here.
For information about advertising in Suburban Family Magazine, click here.
To find out where to pick up your copy of Suburban Family Magazine, click here.