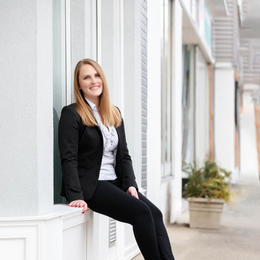 Homegrown
Real estate agent Andrea Maines shares her lifelong love for South Jersey with clients, providing knowledge and patience every step of the way.
Andrea Maines isn't interested in just helping clients find a house, she wants to find them a home. "I listen to my clients and what they want, whether it's a big yard, proximity to parks or hiking trails, access to commuter routes or near a small downtown district. I want to know what else they are looking for in a community because these are the elements that make a house feel like a home," she says.
It's a familiarity that's been developed over a lifetime. "I grew up in Moorestown and have lived between there and Medford my entire life, which has really given me an understanding of the towns, their history and what each one offers. I have a deeper knowledge of the various benefits in certain towns that someone newer in the business might not realize," Maines says.
You might also say she has a family history, considering the Maines Builders name and its reputation as a custom home builder in South Jersey and the Shore for the past five generations. She grew up around the real estate and building process, which always piqued her interest, but wasn't always clear how it would fit into a career. Maines pursued business management and hospitality in college before obtaining her real estate license in 2013. She worked part time for about five years before it became a full-time passion. She has even entered into the renovating/resale market.
For the past two years, Maines has been an agent with Coldwell Banker in Moorestown. Her clients range from all backgrounds, including first-time home buyers and investors, and those looking to upsize or downsize. During the pandemic's hot real estate market, Maines says she had to evolve with every situation that was presented and keep her clients' best interests in mind.
"It wasn't always price that made an offer stronger to sellers, each situation was different and it meant understanding the needs of the parties on the other side of the table as well," she says. "I had to draw on my experience and explain new trends and what would make them stand out in a multiple offer situation."
The pandemic also spawned an influx of people leaving their urban living arrangements in Philadelphia and New York to seek out homes with more land. "Clients have been looking for big yards and farmettes—places where they can raise chickens or other farm animals, grow vegetables and have some independence in resources," Maines says. "I grew up with horses on a farmette so I was able to guide clients to the right places where this is allowed."
This real personal knowledge is something that can't be replaced by websites and algorithms, she adds. "The information buyers are seeing on Zillow or other websites might not be accurate. Depending on where a home is located, the algorithm could be pulling information from across a town border or the information could be outdated. For making such an important decision as purchasing real estate, buyers could be misinformed and that's why it's more helpful to have a local person to assist you," says Maines.
The same goes for investor clients. "Having worked on renovation properties on my own, I'm a good judge if an investor will see profitable numbers for the end result and can work backward to find the best price to buy the property. … Of course the investor has to do their own final calculations, but I can provide some ideas on what areas have the best potential," she continues.
Throughout her near-decade of time in real estate, Maines has developed strong relationships with lenders and title companies that have been vetted and are available should clients need someone to trust.
Even though the market has cooled somewhat, offers are still competitive and Maines says patience will be key for the best outcome. "I have built my reputation on helping clients understand the process and answering their questions. I'm not about to rush them into something they might regret. This is too big of a decision and I will continue to approach their every need with patience and understanding."
Andrea Maines
Coldwell Banker Realty
27 E. Main St.
Moorestown
(856) 278-2722
ColdwellBankerHomes.com
Published (and copyrighted) in Suburban Family Magazine, Volume 12, Issue 12.
For more info on Suburban Family Magazine, click here.
For information about advertising in Suburban Family Magazine, click here.
To find out where to pick up your copy of Suburban Family Magazine, click here.