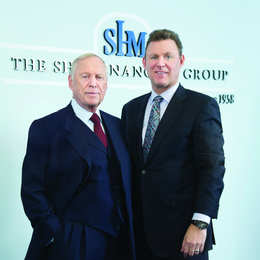 A Positive Outlook
The family-owned SHM Financial Group is led by Stan Molotsky, whose guidance comes from six decades of experience and an unfailingly positive perspective.
Stan Molotsky is a glass-half-full kind of guy.
And since 1958, that unwavering optimism has influenced the way he guides and advises the clients who trust SHM Financial Group with their retirement funds, asset allocation, tax strategies, income planning and more. "Even when you keep getting hit over the head with all the negative stuff that's floating around, my philosophy has always been that even if the glass is a quarter full, it's never on the empty side," says Molotsky, president and CEO.
A family-owned business, the SHM Financial team includes Molotsky's son Lee and his brother David, and has two locations, one in Collingswood and the other in Voorhees, which is where Molotsky and his wife of more than 60 years also call home.
The full-service retirement planning firm comprises two divisions: "one is only handling the fixed-guarantee type things, such as some of the insurance-related products;" the other, which Lee serves as the managing partner of, is a fee-based registered investment advisory one that manages clients' money with a variety of individually tailored methods. Both offer the continuity of service that comes with two generations of financial experts helping the region they've called home all their lives.
"We can approach it very independently, we can approach it based on the goals and objectives of a particular client, no matter their age, or aggressiveness or lack of aggressiveness," Molotsky explains. "We're not beholden to a particular company, as some of the major brokerage firms are."
Molotsky's six decades of financial experience have given him an up-close, lived-in perspective of how drastically things have changed over the years, underscoring what approaches need to evolve with the times. The pandemic, of course, is the most recent game-changer, and Molotsky is grateful that SHM Financial has made it through these unpresented times relatively unscathed, and with a little more hard-won wisdom.
"If you've gotten through it—and gotten through it basically unharmed—you should be very thankful for that," he says. "Whether it was family, friends, clients or associates, everybody knows someone who had something bad happen to them during the pandemic. You realize certain things when you go through something like that, and everybody looks at it a little differently. But if you look at the glass as always being partially full, it helps."
Befitting a legacy entity, the firm's familial warmth extends to both neighbors and clients—many of whom they've been serving for two or even three generations, which is an honor that Molotsky and his team do not take lightly.
"We treat our clients as family," he says. "Having been around as long as we have, we're dealing with the grandchildren of our original clients, as well as their parents."
But it's not just SHM clients who Molotsky wants to help. Throughout the decades, he's embraced radio, television, seminars, podcasts and, like everyone else who pivoted during the pandemic, even Zoom to reach a broader audience in the hopes of helping them find the wealth-management journey that's right for them.
Stan and Lee have also written the book on exit strategies—literally. But since Exit Strategies for a Secure Retirement was published in 2015, the father-and-son team decided it was time to not only provide some updated insights for an ever-changing world but also address retirement planning on a broader, more inclusive scale, and did just that with their second book, which is anticipated for publication this spring.
"This is a little more inclusive, talking about current things and some of the ways you can go about accomplishing what you're trying to accomplish. … It's a like a tailor-made suit, only it's a tailor-made financial plan," he explains, adding that the book's origins spring from wanting to corral all SHM Financial's advice, insight and expert tips into one easily handed-out medium.
Molotsky is so eager to share the insights within The SHM Financial's Smartest Book on Pre- and Post-Retirement Planning That You'll Ever Read that he'll ensure readers of Suburban Family have access to its guidance and advice.
"If you call our office, we'll be more than happy to get you a copy," he says.
As part of that effort to help as many people as possible, all proceeds will go toward supporting the Jewish Federation of Southern New Jersey's special-needs endowment fund. It's a cause near and dear to Molotsky's heart, as one of his grandsons has benefited tremendously from both its programs and housing.
Because if there's anything Molotsky has learned, valued and shared with others over the course of his six-decade career, it's that doing what you love and using it as a springboard to help others is a great way to preserve an optimistic outlook, even in the toughest of times.
"My wife has always been of the philosophy that if you don't like what you're doing then do something you like, and I've been fortunate because I love what I do: I love the challenge, I love the excitement, I love new things," he says. "We live in the greatest country on earth, so take advantage of that. Don't get caught up in the minutiae as you think of the long term—just be positive."
SHM Financial: 1010 Haddonfield-Berlin Road, Suite 305, Voorhees
SHM Building: 100 Richey Ave., Collingswood
1 (800) MONEY-SHM
SHMFinancial.com
Published (and copyrighted) in Suburban Family Magazine, Volume 12, Issue 12.
For more info on Suburban Family Magazine, click here.
For information about advertising in Suburban Family Magazine, click here.
To find out where to pick up your copy of Suburban Family Magazine, click here.