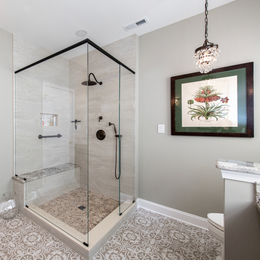 A Family Tradition
For more than 50 years and across three generations, Amiano & Son Design-Build has created a seamless process to give homeowners the renovations of their dreams.
Representing the third generation of a family business that has been a fixture in South Jersey for more than 50 years, Sophia Amiano and Joseph Clymer clearly inherited a love for the construction industry from their grandfather, Lou Amiano Sr., and Sophia's father, Lou Jr. So much so, in fact, that work conversations have been known to spill over into family gatherings.
"We're all so passionate about it that we might talk business during holidays," Sophia admits with a laugh. "Sometimes my boyfriend or Joe's wife will nudge us to talk about another topic. When you really care about something, sometimes you can't help it."
The family's commitment to delivering stunning remodeling services to homeowners throughout the region started with Lou Sr. in 1968, and in 2009 Amiano & Son Design-Build was passed down to Lou Jr., who continues to serve as the owner and president today. His wife, Wendy, is in charge of marketing and client relations, while his daughter is a design-build specialist and the manager of the company's two showrooms in Southampton and Ship Bottom. Clymer, his nephew, is the director of sales, making the company a full family affair.
Being in business for so long, there is no problem they haven't encountered and they have developed a detailed, step-by-step process for every job. Their proven track record of success leads to plenty of satisfied homeowners and repeat customers.
"Throughout the years, going from my grandfather to my father and now to Joe and I, we have fine-tuned what we think is a really stellar design-build process," Sophia says. "We're able to give every client who comes in the attention that they deserve on their project."
Amiano & Son has the full complement of services all under one roof, starting with its in-house designers, Brianna Jarzyk and Sophia. Homeowners interested in renovating a kitchen or bathroom or building an addition need not hire separate designers and contractors—they can just use one company, leading to excellent communication and a seamless experience.
After the initial phone call, one of the designers will visit the home and take measurements of the space being remodeled. Then, those measurements are implemented into a program that creates a 3D design image and is then reviewed in depth during a design review meeting, held at their showroom location, in which the fun begins.
"We sit with the homeowner and really dive into the details of the space. The reason we created this full-service design center is to utilize all aspects of it. We can be reviewing the design one minute, and then we can walk into the showroom and visualize the ideas from the design within one of our various kitchen and bath displays," Sophia says. "We're able to change out the cabinetry layout, cabinet style/finish, the backsplash options and more, all live with the homeowner until we get the design to exactly how they want it."
After the design is finalized and materials have been selected, the next step is a trade partner visit, which brings together all of the necessary trades along with the project manager and production manager to ensure that the design can be implemented as planned. This way, once the final construction contract is signed, the production team can get to work as scheduled and avoid any unnecessary hassles.
"Construction is construction—you're always going to have those little things that come up along the way," Sophia says. "But we really narrow the issues down with the trade partner visit because it's all hands on deck and there are so many sets of eyes looking at every aspect of the job. It's really hard to miss something unless there's truly something hidden behind the walls or in the subfloor that we couldn't see because we don't have laser vision."
Also making for a smooth journey is Sophia's management of both showrooms, enabling her to control the products being offered, which is especially beneficial during a time when supply chain issues and rising material costs are real challenges. She also makes sure to involve the production team on key decisions, such as bringing in a new cabinet line.
Since clients can make their material selections with their designer all in one showroom, it is more convenient for them and speeds up the timeline for their project. As the work begins, they are kept up to date on its progress through Buildertrend, a program that stresses open communication throughout the entire team with weekly photos of the job.
Put it all together and it's easy to see why so many homeowners have entrusted Amiano & Son for their remodeling dreams for over half a century. The team is in good hands with the young generation, who will continue to drive the company forward while honoring its past.
"Working with family, there's an openness and your voice is always heard here," Sophia says. "It's really nice that my father always values the opinions of Joe and I. We also hold true to the core values that have made this business what it is. That's what makes a good company."
Amiano & Son Design-Build
Locations in Southampton and Ship Bottom
(609) 268-5923
AmianoAndSon.com
Published (and copyrighted) in Suburban Family Magazine, Volume 12, Issue 12.
For more info on Suburban Family Magazine, click here.
For information about advertising in Suburban Family Magazine, click here.
To find out where to pick up your copy of Suburban Family Magazine, click here.