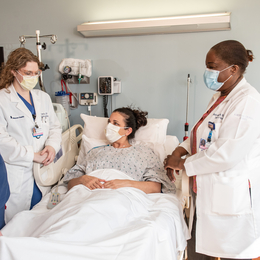 Compassionate Care
As the midwifery and maternity care options expand at Jefferson Washington Township Hospital, the multidisciplinary team ensures every patient receives the personalized, compassionate care they deserve.
When U.S. News & World Report named Jefferson Health-New Jersey among the nation's best for maternity care this past December, Meredith Stein, CNM, wasn't surprised at all. The certified nurse-midwife has spent less than a year with Jefferson, but says it quickly became apparent that this is one of the best teams she's worked with in her decade of midwifery.
"This is the first time where I've really felt like, as a group, the doctors are super supportive and very kind, good people who also happen to be physicians," she confirms. "I went into health care to take care of people, and to feel that I'm working for an institution that actually lives its mission is definitely satisfying."
Stein is one of six nurse-midwives who joined the Jefferson Health OB/GYN team in New Jersey. The group also includes a nurse practitioner, providing care to both new and expecting pregnant families in Sewell, Mullica Hill, Stratford and West Deptford. An expansion of the midwifery program has yielded a comprehensive, multidisciplinary team of doctors and midwives working together to ensure each patient receives attentive, individualized care focusing on their physical and mental health alike.
"Fewer things fall through the cracks when there's a complete team who can coordinate, discuss and address problems from multiple lenses," says Deborah White, DO, MPH, FACOOG.
In addition to the national recognition Jefferson received late last year, Jefferson Washington Township Hospital is also designated as a Blue Distinction Center for maternity care, indicating the hospital's proven history of delivering exceptional medical service and results. That top-notch maternity care goes above and beyond to treat the whole patient for better prenatal, delivery and post-natal experiences. That includes offering birthing classes spearheaded by the midwifery team, the labor floor's 24/7 in-house midwife and physician coverage, and postpartum check-ups.
To treat every facet of a patient's well-being, a full-time licensed clinical social worker and registered dietician are also on hand to help monitor issues such as gestational diabetes and postpartum depression. Beyond that, the Level 3 NICU provides round-the-clock clinical responsiveness and coverage, while Jefferson's Maternal-Fetal Medicine's team being available for consultations 24/7 ensures patients have an expert available any hour of any day.
"If a patient is having an issue during pregnancy and you've outsourced resources like nutritional needs and behavioral-health needs, it reduces communication, makes managing medications more difficult and can create a delay in care," Dr. White notes. "Having a comprehensive team backing us allows us to really make sure that issues aren't being missed and that everyone's needs are being tended to."
Both Dr. White and Stein agree that Jefferson's view of pregnancy as more of a human condition than a clinical one is more beneficial to patients, who are including midwives in their birth plans more and more often.
"Midwives and nurse practitioners typically view pregnancy as a normal part of a person's life cycle. We do not approach healthy, low risk pregnancies as a 'disease state.' We also care for many high-risk patients as several of us have backgrounds in high-risk obstetrics. It's very rewarding to be able to bring advanced practice provider care, from nurse practitioners and nurse midwives to patients that are both low and high risk during their pregnancies. The ability to provide individualized care to each patient and family is amazing! The ability to be supported by wonderful physicians and a strong leadership team is what makes working here at Jefferson Health in New Jersey very fulfilling as a nurse midwife."
State-of-the-art facilities, those both currently offered and in development, also provide Jefferson patients with a peace of mind and privacy measures. Private birthing suites and postpartum rooms are currently available, with renovations slated to expand both the labor and delivery and postpartum units. This summer will begin the addition of two more birthing suites with birth tubs to labor in, wireless fetal monitors for patients who want to remain ambulatory, and spaces to facilitate both the process of natural childbirth and more education about it.
Stein notes that her obstetrics and gynecology role takes her to Jefferson's Haddonfield Primary & Specialty Care in Haddonfield, an inclusive practice where gender-affirming treatment is delivered to the LGBTQIA+ community.
"I love going to our office at 80 Tanner Street in Haddonfield, which specializes in providing care to people who identify as LGBTQIA+. This population of people historically did not have great access to health care that was affirming to their identity. They were often marginalized and disrespected in other health care settings. We primarily care for patients who are transitioning from female to male and it's a true honor to be with them as they transition. I love being able to have continuity with patients and being part of a person's health care team."
No matter the reason patients come to Jefferson, that feeling of being invited to participate in someone's most life-changing moments is, indeed, an honor that the team takes to heart.
"It's a privilege to be with people on the happiest and best days of their lives," Dr. White agrees. "Even though I've been doing it for nine years, being with someone when they bring their child into the world is something that never gets old."
Deliveries at Jefferson Washington Township Hospital
Offices in Mullica Hill, Sewell, Stratford, West Deptford
1-800-JEFF-NOW
JeffersonHealth.org/NewJerseyOB
Published (and copyrighted) in Suburban Family Magazine, Volume 12, Issue 12.
For more info on Suburban Family Magazine, click here.
For information about advertising in Suburban Family Magazine, click here.
To find out where to pick up your copy of Suburban Family Magazine, click here.