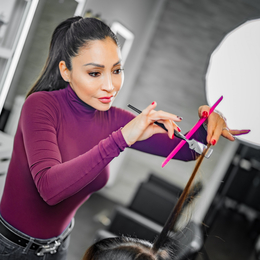 Summer Ready
Tips and treatments from Wair Studio Salon will keep your hair looking its best.
Although it's the season we all look forward to the most, summer can be especially tough on hair. A regular barrage of humidity, sun, chlorine and saltwater turns hair into a frizzy, dry, discolored mess. The same way our skin needs SPF, hair needs treatments to protect it against the elements and harsh chemicals of summer and Wair Studio Salon has the products and knowledge to handle any hair type and texture.
Owned by Hope Doms, master stylist, Wair Studio Salon in Marlton offers superior services for hair, fine-tuned from more than two decades of experience in the industry. Her resume includes years as a stylist "behind the chair" and an educator with the Matrix brand, followed by a leadership role on the team that created the technical training program used in 800 JC Penney salons with 10,000 stylists.
Doms has embraced the shift toward low-chemical and organic salon products. "Our salon is a professional yet welcoming environment where clients feel like they are part of a family and feel they trust us," says Doms. "We offer organic, sustainable, luxury brands and focus on brands that make a difference. With sustainability and the environment in mind, none of our products are tested on animals. We care about our clients and it's important that we use the best non-toxic ingredients in our products that provide great results." Luxury brands used in the salon include R+Co Bleu, Davines, O&M (Original & Mineral) Cor Color.
Since education is at the core of what she does, Doms has some helpful advice everyone should consider before summer arrives.
"We all know what happens to hair in the summer—it becomes frizzy; curly hair gets curlier; wavy hair gets wavier; and for a lot of people it just becomes big and puffy," she says. "There are a few types of treatments to consider to keep hair smooth and healthy."
Smoothing Treatments
Wair uses a formaldehyde-free smoothing treatment that reduces curl, smoothes frizz and speeds drying time.
Doms recommends having this treatment done by the end of June. "The humidity around here really sets in in July, so if you want the most benefit, you should come in at the end of June and it will last until the end of August," she says. However, it is recommended to keep hair out of saltwater and chlorine to prolong the benefits. "We can't keep you from enjoying the water in the summer, but the treatment's effects won't last as long, but summer is still the best time to consider a keratin treatment."
Blond Protection
Blond hair is more sensitive to summer's elements, Doms says. "Due to highlighting and the use of lightener, the hair is more porous, which makes it more susceptible to the effects of chlorine. If on vacation, a hotel pool may have a very high chlorine content, and the blond can develop a greenish tint.
"We also recommend a gentle clarifying shampoos, such as Davines' Solu, which is sulfate-free and won't alter the color of your hair. We also have a leave-in sleep mask for hair that needs overnight protection," she says.
And while blonds are often told to use purple shampoo to prevent brassiness, Doms warns that they are not all created equal. "Some can do damage or make the hair dull if you use too much. I recommend a glaze, which will last six weeks, to help enhance and maintain the color."
Leave-In Treatments
Dry hair is like a sponge, she continues. "If you jump in with dry hair, the first thing the hair will do is soak up the chlorine or the saltwater," she says. Her best advice is to wet the hair and put in a leave-in conditioner to protect the hair before swimming.
"We recommend Davines SU, a spray leave-in conditioner specifically for the summer months with hydration and a UV protectant for hair. However, it's truly best to keep out of the sun or wear a hat," Doms says. "When you go home at the end of the day, do a quick clarifying/moisturizing shampoo and once a week apply a hair mask to keep the hair moisturized and healthy."
Haircuts and Styling
In her experience, Doms says most clients hold off on having their hair cut during the summer. If that sounds familiar, she suggests getting Wair's exclusive calligraphy cut before summer. Wair's stylists are certified in this patented cutting style. "This cut is performed with a small calligraph knife rather than scissors or razor, and cuts the hair on a 21-degree angle, leaving hair stronger and with up to 300% more volume," says Doms. "The grow out is nice, especially for long hair and prevents split ends, so hair is very soft as it grows in. It also gives you a beachy look, perfect for summer."
Also perfect for summer are beach waves. "We love R+Co's Cool Wind PH Perfect Air Dry crème for our natural texture clients and those who have a natural loose wave. This crème holds the wave and eliminates frizz," she says.
For those who don't have natural texture, there is a new, safer way to curl the hair permanently. "We offer a new type of curling process called 'Cali-Curl' to create beach waves, but it's not the traditional perm you might think of," Doms says. "People want hair to look lived in, flowy, with some roots—they don't want super-straight hair."
Wair Studio Salon
65 E. Route 70, Suite 1B
Marlton
(856) 334-8231
WairStudioSalon.com
Published (and copyrighted) in Suburban Family Magazine, Volume 12, Issue 12.
For more info on Suburban Family Magazine, click here.
For information about advertising in Suburban Family Magazine, click here.
To find out where to pick up your copy of Suburban Family Magazine, click here.