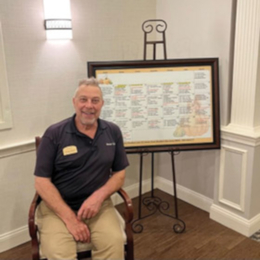 Welcome to Where Everybody Knows Your Name!
Meet the residents and associates of Brightview Senior Living Communities who help create a welcoming and loving environment for everyone.
Brightview Senior Living is focused on keeping residents safe, inspired and entertained. With 45 communities across eight states, including three right here in South Jersey, Brightview has been named the BEST Workplace for Aging Services by Fortune magazine for two consecutive years.
At the helm of eight communities in New Jersey and Pennsylvania, is Regional Director of Operations, Samantha Lawrence. "It is so important to me that all our residents feel Brightview is truly their home where they are fortunate to spend the next chapter of their lives and that they receive exceptional care and service," says Lawrence.
Lawrence also knows the importance of having associates who feel engaged, purposeful and invigorated by their work and who share in the goal of making their communities great places to live for their residents.
Making Brightview Communities a great place to live starts the minute a new resident walks through the doors. The shared feeling of belonging for residents is palpable at their communities in Marlton, Mount Laurel and Woodbury. Equally as palpable is how much the staff at each community cares about making residents feel at home very quickly.
Lavanda Clinkscales, executive director at Brightview Mount Laurel, is proud that her staff, from management on down, is hands on and will do what it takes to ensure a safe, happy adjustment for residents into their community.
A warm welcome is given to every new resident upon arrival by a member of Brightview's hospitality committee. "It is important for us to ensure new resident's first days will be a time for them to flourish and this starts when they move in," says Clinkscales. "We have residents and their families submit information about their life, which helps us provide them with their favorite activities and interests and allows us to introduce them to new friends who share a common bond."
After exploring multiple other senior living communities, Joe Sambuco and his wife Maureen moved into Brightview Mount Laurel about nine months ago. Once they walked through Brightview's doors they knew this was their new home. "I can't express how good it feels when all the staff here knows you by your name. It makes us feel as though we are part of a family," says Sambuco. "We couldn't be happier with our choice to move to Brightview Mount Laurel."
Tracy Gill, executive director of Brightview Woodbury Lakes, says potential families and residents are encouraged to spend some time in the community, walk through the halls and sit through a meal or an activity. "There's a welcoming culture here at Brightview that sets us apart from other communities."
Barbara Arbor had been living alone and experienced a few falls before moving into Brightview Woodbury Lake last September. "I don't know how they did it, but everyone knew my name," says Arbor. "Everything was set up in my apartment and it looked just like home."
Jennifer Steen, executive director of Brightview Greentree, located in Marlton, reiterates the importance of making residents feel welcomed as soon as they enter their new home. "Much time and effort are taken to find out their interests and hobbies," says Steen.
Ninetta Gonnelli-Bertolini is a new resident of Brightview's Greentree community. Upon her arrival, she was greeted by the hospitality staff who presented her with a hand-painted bag with gifts in it. "I was asked if I read music and I said yes. I was brought the sheet music for 'Edelweiss' and I played it on the baby grand piano in the living room," says Gonnelli-Bertolini.
Knowing what makes new residents happy helps the staff at Brightview Communities make them feel comfortable doing things they really enjoy. "We are one big family and strive each day to make this a great place to live and work," adds Steen.
Brightview Senior Living
Woodbury Lake
752 Cooper St.
Woodbury
(856) 324-3447
Greentree
170 E. Greentree Road
Marlton
(856) 528-0818
Mount Laurel
400 Fern Brook Lane
Mount Laurel
(856) 222-1213
Published (and copyrighted) in Suburban Family Magazine, Volume 12, Issue 12.
For more info on Suburban Family Magazine, click here.
For information about advertising in Suburban Family Magazine, click here.
To find out where to pick up your copy of Suburban Family Magazine, click here.