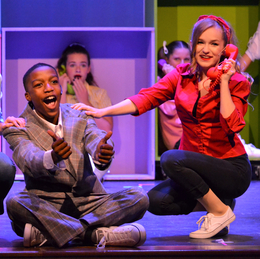 Spend your Summer on the Stage
At The Grand Theatre: Home of The Road Company, children gain confidence and camaraderie while learning what goes into a live performance.
Some of today's best-known Broadway stars got their start in community theater, including Sutton Foster, a two-time Tony Award winner whose first role on stage at age 10 was playing "Annie" for the Augusta Players, a community theater organization in her hometown.
The role of a hometown theater is more than just entertainment, it brings people of all backgrounds together to work on a common goal, and exposes the community to shows, classes, plays and art that they may not otherwise have a chance to experience. And especially for children who have an affinity for singing, dancing and performing, a local theater can be their first foray into the spotlight.
Summer camp at The Grand Theatre in Williamstown is a perfect opportunity for children ages 8 to 18 to see what live theater is all about, says Lauri Hudson, president of The Road Company, the nonprofit organization that owns the theater.
This summer's shows will be Frozen Jr. for ages 8 to 12, and The Wedding Singer for ages 12 to 18. Campers will spend six weeks practicing vocal performance, dance, acting, improvisation and auditioning before putting on a full-scale live show before audiences. Their stage isn't just any stage either, but one that is nearly 100 years old.
Built in 1924, The Grand Theatre was the site for vaudeville shows and silent movies. In 1989, the Grand became home to The Road Company Theater Group, owned by Julie Speeney, who fell in love with the nostalgia of the theater. The group would eventually purchase the theater in 2008, and although a portion of The Grand collapsed in 2010 due to record snowfall, the unfortunate event was an opportunity for The Road Company to restore it to a state-of-the-art venue.
Hudson says there is always something going on at the theater throughout the year. Not only are its performers and production crews putting on Broadway-style musicals, comedies and plays, but it hosts classes, workshops and a show choir called Vocal Velocity.
As someone who has been with The Road Theater Company since she was 18, Hudson says she found her niche performing in shows as a singer and dancer, and then transitioning to directing and producing as she got older. She became president in 2006. The value of The Grand is something she loves to share with the community.
"The Grand is one of only a few old theaters left and still being used as a live venue. There used to be a lot of theaters like this in almost every town, but those have either been demolished or replaced," she says. "It's so important for The Grand to still be here because it brings a sense of community to surrounding areas. We provide affordable entertainment. … This is a place where people can come and just watch or get involved as a volunteer. Many see this as a stepping stone. Some kids have gone through and moved on to national touring companies or onto Broadway, and for others, community theater is a hobby."
This summer will be significant as camp is returning to full capacity after being impacted by the health crisis that started in 2020. The Grand was shut down in March 2020, one week into a new show on stage, and with no performances, that meant no income. "We suffered," Hudson says. "We still had to pay the mortgage and utilities, but we had to keep going. Fortunately, we had saved money over the years but other theaters went out of business because they didn't have that. We were very lucky we got a federal grant last summer and that kept us alive."
She is looking forward to renewed interest in this year's camp and to see more children come out of their shell on stage.
Camp is held Monday-Thursday from 9 a.m. to 3 p.m. Kids will not only rehearse for the big show, but they'll receive training in dance, voice, acting, stage presence, team building and improv. Older teen campers are also assigned a buddy from the younger group and act as a mentor throughout the summer.
"We get kids of all levels. We see the kids develop, especially year after year, even the shy ones who were never on stage," Hudson says. "They build skills during the different activities and it all works toward their self-confidence to be on stage in front of people."
Hudson says this confidence and self-esteem correlates to everything in their lives. "It helps them in social situations at school and with friends; they are more sure of themselves. Also, if they want to try out for school productions, they have developed audition skills that they can put to use." The friendships built at camp can often last decades, she adds.
"Some of our kids that have aged out of camp come back to participate in our main stage shows and they still hang out with the same groups from camp. I can see that they stay in touch and how happy they are when they see each other again. I think that's even more important this year as children recover from isolation."
The Grand Theatre: Home of The Road Company
405 S. Main St.
Williamstown
(856) 728-2120
RoadCompany.com
Published (and copyrighted) in Suburban Family Magazine, Volume 12, Issue 11.
For more info on Suburban Family Magazine, click here.
For information about advertising in Suburban Family Magazine, click here.
To find out where to pick up your copy of Suburban Family Magazine, click here.