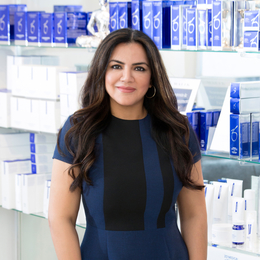 Top Aesthetic Trends of 2021
Dr. Pooja Malik shares the latest treatments to have you looking and feeling your best in the new year.
Here in South Jersey, Dr. Pooja Malik is a trusted professional known for her experience in aesthetics and cosmetic medicine. She is a board-certified physician with a special interest in anti-aging medicine, having completed her advanced fellowship with the American Academy of AntiAging and Regenerative Medicine. She also completed a post-doctoral fellowship in international health at Johns Hopkins University. Dr. Malik has been practicing cosmetic medicine in the South Jersey area for the past 15 years and has been nominated as a top physician for several years in a row.
She founded Malik Medical Aesthetics so patients would have a qualified and experienced practitioner to administer treatments. "At Malik Medical Aesthetics, your beauty, health and wellness are our priority. We offer medical aesthetic treatments and services so patients can look and feel their best. From Botox injections, to dermal fillers, laser resurfacing, body contouring, and even customized weight loss programs, our team of qualified and experienced physicians and professionals are committed to offering a variety of medical spa treatments and providing excellent results," she says.
With the new year underway, there are more ways than ever to achieve your definition of beauty. Dr. Malik shared some of the biggest medical aesthetic trends that are taking shape as the future of her field.
All About the Eyes
Eyes are the new focus as a result of COVID-19 face coverings, says Dr. Malik. "Treatments such as a Botox, Newtox, Xeomin and Dysport along with facial filler, especially under-eye filler have become popular to lighten and brighten the area around the eyes and replace lost volume. Optimizing the eyes can do wonders for making us look better rested, less stressed and more put together," she says. "More and more patients are willing to come into the office once or twice a year for a little high-maintenance tweak in order to be low-maintenance all year long. Patients feel confident when they can ditch the cakey under-eye concealer after having a procedure such as tear trough injections."
Lips: "The Perfect Pout"
Just because eyes are having a moment doesn't mean lips are a thing of the past. Lips are always in and more and more patients are willing to pay a bit more for the perfect pout or natural-looking lip. Areas that can be worked on are the philtral columns (the lines from the peak of the cupid's bow up toward the nose), the cupid's bow, the vermillion border (where you'd apply lip liner), and the body of the lip itself (where you'd put lipstick). After analyzing the lips, both at rest and movement, Dr. Malik designs "a custom plan for lip augmentation" using her "Signature Malik Technique."
Botox/Filler
With the advancements in Botox, Newtox, Dysport and Xeomin, procedures are only getting more natural looking. "They are comprised of a substance injected into the skin that inhibits muscle movement and smoothes out (or completely diminishes) fine lines and wrinkles. The most common misconception is that anyone who gets it will be left with a frozen face stuck in one expression. Such is not the case. When implemented appropriately the patient simply looks rested, relaxed and more youthful," says Dr. Malik.
Jawline Contouring with Fillers
Jawline contouring with fillers is another injectable trend set to take off in 2021. "Many women and men now want a more structured jawline and refined profile, without surgery, and are looking to fillers to achieve desired effects. Juvederm Voluma has recently been cleared by the FDA as a chin filler," Dr. Malik says.
MINT (Minimally Invasive Nonsurgical Thread) PDO Thread Lifts
As we age, our skin suffers substantially. Loose skin creates sagging and bags that are difficult to cover. A face lift is the only way to permanently rid yourself of these issues, but going under the knife is a daunting thought for most people. "MINT PDO (polydioxanone) threads provide a revolutionary type of facial rejuvenation without surgery," says Dr. Malik. "Commonly known as the thread face lift, you can dramatically improve your looks and reduce the signs of aging without surgery. MINT PDO can reposition underlying tissues and smooth and soften facial skin. It produces immediate and longer-lasting results than treatments with dermal fillers and Botox. As another anti-aging option for a tailored and customized facial rejuvenation, MINT PDO procedures fill the gap between surgery and injectables." MINT PDO is recommended for both women and men ranging in age from 30 to over 50 who experience moderate sagging in the midface, jowls, nasolabial folds, neck and eyebrows.
Malik Medical Aesthetics & Wellness Center
201 Bridgeton Pike | Mullica Hill | (856) 478-4700
Published (and copyrighted) in Suburban Family Magazine, Volume 11, Issue 10 (January 2021).
For more info on Suburban Family Magazine, click here.
For information about advertising in Suburban Family Magazine, click here.
To find out where to pick up your copy of Suburban Family Magazine, click here.