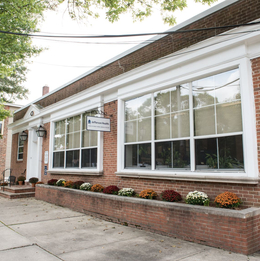 A Safe Space
Newly opened Jefferson Health Haddonfield Primary & Specialty Care provides medical services geared toward the LGBTQ+ community.
WHEN JEFFERSON HEALTH – NEW JERSEY CREATED ITS NEWEST PRACTICE, THEY HAD ONE GOAL— to create a safe, supportive space filled with undivided attention and care, and the most experienced doctors and specialists on staff. They have done just that with Jefferson Health Haddonfield Primary & Specialty Care, which opened on Jan. 4 and provides inclusive medical services to all patients, including specialized services specifically geared toward the lesbian, gay, bisexual, transgender and queer (LGBTQ+) community.
"Our goal is to foster a safe, positive space where the unique and specific health needs of the local LGBTQ+ community are met with compassion and expertise," explains Amanda Kimmel, vice president of ambulatory operations for Jefferson Health - New Jersey. "Services provided at this location include primary care, infectious diseases, hormone replacement therapy, behavioral health (medication management and counseling/psychotherapy), medication assisted treatment (MAT) for opioid use disorder and preexposure prophylaxis (PrEP) for HIV prevention, as well as gynecology and breast surgery services, which will be added in the future."
The plan for this specialized practice came about two years ago. The practice was originally slated to open in Collingswood, but unexpected challenges brought on by the unprecedented challenges of 2020 caused Jefferson Health - New Jersey to change course and open in Haddonfield.
"Rather than open an entirely new practice location, we made the decision to convert an existing Jefferson practice into this new, innovative model of care," Kimmel says. "The Haddonfield area was chosen as it provides easy transportation access via both car and PATCO and connects Jefferson to a population with a high per- centage of LGBTQ+ residents. Our Jefferson executive leaders are committed to health equity, social justice and inclusion, and have been staunch advocates of moving this project forward, despite the challenges of the past year."
"There has always been tremendous support from the LGBTQ+ community," says Medical Director Dr. Todd Levin. "We want to make it easier for them to achieve optimal health, without having to travel outside of their community. We are happy to finally have the practice open and in full operation."
Jefferson Health Haddonfield Primary & Specialty Care offers same-day appointments, as well as office hours between 8 a.m.-8 p.m. to help patients avoid visits to the hospital emergency rooms or urgent care centers for acute, but nonemergent, medical situations, says Kimmel. Telehealth services are also offered as well.
Kimmel and Dr. Levin both note the importance of making health care accessible for everyone, especially for the LGBTQ+ community who they say face discrimination and are at a higher risk for certain medical conditions, and don't always receive the care they need. Jefferson Health ensures equal health care access for this community.
"It is important to make health care accessible for everyone, including the LGBTQ+ community," Dr. Levin says. "We all have struggles, many of which are amplified during this stressful time. We want to provide the necessary services locally to achieve a higher level of wellness. I hope that we see more similar models in the future."
"Despite existing federal protections, the LGBTQ+ community continues to face significant health care discrimination, and this discrimination often leads to avoidance of seeking both preventative care and care for urgent or life-threatening conditions," Kimmel says. "Not only are members of the LGBTQ+ community more likely to experience issues related to mental health and substance use disorder, but they're also at greater risk for certain chronic conditions, diseases and infections. Jefferson understands the importance of addressing the health disparities facing the LGBTQ+ population and is committed to closing these gaps in care."
Jefferson Health is also committed to having experienced staff members at this location who are well-versed in the unique health barriers to health care in the LGBTQ+ population.
"We have all sought special training in our areas of expertise to provide the best care possible for our patients," Dr. Levin says. "Staff and providers have specialized training in cultural humility and care of the LGBTQ+ patient."
"Jefferson Health's primary and specialty care providers have backgrounds that focus on diagnosing, treating and preventing a wide variety of medical conditions," Kimmel says. "Jefferson's medical providers are part of an expert team of specialty physicians, advanced practice nurses, physician assistants, registered nurses, licensed clinical social workers, registered dietitians, certified medical assistants and patient service representatives. This comprehensive approach provides our patients with well-rounded, personalized health care that's tailored to their specific needs."
Jefferson Health Haddonfield Primary & Specialty Care
80 Tanner St. | Haddonfield | (844) 542-2273 | NewJersey.JeffersonHealth.org
Published (and copyrighted) in Suburban Family Magazine, Volume 11, Issue 10 (January 2021).
For more info on Suburban Family Magazine, click here.
For information about advertising in Suburban Family Magazine, click here.
To find out where to pick up your copy of Suburban Family Magazine, click here.