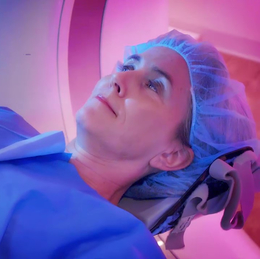 The Picture of Health
SJRA combines expertise and state-of-the-art technology to provide patients with the most comprehensive radiology services in the region.
At A CERTAIN POINT IN OUR LIVES, ANNUAL APPOINTMENTS WITH A RADIOLOGIST MAY BECOME NECESSARY. A variety of exams—X-ray, MRI (medical resonance imaging), CT (computed tomography), PET (positron emission tomography) and ultrasounds—give a clear picture of what is happening inside a patient's body, and—for those who are at risk for particular diseases— may even prove to be life-saving. When deciding where to go for such a crucial exam, in this region there is one provider that stands above the rest: South Jersey Radiology (SJRA).
William F. Muhr Jr., M.D., D.A.B.R., SJRA president and CEO, says the organization's history in the community—which dates back to 1938—means that patients can rest assured they are getting the correct scan on the correct equipment. "We pride ourselves on the latest and greatest optimized equipment and keeping it state of the art," he says.
The only diagnostic imaging center in the region to be awarded the Diagnostic Imaging Center of Excellence by the American College of Radiology, SJRA has 11 convenient locations with more than 45 talented and experienced radiologists on staff, all of whom are leading specialists whether interpreting standard X-rays or the most complex procedures, including preventative scans, such as CT lung screening and 3D mammography.
Dr. Muhr and his colleague, Catherine W. Piccoli, M.D., D.A.B.R., F.A.C.R., co-director of women's imaging at SJRA, say the sooner people are screened for risks like lung cancer and breast cancer, the better treatment outcomes may be. Advances in technology have also reduced the amount of radiation in these scans, helping to put patients' minds at ease.
Dr. Muhr says CT scans allow radiologists to see smaller things with greater resolution. "A CT scan is widely available, quick and easy as compared to an MRI. Although an MRI is more focused, a CT gives a broad overview and helps answer the question or points us to the next test needed," he says.
Lung cancer is a common disease worldwide, and a majority of those who have the disease have a relationship to smoking. However, people may not realize that lung cancer, when caught in stage 1 or often stage 2, is curable. "Much like we've done with mammography, we spent time researching and ensured we would not be doing more harm than good with low-dose chest scans to search for small pulmonary nodules that might be signs of early cancer," Dr. Muhr says. "Results help make a determination to follow up or recommend a biopsy or surgical removal."
Although this scan exists and has a great impact on patients' outcomes, Dr. Muhr says it has not been as widely accepted as mammograms for breast cancer. "There has been some reticence in people to come forward. Lung Cancer was once a death sentence but that's not the case if caught early," he says, adding the scan takes a mere 15 minutes and requires no prep, no injection, no IV.
Candidates for the procedure are between the ages of 55 and 74 with a 30-pack year smoking history (if you have smoked a pack a day for the last 30 years, or two packs a day for the last 15 years), and include those who are current smokers or have quit within the last 15 years. "Those are the people who will benefit most from this screening exam, and insurance covers it, meaning there is no out-of-pocket cost," Dr. Muhr continues.
As someone whose own mother is a survivor of lung cancer and who lost two grandparents to the disease, Dr. Muhr hopes people heed this information and seek the screening that could save their lives.
One in eight women are at risk of being diagnosed with breast cancer in their lifetime, but annual mammograms have proven successful, reducing the death rate by more than 30 percent since screenings were implemented in 1990, according to the Society of Breast Imaging. Screening now begins annually at age 40, as recommended by most major health organizations, including the American Cancer Society and the American College of Radiology.
"The earlier you start, the better your chances of treating early stage cancer," says Dr. Piccoli.
Mammography has come a long way, from film to digital. With the advancement of 3D mammography, which is now the standard for mammograms, radiologists can see through layers of tissue. "This helps us find cancers that would otherwise be obscured by surrounding tissues," says Dr. Piccoli. "Tomography has increased the cancer detection rate and decreased the number of false positives as well."
And the technology continues to advance, she adds. SJRA recently updated its mammography units with equipment that can create a synthesized 2D image from the 3D scan. "This reduces the amount of radiation for patients with it being just one scan, and it gives us an overview and helps us see groups of calcifications. If you were to only look at a 3D image, calcifications can be lost or appear faint," says Dr. Piccoli. "This advancement means we can enhance certain features in the breast, and spiculated masses may stand out more."
The procedure is no different than previous mammogram technology, with the breast under compression for just a few seconds more, she says. "SJRA has always been proactive in the next advanced method of imaging. I think this technology has been a great boon to mammography readers. Abnormalities stand out giving us a better chance of finding early cancers."
TO SCHEDULE AN APPOINTMENT, VISIT SJRA.com OR CALL (888) 909-SJRA TODAY.
Published (and copyrighted) in Suburban Family Magazine, Volume 11, Issue 10 (January 2021).
For more info on Suburban Family Magazine, click here.
For information about advertising in Suburban Family Magazine, click here.
To find out where to pick up your copy of Suburban Family Magazine, click here.