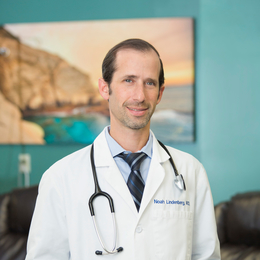 Promising Progress
Lindenberg Cancer & Hematology Center provides individualized care for each patient when treating cancer, including precision medicine and targeted therapy.
WHEN ONCOLOGIST DR. NOAH LINDENBERG OPENED HIS PRIVATE PRACTICE, Lindenberg Cancer & Hematology Center in 2018, he wanted cancer patients to have other options besides chemotherapy and to receive individualized care from him and his staff when going through cancer treatment without traveling beyond South Jersey.
Conveniently located in Marlton, Dr. Lindenberg treats many different types of cancer and analyzes every patient's case, creating a specialized treatment plan for each patient based on the specifics of how the cancer has progressed.
"No two patients with the same named cancer behave the same way," Dr. Lindenberg explains. "In the olden days, if somebody was diagnosed with lung cancer, everybody would get the same toxic treatment. … Whenever I see a patient who has cancer, we want to try to understand it in terms of the molecular structure and genomics of the cancer. Today we know there are certain mutations that occur in cancer that allow it to grow and spread, and it can be targeted specifically. When we understand it, we're able to give treatments that are specific and targeted with high efficacy and significantly lower side effects."
One of those treatments offered is precision medicine, which takes into account individual variability in genetics, genomics, environment and lifestyle specific to each patient.
"It looks at the genomics of the cancer and allows our patients targeted therapy that specifically targets their cancer in a way that allows for more effective treatments, better tolerance and less toxicity from the treatments," explains Dr. Lindenberg. "In some cases there is oral medication that has a significant impact on patient survival and their journey. We have treatments that are much better tolerated."
Dr. Lindenberg says historically the way doctors have treated a variety of cancers is through chemotherapy, but the one-size-fits-all philosophy isn't exactly the case anymore because of how much one's genetics, environment and lifestyle play an integral part in the treatment of the disease. Additionally, in many cases, precision medicine is far less toxic than chemotherapy.
"One of the highlights of genomic and precision medicine is a lot of different cancers can be treated with immunotherapy, which stimulates the body's own immune system to kill cancer. So rather than giving chemotherapy by itself, which can be toxic to cancer and a lot of different body cells, immunotherapy harnesses the power of the patient's own immune system to eradicate the disease," he says. "It's a very promising treatment."
This is one reason why an individualized treatment plan for each patient is so important, especially as technology advances and more treatment options become available.
"With each passing year, treatment options from a targeted perspective increase exponentially," Dr. Lindenberg says. "[This involves] doing genomic testing on patients' tumors and increasing frequency so we can understand the molecular backdrop of the cancer and treatment they have available today and banking the information we receive in case something becomes available tomorrow, and that's happened. Very frequently we have new treatment options that get approved for targeted therapies for patients with increasing frequency."
The results from precision medicine are promising and can change the outcome of a patient's status rapidly.
"I've had patients in the hospital where they were extremely debilitated, oftentimes they were in consideration for hospice because they look weak and can't tolerate toxic therapies," he says. "We push to do genomic testing on the tumor and perform a liquid biopsy on the blood itself that may reveal a minimally toxic treatment option with a very high chance of clinical success the tumor will respond to it. Patients' clinical status can transform in a matter of days to weeks in some cases."
Patients' overall quality of life is better with precision medicine and targeted therapy as well, allowing them to live significantly longer.
"The goal of oncology care and of all medical care is to improve the quality of life and survival," Dr. Lindenberg says. "Those are the two main goals, and it's something precision medicine unlocks and allows us to improve upon by offering tailored treatments. It often produces superior survival and minimizes the burden on the quality of life. There has been huge success in oncological care to discover these targets that allow patients to live significantly longer and better, much longer than what we were able to produce previously.
"They also don't have to have as frequent trips to the office and are not on toxic chemotherapy with conventional side effects associated with that."
Dr. Lindenberg says precision medicine is best for certain types of cancer patients, especially those with advanced stages of cancer.
"All patients with advanced diseases such as stage 4 should be undergoing it, and we're increasingly seeing patients with diseases in earlier stages become candidates for precision medicine, too," he says.
Dr. Lindenberg and his staff's passion for treating cancer, providing comforting care and improving the lives of all of his patients shines through with the personalized attention given to every patient.
"That's what it boils down to. That's the kind of care patients get in our practice, it's extremely personalized and patients have an excellent journey," he says. "It's more than the treatment choice and the medicines we give, we truly offer tender loving care to our patients. We support them every step of their journey and in many ways it's more important.
"Our staff is incredibly intelligent, compassionate, caring and warm; it's something that really separates us. There's a personal touch— the patients know everyone, we know everyone. It's a very warm and nurturing environment, as opposed to a very busy center where you don't necessarily know everyone. That caring and supporting atmosphere is what helps patients get through each session and keep fighting their battle."
Lindenberg Cancer & Hematology Center
773 Route 70 E. | Suite E-125 | Marlton | (856) 890-7200 | LindenbergCancer.com
Published (and copyrighted) in Suburban Family Magazine, Volume 11, Issue 10 (January 2021).
For more info on Suburban Family Magazine, click here.
For information about advertising in Suburban Family Magazine, click here.
To find out where to pick up your copy of Suburban Family Magazine, click here.