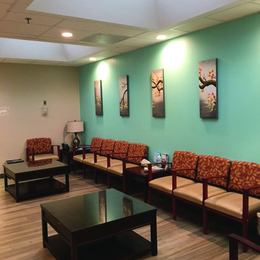 Special Delivery
Axia Women's Health delivers personalized care, support and education to streamline each step of an expectant mother's journey.
ASK AN EXPECTANT MOTHER TO ENVISION THE PERFECT WAY TO WELCOME HER BABY INTO THE WORLD, and she will likely imagine a safe, serene and nurturing environment, managed by a trusted OB/GYN specialist who has been a guiding light every step of the way. In South Jersey, the specialists with Axia Women's Health strive to deliver this idyllic experience—and much more—to every mother-to-be.
"What we do here is not just a job," says Kimberly Bridges-White, M.D., lead physician with Garden State OB/GYN, an Axia Women's Health care center with locations in Voorhees and Moorestown. "Personally, I would not be part of a hospital or group that I wouldn't feel comfortable sending my mother or sister or best friend to. We're truly a family here, and everyone comes together for each other and for our patients."
Axia Women's Health provides comprehensive support with each step of an expectant mother's journey—before, during and after delivery. Whether it's a woman's first child or her fifth, whether she's considered low-risk or high-risk, Axia care centers such as Garden State OB/GYN offer a personalized experience rooted in compassion, communication and genuine connection.
"We meet a lot of patients through word-of-mouth referrals, but a lot of people will meet our providers for the first time through our website," adds Dr. Bridges-White, who has been with the practice since 2002. "Some people may like Marianne Ecker, one of our nurse practitioners, because she's a gardener. Others might like Dr. [Ryan] Colella because they're having twins and they know he has twins of his own. Some people like me because they find out I went to Central High School [in Philadelphia]. It's a very personal experience."
Dr. Bridges-White is one of 17 providers currently on staff at Garden State OB/GYN: 11 physicians, including two minimally invasive gynecologic surgeons; four nurse practitioners; and two midwives. Each provider is devoted to continuous self-improvement , much like the practice itself. For example, the practice recently adopted Enhanced Recovery After Surgery (ERAS) protocols to optimize outcomes for patients following cesarean sections. The basic principles of ERAS include preoperative counseling and nutritional strategies, a focus on regional anesthetic and nonopioid analgesics, and the use of postoperative recovery practices such as early mobilization. ERAS benefits include a shorter length of stay, decreased postoperative pain and greater patient satisfaction, among others. Dr. Bridges-White
"When I had a C-section, I went home after day two, and I walked out of the place L-shaped because I was in so much pain," Dr. Bridges-White recalls. "ERAS would have been a wonderful program for me. When you take a narcotic, it knocks out your whole system, whereas you should be treating just the incision. With ERAS, you can use a nerve block with Exparel, so the patient can leave on day two feeling really good. On the whole, [ERAS] better prepares the patient for surgery so she can focus on the joys of taking care of the baby, not solely on the pain."
All Axia Women's Health locations have instituted a number of protocols for patient safety and convenience. Providers now conduct many nonessential visits through telemedicine, and they have also used Zoom meetings and recorded videos to share vital information with patients in creative ways.
Other at-home tools include a mobile app that gives patients 24/7 access to videos, articles and other curated educational content, "from conception to your baby's first birthday," as well as access to virtual prenatal education, allowing patients to take interactive courses in topics such as pregnancy, labor and delivery, breastfeeding and newborn care, each led by a certified trainer.
Furthermore, Garden State OB/GYN will soon introduce the INVU™ platform to facilitate remote pregnancy monitoring. Dr. Bridges-White expects the platform to come online as early as next month
"With everything we do, our goal is to provide better, more comprehensive, more complete care," she adds. "We see ourselves as a one-stop shop. You can even get your mammogram right next door. If we can help you be more successful as a participant in your own health care, we're going to provide the amenities to help you do that, for your health and the health of your baby."
For more information on Garden State OB/GYN and other local Axia Women's Health practices, visit axiawh.com.
Five Stars for Axia Women's Health
Congratulations to Garden State OB/GYN for receiving "Reader's Choice" recognition by Suburban Family readers, and to the following Axia Women's Health providers for being honored as "Five-Star Physicians" in the medical specialty of obstetrics and gynecology.
Dr. Kimberly Bridges-White
Dr. Sarah Rosen
Garden State OB/GYN
Voorhees/Moorestown
(856) 424-3323
Dr. Donald Cannon
Dr. Lennard Gildiner
OB/GYN Associates
Voorhees/Sewell
(856) 435-7007
Published (and copyrighted) in Suburban Family Magazine, Volume 11, Issue 10 (January 2021).
For more info on Suburban Family Magazine, click here.
For information about advertising in Suburban Family Magazine, click here.
To find out where to pick up your copy of Suburban Family Magazine, click here.