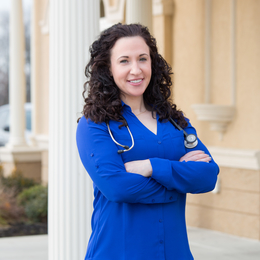 Relief from Chronic Pain
Break the cycle naturally using regenerative medicine at Advanced Cardiology of South Jersey.
THOSE WHO SUFFER FROM CHRONIC PAIN DON'T JUST FEEL IT PHYSICALLY, BUT MENTALLY AS WELL. The battle of just getting through the day wears people down, causing them to avoid activities they once loved. Turning to over-the-counter medications comes with its own side effects, and could lead to sufferers seeking something stronger—and potentially dangerous—just to seek any bit of relief, and surgery is a last resort many choose to avoid or postpone as long as possible. For years people have thought "there has to be a better way," and now there is.
At Advanced Cardiology of South Jersey, Stacy Warren, PA-C, is helping to administer alternative therapies known as regenerative medicine on patients suffering from joint issues, providing relief in a minimally invasive manner.
Many of her patients deal with general joint issues such as tendonitis, tendinosis, joint instability, plantar fasciitis, tears and degeneration of the labrum of the hip and shoulder, along with impingement syndromes of the shoulder and hip and osteoarthritis. "Numerous chronic joint issues can occur from aging, overuse, uneven muscle loading, structural defects and sports injury. These can affect people of any age/race/ gender," Warren says.
"People have been suffering from these issues for decades. If the anatomy of a joint doesn't heal properly after an initial injury or is repeatedly stressed and overworked, further tearing of the connective tissues occurs leading to joint instability and accelerated premature degeneration and osteoarthritis. Some sports injuries that can occur are tennis elbow, golfer's elbow, chronic iliotibial band syndrome (ITB) and runner's knee."
Over time, this chronic pain ripples through all aspects of someone's life. Daily activities for stress relief such as running, jogging or going to the gym become less frequent, and without having an outlet and an ability to raise endorphin levels, stress can become unmanageable. "This can lead to depression and fatigue, along with a chronic pain cycle that is hard to break after a while," Warren says.
Relief is typically found initially with over-the-counter, non-steroidal anti-inflammatory drugs (NSAIDs), including ibuprofen, Motrin and Aleve, or prescriptions such as Celebrex and Voltaren. "NSAIDs have a long list of systemic dangerous side effects that many patients are unaware of. Unfortunately because these medications are readily available through most retail stores or prescriptions from providers people tend to become dependent on these drugs for the short-term relief from pain that they provide without knowing the long-term consequences of these medications. Although chronic inflammation and other complex conditions can be more difficult to treat, people can find relief without NSAIDs," Warren advises. "NSAIDs are overused for everyday issues. The American Heart Association (AHA) has put out a warning about the higher risks NSAIDs can play on the cardiovascular system. AHA has actually been pushing providers to not prescribe NSAIDs due to their high-risk potential on multiple body systems." The need for pain relief has also played a role in the growing opioid crisis, with many becoming addicted as they cover up the pain instead of treating the root cause.
Dr. Vic Bahal, who is quadruple board-certified in internal medicine, cardiology, anti-aging/functional/regenerative medicine and integrative cardiology, and founder of Advanced Cardiology of South Jersey, has invested in offering regenerative medicine to his patients, especially because of the number of patients he sees who are chronically prescribed NSAIDS and/or opioids and increasing awareness of the dangers of these drugs in particular to the cardiovascular population of patients. Platelet-rich plasma therapy (PRP) is coming more to the forefront due to its use among professional athletes such as Tiger Woods and tennis star Rafael Nadal and its frequent utilization by the National Football League and Major League Baseball.
Advanced Cardiology first introduced PRP into the practice for use in offering patients a minimally invasive, in-office, non-surgical treatment option for a wide range of acute and chronic joint and orthopedic conditions, including tendinitis/tendinosis and osteoarthritis. Those who use PRP for these issues see a reduction in pain and stiffness, while improving range of motion, mobility and functionality. Other minimally invasive in-office procedures are often performed in conjunction with PRP to strengthen the ligaments and to alleviate nerve pain often associated with these chronic conditions.
Often these procedures result in growth of new healthier and stronger joints that are nearly completely healed and resistant to further and reoccurring injury and stress allowing most to avoid surgical procedures which undoubtedly come with much higher risks, pain, and potential complications and treatment failure. At Advanced Cardiology, Warren will customize a plan to treat your joint problems as each patient's case has a unique set of circumstances. "The world of medicine is not one size fits all and requires some outside-of-the-box thinking, creating and doing."
Unlike surgery, regenerative medicine has no recovery time, allowing people to get back on their feet much quicker, Warren says. "Often the trauma from surgery leaves the surrounding joint tissues weak which can lead to re-injury of the joint and/or surrounding areas. There are certain cases that do require surgical intervention but in most cases patients do have other options. Many people are not aware of the options available to them."
Regenerative medicine does not pose the risk of compromising surrounding joint tissue as surgery often does, which often becomes a new source of chronic pain. "Regenerative procedures actually rebuild and strengthen the joint and surrounding tissue," she says. Results vary from patient to patient but nearly everyone sees improvements that range from restoring and improving function to complete restoration. "Even in more severe cases where we are not able to achieve complete restoration many patients see enough improvement that they no longer feel they need to have a surgery or are able to put off surgical intervention for many years."
Warren says these therapies are underrepresented in the health care arena and many people don't know that it is a viable option for their issues. "Nearly everyone is a candidate for regenerative medicine. People need to take the time to educate themselves on all available options before jumping right into surgical repair and understanding all of the potential risks, complications and failures that come with surgery especially to those with coexisting health conditions. Patients are encouraged to come in for consultations with any and all questions they may have," she says.
To make an appointment at Advanced Cardiology of South Jersey, please call (856) 241-3838.
Advanced Cardiology of South Jersey
4 Burton Lane, Suite 100 | Mullica Hill | (856) 241-3838 | AdvancedCardiologySJ.com
Photography by Alison Dunlap.
Published (and copyrighted) in Suburban Family Magazine, Volume 11, Issue 10 (January 2021).
For more info on Suburban Family Magazine, click here.
For information about advertising in Suburban Family Magazine, click here.
To find out where to pick up your copy of Suburban Family Magazine, click here.