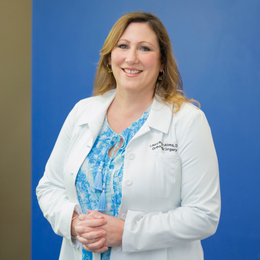 Compassionate Care
Ross Center for Orthopedics combines evidence-based treatment with personal attention for a wide variety of patients and injuries.
Whether it's a young athlete who has suffered a torn ACL on the football field, a middle-aged professional whose lingering elbow problems prevent him from hitting the golf course or an elderly woman who is unable to pick up her grandchildren because of a shoulder injury, residents of South Jersey have many options to choose from when it comes to orthopedic care. Yet in many of these health care settings they are simply a number; the latest in an assembly line of patients to roll through the system, receiving adequate treatment but little in the way of compassion.
Fortunately, there is another alternative where top-of-the-line care and personal attention go hand in hand. Laura Ross, D.O., started Ross Center for Orthopedics with the mission of combining these two concepts, and 15 years later it continues to thrive as a private, general orthopedic practice seeing patients of all ages with a wide array of ailments.
"I was at a great practice before this but there was a heavy volume of patients," Dr. Ross says. "It was hard to spend time with them and get their story. Patients want a doctor who is going to listen to their needs and help them with their recovery. We like to listen carefully to our patients, find out what their goals are and come up with a personalized treatment program."
That connection with patients is just one aspect that sets Ross Center for Orthopedics apart and drew Dr. Ross into the field 23 years ago. She was intrigued right away with the idea of helping people heal from broken bones or joint dislocations.
"I'm very mechanically inclined and I've always liked fixing broken things. Now I fix broken people," she says. "Orthopedic surgery is very concrete but it can be complex and challenging. I like the different patient population and the different injuries they come in with."
Ross is an osteopathic-trained physician— and currently a clinical instructor at the Rowan University School of Osteopathic Medicine— which means she treats patients as a whole rather than focusing on a specific injury. She strives to get to the root cause of the problem and determine if factors like obesity or underlying osteoporosis are contributing to the issue and need to be addressed.
Her office practices evidence-based medicine, utilizing treatment that is proven to be effective.
"The emphasis is more on conservative treatments and minimally invasive outpatient procedures rather than big open procedures," she Emily Turo says. "In addition to that, because I'm an osteopathic physician I also like to take a holistic approach so I integrate other forms of medicine into a treatment plan; things like nutrition, exercise and maybe even acupuncture." At the same time, Dr. Ross is proficient in such procedures as arthroscopy of the knee and shoulder, ACL reconstruction and fracture surgery. She is normally in the operating room two days a week with affiliations at Virtua, Jefferson and the South Jersey Surgical Center.
"When surgery is the only thing that will help, that's the approach we take and I really enjoy it," she says. "But patients are often trying to avoid the operating room and we can help them find solutions. For example, we will soon be offering platelet rich plasma (PRP) injections to help patients avoid surgery for osteoarthritis of the knee, tennis elbow, etc."
Emily Turo, a certified physician assistant, joined Ross Center for Orthopedics last August. She appreciates the collaborative environment and Dr. Ross's commitment to developing the right path forward for each patient.
"People come to us whenever they are in pain, whenever they have an injury or whenever their quality of life is suffering, and our job is to figure out what the cause of the problem is and the way for them to have the best outcome," she says. "If that means doing physical therapy, if that means adapting to a home exercise program or if that means surgery, we look at each patient individually and figure out what works best for them."
Turo, like Dr. Ross, finds it fulfilling to help patients resume their favorite activities and return to the freedom to which they are accustomed.
"One example is the older patient who has various issues and is missing out on playing with their grandkids," she says. "It's not just about making them feel better; it's about getting them to that goal, which is ultimately more family time. It's the same thing with the athlete. You can see their passion for the sport and how badly they want to get back to it. It is definitely rewarding to help them achieve their goals."
Dr. Ross has centered her practice on that very notion for almost two decades now. While other doctors may face burnout, she continues to be devoted to her craft.
"It's funny because all of us in the office were recently playing the lottery together," she says. "One of my staff members said to me, 'Dr. Ross, if we win are you going to keep this practice open?' And I said, 'Absolutely. We love it here and of course we're going to still see patients.' I feel passionate about it and I still love what I do."
Ross Center for Orthopedics
300 Creek Crossing Blvd., Suite 307
Hainesport
(609) 267-2333 | RossOrthopedics.com
Photography by Alison Dunlap
Published (and copyrighted) in Suburban Family Magazine, Volume 11, Issue 10 (January 2021).
For more info on Suburban Family Magazine, click here.
For information about advertising in Suburban Family Magazine, click here.
To find out where to pick up your copy of Suburban Family Magazine, click here.