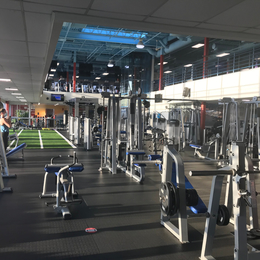 Above and Beyond
With major club upgrades and extensive safety protocols, Echelon Health & Fitness continues to commit to the physical and mental well-being of its members during the pandemic.
For those who take exercise seriously, there are certain qualities to look for when choosing a health club. Top-of-the-line equipment, modern amenities and a wide variety of classes are all near the top of the list, to be sure. But equally as important is a comfortable environment where you can share a friendly conversation in between sets or receive words of encouragement while struggling to push up that final rep.
As one of the few family-owned gyms throughout South Jersey, Echelon Health & Fitness meets all of that criteria. When members were finally able to return for indoor training in September after several months of closure due to the COVID-19 pandemic, they were thrilled to not only bolster their physical and mental health, but to rediscover the tight-knit, community feel that drew them to Echelon in the first place.
"We call our members family, so the relationships we have with them and that they have with each other, you can't even put a price on it," says David Chung, co-founder and CEO. "It's not like they took us for granted, because nobody ever thought they would be locked out of the gym they go to. But this situation has helped us to really value every moment we have with our members to help them attain their goals, and members have expressed the same feelings."
Like restaurants and retail shops, the gym industry has been one of the most significantly impacted by the pandemic. Yet through it all, the team at Echelon Health & Fitness has gone above and beyond to create opportunities for its members, investing heavily into new programs and club upgrades even in a time of struggle.
It all started in March when state mandates forced the shutdown of gyms. Within days, Echelon pivoted and launched Thrive Anywhere, enabling its renowned personal training program to be offered through Zoom. Then, in collaboration with Virtual Health Partners, it provided on-demand fitness classes so that members could work out with instructors they already knew and had a rapport with.
In June, Echelon was given the go-ahead for outdoor classes and transformed a section of its parking lot into a beautiful workout area called Lotta Gains, painted light and dark blue to mimic the inside. Meanwhile, improvements were happening inside the facility, with a new turf area, state-of-the-art equipment and dry sauna all added. On top of that, Echelon was preparing for the return of its staff and members with extensive safety measures.
"We want to be part of the solution going forward and we spare no expense to ensure the safety of all members and our team," says Jeff Quinn, managing partner, who was even recently certified as a contact tracer to help stop the spread of the virus.
When members were allowed back in the building at 25 percent capacity, they were not only met with temperature checks, COVID-19 waivers and mask requirements as determined by the state; Echelon went a step further by installing disinfectant mats to clean all the bacteria off people's shoes before they enter. Each member is also given his or her own disinfectant bottle and towel and asked to wipe down every piece of equipment before and after use.
All of these steps—from the safety guidelines to the outdoor classes, which will continue year-round aside from severe weather days—are meant to give people the chance to reap the benefits of exercise. Numerous physicians and medical studies have shown the importance that fitness plays in com- batting the coronavirus and preserving physical and mental health.
"We were overwhelmed with the love and support we got from our members when they came back," Quinn says. "So many of them told us they could not have lasted much longer without us. They are very grateful for everything we've put into place and the club improvements."
Thrive Personal Training—developed by Mike Boyle and one of the most highly regarded programs in the country—is back to in-person sessions, with everyone from seniors to professional athletes taking advantage.
"Everyone has gyms with treadmills and pools, but it's all about programming and we believe we have the best programming to help us with our mission, including Thrive and MemberPERX," Chung says. "Thrive will definitely help you move better, feel better and look better."
Speaking of MemberPERX, it is a unique program in which all Echelon members are offered discounts at more than 700 local businesses, such as restaurants, clothing and jewelry stores, retail shops, pet stores, salons and spas. Members have saved over $380,000 since Echelon opened in 2016, including $8,500 during the 167 days of the shutdown.
"At the same time they were supporting a lot of the local businesses, like restaurants that were doing takeout only," Quinn says. "We're huge on community and our mission is to help our PERX partners become healthier, stronger and fitter, which is why we offer memberships to their teams. It's a win-win for everyone."
As the pandemic hopefully draws to a close in the coming months, Echelon Health & Fitness will continue finding ways to support its members and surrounding community in compassionate and innovative ways.
"Everyone reading this magazine went through COVID together," Quinn says. "If we can provide an environment to help you build your immune system, to de-stress and feel better, then we're ecstatic that we can do that."
Echelon Health & Fitness
1160 White Horse Road | Voorhees | (856) 454-2976 | EchelonHF.com
Published (and copyrighted) in Suburban Family Magazine, Volume 11, Issue 9 (November 2020).
For more info on Suburban Family Magazine, click here.
For information about advertising in Suburban Family Magazine, click here.
To find out where to pick up your copy of Suburban Family Magazine, click here.