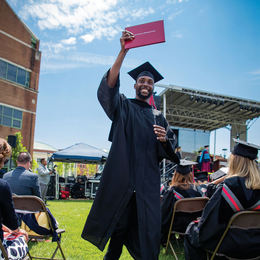 In a Class by Itself
Rowan College at Burlington County strives to make higher education affordable to all, with the flexibility to "meet students where they want to be met."
Michael A. Cioce can understand why some aspiring college graduates might view the current climate and decide to "wait until things get back to normal." Even so, he believes there's no time like the present to invest in a college education—and that there's no better place to do so than Rowan College at Burlington County (RCBC).
"We've spent the past eight months rethinking how our programs are delivered," says Cioce, president of RCBC, formerly known as Burlington County College. "We had the advantage of having 40-plus years of doing distance education." There were two modes of learning previously—in person, meaning at a set time in the classroom, and remote, which was more self-paced. Now we're doing VLC or virtual live courses, that have allowed students to benefit from the synchronicity of live classes but without having to leave their homes."
While the RCBC campus has remained open to students throughout this unprecedented year, the college has evolved to "meet students where they want to be met," as Cioce says. "Learning never has to stop," he adds. "If it's snowing in Florence but not in Mount Laurel, students in Florence can participate virtually and not miss any instruction or interaction with their classmates.
RCBC remains a destination for an affordable college education, offering associate degrees in more than 80 different areas of study. In addition, the college has partnered with Rowan University to construct a pathway to a bachelor's degree for less than what many colleges might charge in a single year. The "3+1 Program" enables students to split their education between institutions, completing their first three years of study at RCBC and their senior year at Rowan. So far, the program includes nine different majors—applied professional communications, biology, business administration, computing and informatics, inclusive education, law and justice, liberal studies, nursing, and psychology—with more to come.
"We succeeded in getting this program off the ground in 2016-2017, and we now have 1,000 [3+1] students in their third year," Cioce says. "The response from students and prospective students has been incredible, and Rowan has committed to expanding their portfolio by two bachelor's degrees per year. At the end of the day, you're getting the same Rowan diploma at a fraction of the cost because you're paying community college tuition for 75 percent of your education."
Cioce estimates that attaining a bachelor's degree through the 3+1 Program would cost approximately $26,000, without factoring in any financial aid. For students who might require financial assistance, RCBC provides opportunities to significantly reduce tuition costs through vehicles such as the New Jersey Community College Opportunity Grant. Some students may even qualify for tuition-free college, with next to no out-of-pocket costs.
"We have a lot of first-generation college students whose families have had no prior experience with college enrollment," he adds. "Our goal is to make financial aid and all of these other confusing issues associated with the process not an issue at all. Any student that comes here will have access to the full suite of subject-matter experts to help them succeed."
RCBC believes one's education does not end on their last day of their senior year. The college offers a broad swath of education training designed to meet the demands of an ever-changing workforce. A dedicated division known as the Workforce Development Institute provides certificate programs in high-demand job sectors, such as health care, finance, and supply-chain management, among others. The goal: to help workers attain new skills and competencies needed to remain vital in an increasingly competitive workplace.
If Cioce were to offer one final piece of advice to anyone looking to use education as a way to improve their lives, it's this: Don't wait.
"From a timing perspective, there's no better time than now," he says. "People tend to think of college as beginning in the fall, but you can start in spring, summer—any time of year. You can take as many credits as you want, and we'll meet you wherever you want to be met. We're as flexible as our students need us to be."
Rowan College at Burlington County
900 College Circle, Mount Laurel
(856) 222-9311 | https://www.rcbc.edu/suburban-family

Published (and copyrighted) in Suburban Family Magazine, Volume 11, Issue 9 (November 2020).
For more info on Suburban Family Magazine, click here.
For information about advertising in Suburban Family Magazine, click here.
To find out where to pick up your copy of Suburban Family Magazine, click here.