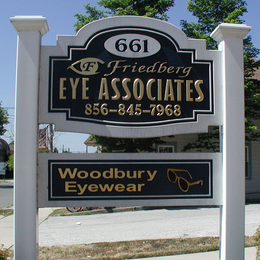 More than Meets the Eye
Friedberg Eye Associates offers advanced treatment and care for the whole family.
EYE HEALTH IS SOMETHING MANY PEOPLE OFTEN TAKE FOR GRANTED IF THEY AREN'T EXPERIENCING ANY DIFFICULTIES. However, the eyes are a window into a person's general health, making their care an essential component of our wellbeing.
At Friedberg Eye Associates, they care about the complete eye health of their patients and catching any issues early. "We would like to share our passion about how important a comprehensive evaluation by an eye care professional is. Many other diseases develop before patients notice a problem, and most ocular diseases are best treated early, sometimes before actual symptoms occur," says Dr. Andrea Friedberg.
For more than 70 years, Friedberg Eye Associates has been caring for patients from across South Jersey and beyond, offering a wide range of ophthalmology and optometry services, including cataracts and cataract surgery, glaucoma treatment and surgery, LASIK eye surgery, dry eye disease and treatment, macular degeneration, pediatric eye care and cosmetic treatments, among many others. The practice is the most technologically advanced, using state-of-the-art equipment and training for the most accurate diagnosis and treatment of eye disorders.
Dr. Friedberg is joined at the practice by Dr. Howard Friedberg and Dr. Brett Weinstock, ophthalmologists, and optometrist Dr. Louise Colletti. They have been recognized by various organizations for their expertise and quality of care, including South Jersey and Philadelphia Magazine top docs as well as being named the Readers' Choice winner in Suburban Family Magazine's Best of Family 2020 for family eye care.
The ability to treat the whole family in one office is extremely appealing to today's busy families, and Dr. Friedberg says parents are often unsure when to bring their children in for exams since it's usually a part of a routine pediatric well visit. "It is ideal for us to first see a child when they are perhaps 3 to 4 years old, especially if they can identify figures, numbers or pictures, but we can see children earlier if there is family history of disease or if parents are noticing something they are not comfortable with," she says. A more comprehensive eye exam conducted by an ophthalmologist should be scheduled if a child fails a vision screening, has a learning disability or developmental delay or if they have a vision complaint.
Adults need to look out for their own eye health as well, advises Dr. Friedberg. There are many people who are at a higher risk for certain eye diseases, she says. "Women for example do have a higher tendency for dry eye issues and people with diabetes, hypertension, inflammatory diseases and many other systemic diseases have their own sets of risks. Age is a risk factor for developing cataracts, macular degeneration and glaucoma. Many medications can give you eye conditions that need attention. People who smoke, drink to excess, experience migraines or have poor eating/nutritional habits also carry risk for eye problems." Symptoms include a change in sight—gradual or sudden—pain, light sensitivity, redness, tearing, flashes of light/floaters or dry eye signs such as grittiness or a sandy feeling in the eyes.
Dr. Friedberg says ophthalmology is one of the most technological subspecialties, with constant advancements that bring significant benefits to patients. "Cataract surgery is so technologically advanced that it is performed in an outpatient surgery center and is brief and painless. Complication rate is less than 1% and often, even with a complication, vision can be saved," she says. "Minimally invasive glaucoma surgery is almost its own new specialty to treat glaucoma earlier and at decreased risk to patients, and advances in retinal treatments now can restore degrees of vision in some patients with macular degeneration."
Laser eye surgery expertise is also offered at Friedberg Eye Associates by Dr. Weinstock. "These procedures include LASIK, PRK, and SMILE, and can be helpful for people who are nearsighted, have astigmatism and a mild amount of farsightedness," Dr. Friedberg says. "Each of these have unique surgical techniques, with the main difference being where the laser energy is applied to the cornea. At Friedberg Eye Associates, we exclusively use Wavefront guided scans of a patient's cornea to treat their individual anatomy on a micron level."
Additionally, an ophthalmologist's familiarity with working on a microscopic level makes them especially adept at aesthetic, cosmetic and functional procedures and surgeries—something that might be unexpected to hear. "Facial rejuvenation is our area of expertise. We are extremely detail oriented and trained in repair with fine detail since ophthalmologists know the eyelid best. A great deal of our surgery is actually done through a microscope with tiny instruments," Dr. Friedberg says. She has been perfecting eyelid surgeries for over 30 years.
"Ophthalmologists were amongst the first people to use botulinum toxins or neurotoxins to improve lid and facial spasms. We are accomplished at injections with tiny needles that are now 33 gauge, much smaller than the needle used to administer insulin in a diabetic patient," she continues.
Both straightforward and complex contact lens fittings are the responsibility primarily of Dr. Colletti at Friedberg Eye Associates. She has over 20 years of contact lens experience.
Along with the optical shop, Woodbury Eyewear, which provides customized fit of frames as lenses by licensed opticians, it is clear that Friedberg Eye Associates is the best choice for your family's eye care.
Friedberg Eye Associates P.A.
661 North Broad Street | Woodbury | (856) 845-7968 | FriedbergEye.com
Published (and copyrighted) in Suburban Family Magazine, Volume 11, Issue 9 (November 2020).
For more info on Suburban Family Magazine, click here.
For information about advertising in Suburban Family Magazine, click here.
To find out where to pick up your copy of Suburban Family Magazine, click here.