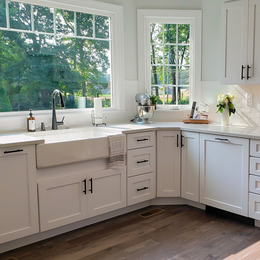 Safe and Comfortable at Home
Matteo Family Kitchens & Flooring brings a refreshed look to your haven.
CHOOSING A KITCHEN REMODELER MAY SEEM LIKE AN OVERWHELMING TASK. AFTER ALL, THERE'S NO SHORTAGE OF COMPANIES IN THE AREA OFFERING THESE SERVICES. But when it comes to companies that have been in business for many years and developed a long-standing reputation, the list gets much shorter. Matteo Family Kitchens & Flooring is on that list. This Woodstown-based business celebrated its 25th anniversary this year—a pretty monumental feat in a volatile industry.
"Having a business open for 25 years is no small task in this area of business," admits Steve Matteo, owner and designer. "We are greatly affected by the economy and when things slow down, larger spending for home remodeling does as well. We attribute our ability to sustain business during ups and downs to our wonderful clientele and fantastic contractor base."
This company's history starts with Matteo's father. After 32 years in the kitchen and bath remodeling industry, Everett Matteo, along with his wife Elaine and sons Tom and Steve, decided to go into business for themselves and opened Matteo Family Kitchens & Flooring in 1995. Although flooring was not an original part of the business, it's now a staple. The business assists with projects relating to cabinets, countertops and all types of flooring. It's undeniable that there is something special about working with a family-owned business for this type of work.
"Hiring a family business is like hiring your friend or your neighbor," Matteo says. "We live in the same communities and belong to the same sports teams and churches—and we understand the wants and needs of the people. We want our customers to feel like we are their partner in the process. We work hard to have great products at fair prices. The companies that we have partnered with are able to give our customers a fantastic value for their dollar and able to keep our family name in a positive light. Being a family business helps with the overall customer experience because the customer has interaction with the owners and feels comfortable knowing that if they have questions, we're here."
One of the wonderful benefits of working with Matteo Family Kitchens & Flooring is visiting their spacious showroom where you can see all of their products in one place. Anyone who has already been through a home renovation knows that choosing products without seeing them in person is challenging—and you never quite know what you'll get. But Matteo says the showroom is "set up to help customers see and feel materials" in person.
"We want to be able to show the difference in specific areas of the kitchen in a functional way," he adds. "We work closely with the contractors or homeowners who are doing the work themselves in the design so that they understand what it will take to create the look they want."
For homeowners who don't already have a builder in mind, Matteo has a stable of qualified contractors who are all licensed, bonded and insured. Matteo says they work with some of the most amazing, talented local contractors out there and help to connect them to the right project. Most of the contractors they work with only work with Matteo clientele.
With more people spending—and working— at home than ever before, Matteo says they've been busy. They're also working incredibly hard to keep everyone safe. That has included implementing a cleaning system where surfaces are immediately wiped after each touch. Sales staff visits and showroom visits are also being limited to minimize exposure. Matteo says that one upside to this, in the showroom, has been being able to spend more quality time with each customer.
In addition to upgrading to farmhouse kitchens with painted cabinetry and wood accent features, many homeowners are also looking to convert unused spaces—like dining rooms—into an office. Matteo says many people are replacing carpet with vinyl plank or laminate flooring, which is more suitable for desk chairs. They're also changing countertops out from Formica style to updated granite or quartz with amazing backsplash tiles for a completely updated look.
"Since the house has become everyone's safe place and vacations have been limited, people are investing in updating their home and making it a place they really want to be," Matteo says. "We can help in many areas of the house including kitchens, bathrooms, flooring and countertops—and even making a home office with cabinets. We're here to help in any way and we offer free estimates."
Matteo Family Kitchens & Flooring
20 Old Salem Road
Woodstown
(856) 769-2490
MatteoKitchens.com
Published (and copyrighted) in Suburban Family Magazine, Volume 11, Issue 9 (November 2020).
For more info on Suburban Family Magazine, click here.
For information about advertising in Suburban Family Magazine, click here.
To find out where to pick up your copy of Suburban Family Magazine, click here.