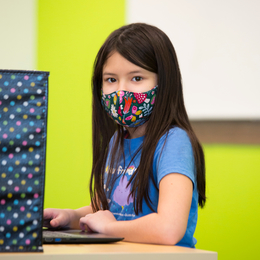 Code Ninjas of Cherry Hill
The best after-school program for a pandemic
SEAN WEINBERG IS A PARENT. HE KNOWS WHAT IT'S LIKE TO DROP HIS DAUGHTER OFF AT AN AFTER- SCHOOL PROGRAM AND WORRY ABOUT RISK VERSUS REWARD. Thanks to a global pandemic, he also knows what it's like to worry about how a program is handling social distancing and interaction with others.
That's why he doesn't take it lightly when he suggests Code Ninjas of Cherry Hill, the franchise he owns which provides coding education for ages 5-14, may just be the best after-school program for a pandemic.
"Code Ninjas offers a fun environment that requires no contact," Weinberg explains. "We've got a huge space where everyone is distanced, and we're able to stagger times when people come in, so it's really ideal."
Suburban Family spoke further with Weinberg about all that Code Ninjas is able to offer, and why considering coding for kids in 2020 is a smart move in more ways than one.
Supports all levels of learning
As its name suggests, Code Ninjas is designed around karate principles. Learning takes place in the dojo, with senseis (instructors) helping the student Ninjas design video games and work their way from white belt to black belt.
Students do not need any prior coding experience to work with Code Ninjas. And with the way technology is advancing these days, having this type of education under their belts is a great stepping stone for students, no matter their interests or experience.
"Code Ninjas is a place where students can learn something really important, and really valuable, while still having a good time," Weinberg says. The dojo is also a place where students with special needs often find their niche, Weinberg adds.
"All the things that are frustrating and often make learning difficult for someone with special needs, are actually incredibly good for programming," he says. "It's perfect for them."
The program allows students—whether they are special needs or not—to be self-contained and not feel overwhelmed by a specific situation or number of people.
"We create opportunities for socialization that are passive and soft-touch," Weinberg says. "Our Ninjas don't have to come out of their comfort zone if they don't want to, but our environment creates a feeling of safety that allows kids to stretch."
Supports safe interaction
The Code Ninjas concept naturally lends itself to being 6 feet apart, Weinberg says, although there are ways for Ninjas to still interact and feel as though they are socializing with others.
"We have projectors in the dojo," he explains. "So, kids can build a game—everything we do is designed around building games—and they can put it up on the projector and demo the game for the other kids. There's that kind of engagement, as it's very common for kids to share what they're doing, but it's still 6 feet apart."
If there is some concern about comfort level or accessibility, Code Ninjas does offer a free, half-hour trial session for prospective Ninjas to come in and see what the program is about, Weinberg adds.
Code Ninjas has also been fine-tuning its remote learning program through the pandemic and recently released an update to the system called Remote CREATE that allows Ninjas to access their game development program from home. This way, students can still sign up for a designated time to work with a sensei, but they don't need to go to the dojo to do so.
"Everything we do is web-based, and leading into the pandemic, it couldn't be accessed unless the student was on the premises," Weinberg explains. "But the new system that was released allows access from home, so students can continue to grow and learn."
Supports local
Code Ninjas recently partnered with the Cherry Hill Public School System to provide a teacher in service day for Cherry Hill technology educators. The dojo is also staffed primarily by Cherry Hill High School East seniors who follow in the footsteps of former senseis who were valedictorians of their class and have gone on to top colleges across the country. Additionally, the center's new director, Solomon Jacobs, is an associate professor at Rowan University and Camden County College, where he is also the coach of the women's soccer team.
Though Code Ninjas is a franchise, Weinberg is focused on the Cherry Hill community and says one of the things he is most proud of about his business is his staff and the passion they share for helping others in their community learn.
"We give our Ninjas exposure to coding culture and the support of senseis who are also role models and are truly passionate about what we do," Weinberg says. " All our staff will tell you they wish Code Ninjas was around when they were kids."
Code Ninjas
100 Springdale Road, Suite A1
Cherry Hill
(856) 553-4183
CodeNinjas.com/locations/nj-cherry-hill
Photography by Alison Dunlap
Published (and copyrighted) in Suburban Family Magazine, Volume 11, Issue 9 (November 2020).
For more info on Suburban Family Magazine, click here.
For information about advertising in Suburban Family Magazine, click here.
To find out where to pick up your copy of Suburban Family Magazine, click here.