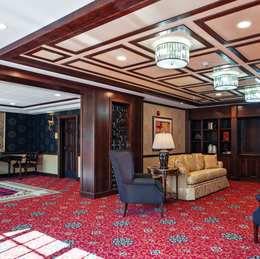 A Luxury Setting
A recently finished renovation has brought even more opportunities for seniors to enjoy their golden years safely and independently at Brandywine Living at Moorestown Estates.
It is never easy for someone to say goodbye to their home, especially seniors who may have raised their families and created a lifetime of memories in the house. On top of that, choosing to move in with a relative or enter an assisted living community can feel like sacrificing their sense of independence, and therefore it is a decision that many put off for as long as possible.
Once they discover Brandywine Living at Moorestown Estates, however, they soon forget about what they are giving up and focus on the wonderful new experience that awaits them.
Part of a renowned brand of assisted living communities—including 32 locations across seven states, all with a stellar reputation for care and accommodations—Brandywine Living at Moorestown Estates gives seniors the opportunity to live safely and independently in the lap of luxury.
"Seniors want to maintain their independence as long as they can and do for themselves as much as they can, and we want them to continue to do that too. But we're here to help if they can't manage it anymore," says Stacy Costa, Director of Community Relations. "They have the ability to come into an apartment that feels like home and a community that is warm and welcoming."
The transition has been made even easier thanks to the recent opening of Serenade East by Brandywine. A significant renovation project that broke ground in June 2019, the wing features 13 brand-new, one- and two-bedroom apartment suites, and residents started moving in this month.
The apartments include a living area; a kitchenette with a pantry, cabinetry, backsplash, sink, microwave and refrigerator; either two full bathrooms or one-and-a-half baths with linen closets; and walk-in closets in the bedrooms. The beautiful, spacious living arrangements are welcomed by seniors for the privacy and serene setting they provide and help Brandywine meet a growing demand in the market.
"More and more we're seeing couples making the move to assisted living together," Costa says. "Usually one of them needs some type of assistance and the other one is still independent. They're coming from large-sized homes and need to downsize to a somewhat comparable apartment instead of a studio.
"These suites have upgraded amenities and they are larger. It gives them a little more of a home feel when they're downsizing from their own home out in the community."
Brandywine has 24/7 onsite nursing care and can assist with daily activities and medication management for those who require it. As a person's needs change during their stay, those services can be added as well, without having to move to a different apartment or wing. There is also a supportive and stimulating environment for patients with Alzheimer's or dementia called Serenade Reflections, with a staff known for its patience and compassion.
Along with this unparalleled care, Serenade East offers grand accommodations reminiscent of a five-star hotel. These include a butler to run errands and deliver room service, or residents can choose to have meals in the all-day dining room. Also included are housekeeping, laundry and transportation, with cable and utilities covered in the monthly bill as well.
Other amenities at Brandywine are a therapy pool, a picturesque garden courtyard, a walking path, a library, a movie theater and a beauty salon. There is a common area for enjoyable activities in the Escapades for Life! Program—such as Bingo, Card Sharks and Artists' Palette—and a traditional pub, which just added an additional social gathering space in the renovation called Brandy's Jazz Lounge. A piano sits in the middle of the room and it is quite common to hear residents tickling the ivories and filling the building with soothing music.
"We're continuing to run our programs safely during the COVID-19 pandemic, using masks and social distancing," Costa says. "All of these activities give our residents a way to have that peer-to-peer socialization they are craving. When you're 85 years old and living in your own home, your children or grandchildren are the people you're seeing the most, especially now. But here, you're seeing people your own age who have come from the same generation as you. They've also had to move into assisted living so they understand what it's like for you."
With that support from fellow residents along with the staff, it does not take long for residents to feel at home at Brandywine. Their loved ones, meanwhile, have peace of mind knowing their aging parents or grandparents are receiving the care and attention they deserve.
"We see many families or seniors themselves struggle with the decision of entering assisted living," Costa says. "But we're like one big family here, and it's a great feeling for us when they realize their loved ones are safe and we're taking care of them. We provide a sense of comfort."
Brandywine Living at Moorestown Estates
1205 N. Church St. | Moorestown
(856) 778-0600 | Brandycare.com
Published (and copyrighted) in Suburban Family Magazine, Volume 11, Issue 8 (October 2020).
For more info on Suburban Family Magazine, click here.
For information about advertising in Suburban Family Magazine, click here.
To find out where to pick up your copy of Suburban Family Magazine, click here.