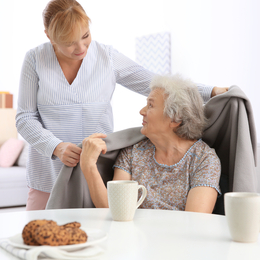 A Welcome Addition
South Jersey is the launching pad for Helping Hands Family, an ambitious organization using ABA therapy to improve social and communication skills for children diagnosed with autism.
WHEN THE 3-YEAR-OLD BOY WAS FIRST EVALUATED BY CRYSTAL HARMS AND HER TEAM, NOT ONLY WAS HUMAN CONNECTION AN ISSUE, but he was completely non-verbal and unable to communicate even his basic human needs. Introduced to Applied Behavior Analysis (ABA) therapy at the time, he went on to work with Harms through elementary school, gaining speech and improving his social and learning skills.
When he entered a mainstream high school a few years later, the young man was unrecognizable from the boy he had once been. He formed meaningful relationships with fellow students and became an active member of the drama club, performing in plays and musicals before graduating.
As extraordinary as this example may sound, it is actually quite common among children with autism who have received ABA therapy. Although it has been around since the 1960s, ABA has become more widely used in the last five years and is the only evidence-based treatment endorsed by the United States Surgeon General. It is the core treatment offered by Helping Hands Family, a burgeoning organization set to open its first clinic in Mount Laurel this September, with more soon to follow in Pennsylvania.
"As prescriptions f or ABA therapy rise along with the increasing diagnoses of Autism Spectrum Disorder, there are simply not enough ABA providers out there for the growing number of children who need this service. We intend to expand our services and locations rapidly to fill that need," says Colleen MacDonald, marketing brand manager for Helping Hands Family.
Harms, who has more than 20 years of experience working with special needs children, is the clinical director of the Mount Laurel location and leads an experienced and compassionate staff of board-certified behavior analysts whose training exceeds industry standards. Helping Hands Family serves children with autism between the ages of 18 months and 21 years, and treatment plans are customized to meet their specific needs, whether they are 5 years old and nonverbal or 15 and experiencing behavioral issues.
The results of ABA therapy can include children showing more interest in those around them; more effective communication and the ability to clearly and specifically ask for something they want; more focus at school; and a reduction in tantrums, outbursts or self-harming behavior.
"This is a therapy that helps children interact with the world in a way that will better their quality of life as well as help them create connections with other people," says Jeanine Weichel t, Chief Operations Officer at Hel ping Hands Family, who has overseen the opening and growth of 40 clinics in her career. "It is totally customized to your child's needs so they can grow socially and personally.
"While we do see effective outcomes with someone getting diagnosed early and starting ABA at a young age, there is not an age limit to start this therapy. If somebody is diagnosed at 15 or 16, that's no problem; we can start them in therapy then. The great thing about ABA is that it's not a one-size-fits-all approach."
Since ABA is recognized by most insurance companies as a medically prescribed treatment, it can usually be covered by insurance. Helping Hands Family has some of the largest providers in its network, such as Aetna, Blue Cross Blue Shield, Horizon and United Healthcare.
Helping Hands Family and ABA therapy do not limit their focus to solely the children, either. Since the caregiver role can be so challenging, family guidance and parent training are part of this program, as parents are taught the therapies and learn how to better interact with their kids.
"It's a way of sharing the knowledge with them and making sure they feel supported," Weichel t says. "This also enables them to continue the therapies at home for even better progress."
Helping Hands Family has an ambitious plan to continue its growth in the Northeast and become the go-to provider of ABA therapy. The launching point is in Mount Laurel, where families can expect a welcoming environment filled with toys, crafts and a dedicated team.
"Crystal is such an amazing advocate for these kids," MacDonald says. "It's her passion to see progress and she does everything she can to help the families she is assigned to. All of our therapists receive extensive training and they put the kids' needs first. Our entire organization is committed to helping our children and feels passionate about it."
Helping Hands Family
1001 Briggs Road, Suite 280
Mount Laurel
(484) 965-9966 | HHFamily.com
Published (and copyrighted) in Suburban Family Magazine, Volume 11, Issue 6 (August 2020).
For more info on Suburban Family Magazine, click here.
For information about advertising in Suburban Family Magazine, click here.
To find out where to pick up your copy of Suburban Family Magazine, click here.