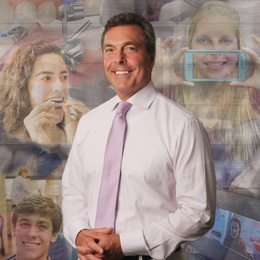 Same Day is the New Way
Getting your braces or aligners at your first visit.
WHEN DR. TOM KADAR WAS A KID, HE UNDERWENT ORTHODONTIC TREATMENT. He visited his orthodontist's office for an initial evaluation. He returned for goopy impressions to be taken. Several weeks later, he returned for spacers to be inserted. After another week, he returned to have the bands attached to his teeth. At the next visit, the wires were added. From his initial visit to actually starting his treatment was more than six weeks. Once the braces were in place, monthly visits were required to adjust and tighten the wires. The entire process took more than two years and required many inoffice visits.
The newest trend in orthodontics, Same Day Starts, utilizes virtual technology to perform a remote consultation before a patient visits the office for the first time. This allows Kadar's board-certified orthodontists to begin treatment planning for each patient before their first in-person visit. "With our virtual consult, we can prepare everything before they come into our office," says Dr. Kadar. "This enables us to deliver a same day start for both traditional braces, appliances and removable aligners."
The process at Kadar Orthodontics is really fast and simple. Each new patient fills out a short form on their website (gokadar.com), uploads photos of their teeth/bite and then schedules a live virtual appointment to review treatment options. Once the photos are uploaded, Dr. Kadar reviews the photos and medical history to create a custom treatment plan for each patient.
If the treatment plan calls for removable aligners, Kadar's in-house lab prepares them during the first on-site visit. Kadar utilizes 3D scanners and printers to create the removable aligners. Their expert clinicians place the aligners, provide care instructions and finalize payment options on day one … not six weeks later. Patients leave the office on their way to a beautiful smile, quicker than ever!
In addition to Same Day Starts, Kadar is proud to offer contactless follow-up appointments. Transitioning to virtual appointments was an easy step for Kadar Orthodontics. "When COVID-19 struck, we had many patients who had already started treatment," says Dr. Kadar. "Our office was forced to close except for emergency visits." During 2019, Kadar had already been exploring how to offer virtual consultations as an added convenience for their busy patients. Using advanced software, they quickly implemented a virtual process to monitor their patients' progress and keep treatment on schedule—all without coming into the office.
"Our virtual visits give our patients a way to check in from home," says Dr. Kadar. Innovations in orthodontic technology had already reduced the number of appointments required to complete a treatment plan. "Now, our virtual appointments give us a new way to save time for our patients."
As restrictions started to be lifted, Kadar Orthodontics prepared for reopening their office by putting new safety protocols in place. Orthodontics has always had very high standards for sterilization and infection control. With COVID-19, Kadar Orthodontics elevated their safety procedures to a higher standard to ensure the safety of their staff and patients (see box inset).
By combining proven processes with the latest in virtual technology, Kadar Orthodontics has been able to keep their patients' treatment plans on schedule throughout 2020. Now, with the addition of Same Day Starts, it's even faster, easier and safer to get the smile you really want. Visit www.gokadar.com and request a free, virtual consultation to get started today. Same Day is the New Way!
New Safety Protocols
• Curbside check-in to minimize time in common areas.
• Daily staff screening for illness or fever plus PPE for all clinical procedures.
• Patient health screening and peroxyl oral rinse to kill bacteria and reduce spread of infection.
• Treatment chairs at least 8 feet apart with physical barriers between stations.
• Dental aerosol reduction through high-speed suction instruments.
• Ultrasonic cleaning and sterilization of all instruments.
• HVAC system with UV lights to inhibit growth of germs and bacteria.
• Air purifiers strategically placed to purify and neutralize airborne particles.
• CDC and OSHA-mandated cleaning and disinfection on all surfaces.
Kadar Orthodontics
(856) 582-1400 | GoKadar.com
Published (and copyrighted) in Suburban Family Magazine, Volume 11, Issue 6 (August 2020).
For more info on Suburban Family Magazine, click here.
For information about advertising in Suburban Family Magazine, click here.
To find out where to pick up your copy of Suburban Family Magazine, click here.