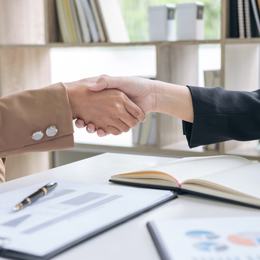 Why a Relationship with an Accountant is Invaluable
For just about every aspect of your life, including estate planning, Baratz & Associates, PA can provide responsible guidance.
WHEN MOST PEOPLE CONSIDER ESTATE PLANNING, THEY THINK WILLS. And wills are for your parents, right? There's always time—I'll get to it. Sadly, many attorneys and accountants would say just the opposite. You'd be surprised how many people pass away without documents in place and how proper planning can help ensure your wishes.
A major focus of accounting and consulting firm Baratz & Associates, PA is tax planning. And people don't automatically know what that means. Filling out a 1040 can be a simple process—we've seen software and robo-chats step in where only qualified CPAs used to be the norm. However, what technology cannot do is plan for taxable events and advise the best course of action.
This takes a relationship with an accountant. CPAs should be familiar with every aspect of your life—a move, a career change or layoff, a marriage, a family addition, an inheritance, a student who goes off to college, even a gambling win and yes—a death. The more accountants know, the better they can help you. And while they cannot draw up wills, they can do a number of things to help determine how your family lives after you go.
Have you wondered about how to best reduce debt? Do you wonder if you are eligible to set up a Roth IRA? Have you considered taking money out of a 401(k)? Are you concerned with the rising cost of a college education? Does your family have a history of disease that requires long-term care? Have you considered gifting a portion of your wealth to family before you pass but are unsure how to do it? A CPA can help with all of that.
"Did you know that even if you are in the process of getting a divorce, and you have written a new will naming your successors, a 401(k) plan will pass to the beneficiary listed on their document?" Partner Sean Balliet, CPA/ CFP, asks. "That's why these should be reviewed every year."
What if your soon-to-be-ex had the power to make medical decisions for you while your new partner was left standing by? A power of attorney can help ensure that your choice is making the most of your wishes.
Perhaps you started early and wrote a will and other documents in order to be responsible and get them out of the way. Are they still accurate? Has your net worth changed? Did you have a child? "A will is not one and done," says Balliet.
"How have new tax laws impacted what you thought you were doing at the time? The Tax Cuts and Jobs Act affected many, and the new election could bring more changes," Founding Partner Mark H. Wander considers. "A thorough review of tax laws and changes in situation should be scheduled each year to make the best of your situation."
Did you learn about the benefits of a trust and create one for your children? Taking an action like this is a great protection of your assets, but only if you fund it. When Michael Jackson passed away, he had taken the step to set up a trust for his family, but never registered assets to it. So instead of the estate passing directly to his children, it was tied up in court until a judge sorted through the mess.
Managing Partner Raymond Giunta offers, "Planning now means potentially saving your family thousands or even millions—depending on the size of the estate—in taxes, attorney and consulting fees later."
It's only through a relationship with an accountant that you can plan for and minimize taxable events. So, if you are ready to take the plunge and move toward writing a will or even designating a guardian, find an accountant to work with along the way. It will make a world of difference to your loved ones.
Baratz & Associates, PA has been recognized with the following accolades:
Inside Public Accounting Top 400: 2020, 2019
South Jersey Biz, Best of Biz: 2020, 2019
Best of South Jersey Financial Services: 2019
Suburban Family, Best of Family: 2019
Baratz & Associates, PA Marlton | (856) 985-5688 | BaratzCPA.com
Published (and copyrighted) in Suburban Family Magazine, Volume 11, Issue 6 (August 2020).
For more info on Suburban Family Magazine, click here.
For information about advertising in Suburban Family Magazine, click here.
To find out where to pick up your copy of Suburban Family Magazine, click here.