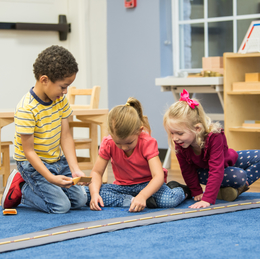 Top 5 Values of a Montessori Education
February 2020
CREATIVE LEARNING, INDEPENDENCE, HANDS-ON ACTIVITIES AND INTERACTIVE PLAY are just some of the skills that Guidepost Montessori is teaching its students. Over 100 years ago, D r. Maria Montessori discovered her pedagogy—the Montessori Method of education for young children that stresses the development of the child's own initiative and natural abilities through practical learning in carefully prepared environments. Guidepost Montessori School opened its Laurel Oak campus last month to give South Jersey children a chance to embrace this proven, scientific methodology. The school serves children from 18 months to age 6, with plans to expand to full elementary programming in fall 2020, says Carol Gutierrez, head of school at the Laurel Oak location.
Suburban Family Magazine spoke with Gutierrez, who offers insight into Guidepost Montessori's teaching methods and its ability to create a fluid learning environment for students.
1. The Montessori Philosophy
The Montessori philosophy encourages the child to learn through independence, hands-on activities and teamwork. "It's not just about educating them, but also creating this environment where they will grow to be an individual in society," Gutierrez says. This includes teaching empathy, grace, courtesy and respect toward others. Each day students are exposed to real-world tools and the opportunity to learn self-confidence and use that to develop essential life skills that will carry them into adulthood.
2. The Importance of the Guides
At Guidepost Montessori, teachers are referred to as "guides" because they are guiding the children through holistic and meaningful experiences, their academics and getting to know each child's individual strengths and needs. "Guides are experts at assisting children, helping them find their own capabilities through the hands-on learning materials in the prepared environment," says Gutierrez. The environment is designed by the guide to meet the individual needs, interests, abilities and development of the children in class. "Montessori philosophy emphasizes that the real work of learning belongs to the individual child. The guide recognizes that her role is not so much to teach as it is to observe and facilitate the learning process." Classrooms are designed to benefit the child no matter what level they are on and include various materials that are thoroughly researched and studied. "We have the flexibility to add new material constantly," Gutierrez says.
3. Hands-On Learning Activities
Maria Montessori believed the hands are the instruments of a person's intelligence, and the classrooms are designed specifically for visual thinking. Everything in the class- room is ordered from left to right, top to bottom, in a way that indirectly prepares the child to learn to read. "Children at this age have an absorbent mind and any- thing you put in front of them they are going to consume and learn from," says Gutierrez. Learning comes not only from guides but also from fellow students due to the mixed-age classrooms. "Our Children's House classrooms have 2 1/2 to 6-year-olds and it's a three-year program," Gutierrez says. "Then the lower elementary program includes first grade to third grade and the upper elementary program is fourth grade through sixth grade." Each party benefits from it because the older children learn to become leaders while the younger children become inspired by the older children.
4. Year-Round Program with Small Classroom Sizes
Keeping parents' schedules in mind, Guidepost Montessori runs year-long, from 7 a.m. to 6 p.m. "The all-inclusive program is really designed for our working parents," says Gutierrez. "In 2020, we will only be closed for seven days out of the entire year." This not only helps working parents but also gives the child consistency, a routine that doesn't change. "This routine is going to be constant and show that we are always here," she adds. "We really want to be a village, a community, a partnership and that's really going to be the best for the child." Small class sizes allow for all children to be cared for safely and efficiently. The toddler environments offer six students to one guide while the Children's House is 12 students to one guide.
5. A State-of-the Art Facility
While teaching academics is a main focal point for Guidepost Montessori, it is not its only focus. At the Laurel Oak campus children have the chance to play games, enjoy the outdoors and interact in spaces that allow them to safely be children. "We have a great movement room, a built-in trampoline, an interactive wall and a lot of games and activities for the children to play," Gutierrez says. "We do have a great outdoor space with a basketball court, beautiful bird feeders to attract nice birds, a tricycle area and a natural wood playground."
Guidepost Montessori
1004 Laurel Oak Road
Voorhees
(848) 999-9456
GuidepostMontessori.com/Laurel-Oak
Published (and copyrighted) in Suburban Family Magazine, Volume 10, Issue 12 (February 2020).
For more info on Suburban Family Magazine, click here.
For information about advertising in Suburban Family Magazine, click here.
To find out where to pick up your copy of Suburban Family Magazine, click here.