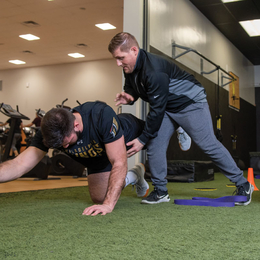 Keeping Young Athletes Healthy
Inspira Health's Sports Medicine program provides athletic training and injury prevention services to community groups to ensure teams meet their goals, safely.
Every weekend across South Jersey, youth athletes wake up, pack up their gear, put on their uniforms and head out to show what they're made of. Some may dream of one day making a career out of their talents, while others are in it for the fun of it. But no matter which type of athlete lives in your home, Inspira Health's Sports Medicine program can be a partner on their journey toward success.
STRENGTH & CONDITIONING
Inspira's Sports Medicine program is revolutionizing how local athletes strengthen their competitive advantage. And as the official health care partner of the Philadelphia Wings professional lacrosse team, they offer opportunities for your youth player to train just like the pros.
"Our mission is to help competitors 'prepare, prevent and perform,'" says P.J. Ragone, director of sports medicine at Inspira, who has been with Inspira for 15 years and has a background as a strength and conditioning coach. "Through our unique care model of integrating strength and conditioning training and injury prevention technique/education, we can help an athlete maximize their performance in whatever sport they are playing."
Managed by a team of trained clinical professionals including certified athletic trainers, strength and conditioning coaches, physical therapists and even sports medicine-certified orthopedic specialists, Inspira's Sports Medicine staff has the experience and clinical knowledge to bring your athletes' game to the next level, safely.
The professionals within the Sports Medicine program can create an appropriate plan that enhances the athletes' body mechanics and builds the body to withstand the punishment of sports. "This helps prevent injuries, and if an injury does occur, our staff can assess it and create a plan to get the athlete back to a healthy state," Ragone says. "We can maximize their potential whatever their goals are—whether they want to do it just for fun, are hoping for a college scholarship or if they want to make a career out of it. We can determine the best strategy for that individual."
In today's world of youth sports, overuse injuries have become more common, says Ragone. Kids are more often specializing in one sport at younger and younger ages. But is that really the best direction for a youth athlete? "The mental and physical demands put on youth athletes to specialize in one sport is often too much, leading to higher rates of burnout and injury. And while it is natural for parents and coaches to push their athlete to be the superstar we all know they can be, it may benefit the youth to diversify," says Ragone. "Our program recommends allowing youths to play different sports throughout the year and enrolling them in a supportive strength-training program. Doing so will allow for a more well-rounded athlete and will strengthen their confidence, and their mental and physical well-being."
INJURY PREVENTION
While preparation and injury prevention are at the forefront of the Inspira Sports Medicine program's curriculum, injuries can still occur. One of the most frequent injuries to today's youth athlete is concussions. To help improve post-concussive episode care, Inspira offers free baseline concussion screenings for athletes ages 12 and up, and their teams.
"We know that over the last 10 years, concussion-related injuries in youth sports have doubled," says Ragone. "This is why baseline screenings are so important. They tell us how an individual's brain functions in a healthy state. Then, if an injury does occur, it provides a comparison for the provider to make a determination for the best plan of care."
And you don't have to spend hours in a testing facility to obtain your screening. Inspira's concussion screening can be done from the comfort of your home. The 25- to 30-minute screening assesses memory and reaction time, showing patterns and asking the person to recall what they saw. "There is no right or wrong answer. It's not an IQ test," says Ragone.
COMMUNITY BENEFIT
Inspira's Sports Medicine program is also dedicated to ensuring athletes of all ages stay safe as they progress through their athletic career. As a community benefit, Inspira offers services to nonprofit community sports programs, including athletic trainers for youth teams. "Athletic trainers are common at the high school and college levels but are not usually available to youth organizations," explains Ragone.
"Oftentimes, volunteer coaches and parents are left to fill these roles and they aren't necessarily medically trained to make critical care decisions," says Ragone. "They are on-site if an injury occurs, maybe wrapping sore ankles, icing a hamstring strain or even cleaning up cuts. Our goal is to take the pressure off the parents and coaches and be a resource for them. We can have a certified athletic trainer on-site during play, who can properly care for your youth players should an injury occur."
LEARN MORE
If you're interested in learning more about how Inspira Health's Sports Medicine program can help maximize your athletes' performance this season, or how to obtain your free baseline-concussion screening code, visit www.InspiraHealthNetwork.org/sportsmedicine. To inquire about securing athletic trainers for your nonprofit youth sports organization, call P.J. Ragone, director of sports medicine, directly at (856) 646-SPORT.
Published (and copyrighted) in Suburban Family Magazine, Volume 10, Issue 11.
For more info on Suburban Family Magazine, click here.
For information about advertising in Suburban Family Magazine, click here.
To find out where to pick up your copy of Suburban Family Magazine, click here.