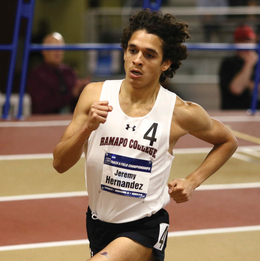 A Winning Environment
At Ramapo College of New Jersey, student-athletes are achieving great success both athletically and academically.
BEING A HEAD COACH AT RAMAPO COLLEGE OF NEW JERSEY brings great responsibility. Not only are you leading student-athletes through the rigors of their respective sport, you are also developing young adults and helping prepare them for life long after their athletic careers are over.
It's no small task, and certainly one that Justina Cassavell doesn't take lightly. Entering her seventh year as head coach of both the cross country and track and field programs, Cassavell has seen firsthand the impact that a winning culture has had on Ramapo and its athletes.
"I like to watch them achieve their goals and grow as athletes," Cassavell says. "It's always fun to help them reach their potential. I always have high expectations of student-athletes, because I feel if you are going to do a sport, you might as well do it 100 percent. You give a lot and you get a lot out of it."
Of course, having star athletes helps matters greatly. Top performers like Jeremy Hernandez— a NCAA Indoor champion and the first Division III athlete to ever break a four-minute mile—and Amber Edwards, a NCAA Indoor champion in the triple jump with a mark of 12.52 meters, have catapulted Ramapo into the track and field spotlight.
And there are plenty others that have enjoyed success during Cassavell's highly decorated tenure as she has seen 14 individuals qualify for the NCAA Indoor and Outdoor Track and Field Championships and has guided another nine to All-American honors. Not to mention that the men's cross country team took home its first-ever New Jersey Athletic Conference championship last November.
"Justina has done an outstanding job," says Harold Crocker, director of athletics. "She has cultivated some key student-athletes and really transformed the entire team; it's a well-rounded track and field program now. And the cross-country program—she's always been good with the distance runners; that was her specialty coming in—has gotten even better."
The continued success of Ramapo's athletic department has been a great selling point for the school and provided a boost in the recruiting process. With 27 NCAA appearances in the past five years, the school has been showcased on a national level.
"We try as an athletic department to build the right culture. You have to be committed to what you are doing and have high goals. We want to create a supportive environment so that the athletes feel motivated to succeed," says Cassavell.
And while the word "culture" can be thrown around loosely these days in the sports world, at Ramapo it truly is indicative of the atmosphere around campus. And part of what makes the athletic program so special is not only the win and loss records, but the student-athletes who work just as hard in the classroom as they do in uniform. Division III athletes are not eligible for scholarships, so the competition is just as fierce academically.
"That's super important, that they do well in school. That has to be the focus and we just reinforce that with our student-athletes. Academics come first," Cassavell affirms.
"Academics plus athletics equals great success," Crocker says. "That kind of sets us apart from other schools around; we can maintain that balance. We are always looking to have our student-athletes be above a 3.0 GPA, striving to be equal or greater than the traditional population."
Another way that the student-athletes at Ramapo build lasting bonds is through their community service work. Cassavell and her teams have participated in various projects and causes such as Strides for Humanity, Special Olympics and area food drives to name a few. It's all part of the calculated approach to prepare these student-athletes for more than their next opponent.
"A lot of the lessons you learn in athletics are key to life experiences. The win-loss side of it, time management, how you prepare, how you deal with unexpected things that come up. That enhances how you act when you graduate and finally go out into the real world," says Crocker.
That well-rounded overview of the collegiate experience is something that Cassavell also feels strongly about.
"The student-athletes definitely form a bond," she says. "When they are all on the same page, they want to work hard. They just naturally have a brotherhood or sisterhood, which makes it more enjoyable for them. I hope when they reflect on what they did at Ramapo, they see that we pushed them to do better and realize their potential in college. It's important when you are pushed in life that you step up and work hard."
Ramapo College of New Jersey
505 Ramapo Valley Road
Mahwah
(201) 684-7500
Ramapo.edu
RamapoAthletics.com
Published (and copyrighted) in Suburban Family Magazine, Volume 10, Issue 11.
For more info on Suburban Family Magazine, click here.
For information about advertising in Suburban Family Magazine, click here.
To find out where to pick up your copy of Suburban Family Magazine, click here.