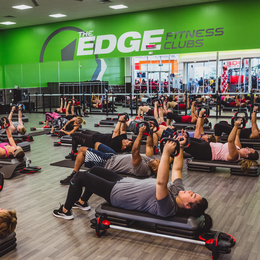 Building a Better You
The Edge Fitness Clubs is challenging you to make a real commitment to better your life.
People are finally starting to comprehend the importance of improving their health, but many of us still need some help. We eat to excess, sit too long and spend much of our daily life behind a desk. It's an epidemic, this behavior, resulting in a generation of sedentary children and adults still struggling with obesity, heart disease and being generally unwell.
It doesn't have to be this way. There are better options, ones that inspire and support you, while creating real-world, long-term, life-changing solutions. Maybe all we need is "an edge." "If you do not move, you are broken," says Greg DiNatale, director of fitness education for The Edge Fitness Clubs, explaining his overall fitness philosophy. "The human body is meant to move, and it is a challenge to do so in today's day and age as more of us spend so much time commuting, working and generally endlessly running around," he says. "Exercise is a cure for this, and together with eating right for your goals and body, offers a solution to the modern dilemma."
DiNatale says mistakes people make include having no specific plan or thinking that exercise alone fixes everything. "Food intake is important to consider since it's 80 percent of your result. That's when our nutritional programming shines," he says. "Also, sometimes people do the wrong type of exercise for what their goals are. They might be better served by other areas. There's a lot to consider: proper food and water intake, adequate sleep, a low stress level. You have to look at it holistically. The thing is, we're just not educated about getting healthy, and changing behaviors is not easy."
The Edge Fitness Clubs has been finding ways to help its clients embrace a better life for decades. The company traces its origins back to 1988, when Vin Sansone began pursuing his childhood dream of owning his own gym. With family and friends as supporters, Sansone created a series of gyms with a mission of providing a beautiful club that offers a diverse but premier workout.
Today, Edge is experiencing great expansion and growth. A new Voorhees location scheduled to open summer 2020, adds to the company's focus on expanding already-established markets in South Jersey, Philadelphia, Detroit, and Chicago, says DiNatale. "We will have between 40 and 50 locations by the end of the year and are excited to be able to help many more members. The mission remains the same, to provide outstanding facilities and outstanding member experience at tremendous value." Current Edge locations—open 24 hours a day—also include ones in Connecticut, Delaware, Illinois, Michigan, Missouri and Rhode Island.
Think of The Edge Fitness Clubs as full-service health clubs. It offers more than 50 group exercise classes per week including spinning and Les Mills, full lines of cardio and resistance training equipment, free-weight equipment, a movie theater stocked with cardio equipment and a personal training program that includes small group classes, weight loss challenges and nutrition programs to help members get their best possible results. Locations also include Zumba, yoga, total body conditioning, kickboxing, Pilates and activities for children such as basketball, rock wall, and obstacle courses. "Our kids care is not babysitting. Kids are not just dropped off to watch TV. It's appropriate programmed fitness," adds DiNatale.
Among its most sought-after offerings is The Edge Challenge, an eight-week weight loss "contest" that uses Edge's innovative Total Fitness Solution and its one-on-one personal training, tailored nutritional programs and team training to guide clients toward the outcomes they desire. Much more than just a program to assist members in getting in shape, The Edge Challenge was created to provide lasting fitness results.
What makes The Edge Fitness Clubs different from other gyms is its commitment to enhancing the members' experience, says DiNatale. "Everyone speaks of it, very few deliver on it. But our involvement in clients' results is big. We offer more attention in our personal training area than anyone, and when you walk in our clubs, we want you to know our main focus is service, service, service." Edge also offers women areas with mini-gym sections that offer privacy and memberships that allow you access to all of their clubs, each with top-quality workout areas, tanning, massage and saunas. Facilities are kept spotlessly clean and staff does not allow any equipment that goes down to stay down, says DiNatale.
"The Edge was built on member interaction and attentive customer service, and it continues to be what sets us apart. The member should not only notice a difference but feel it as well," DiNatale says. "All the way down to the value we offer. This is much different from being merely inexpensive. Inexpensive but bad is still bad, and our members deserve much more," he says.
The Edge Fitness Clubs
Locations across South Jersey | TheEdgeFitnessClubs.com
Published (and copyrighted) in Suburban Family Magazine, Volume 10, Issue 11.
For more info on Suburban Family Magazine, click here.
For information about advertising in Suburban Family Magazine, click here.
To find out where to pick up your copy of Suburban Family Magazine, click here.