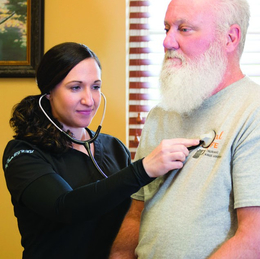 Rebuilding your own Body
Regenerative medicine offers patients at Advanced Cardiology of South Jersey a chance to heal naturally.
For most people with chronic health issues, the only options for relief tend to come in the form of a pill or surgery. However, medications may have side effects or problematic interactions with other drugs, and surgery comes with its own risks—not to mention the downtime that takes people away from their jobs or daily activities.
What most people don't know, says Stacy Warren, PA-C, is that there are minimally invasive medical alternatives to treating these conditions. This alternative medicine, known as platelet-rich plasma therapy (PRP) and prolotherapy, is offered by Advanced Cardiology of South Jersey, led by Dr. Vic Bahal, who is quadruple board-certified in internal medicine, cardiology, anti-aging/functional/regenerative medicine and integrative cardiology. In particular, PRP is coming more to the forefront now because of the awareness around opioids, as well its use among professional athletes such as Tiger Woods and tennis star Rafael Nadal and its frequent utilization by the National Football League and Major League Baseball, she adds.
PRP is a form of regenerative medicine that amplifies and accelerates the body's own natural healing process. "We draw the patient's blood from their arm and spin it in a centrifuge which separates the blood into three layers. We then extract the layer containing an ultra concentrated amount of platelets and inject it into the specific area(s) we want to regenerate. These platelets release growth factors that stimulate the body to grow new reparative cells, which results in the growth of new tissue, ultimately repairing the area without surgery or medications—it's strictly your own blood and tissues doing the healing. It's you rebuilding your own body," says Warren.
Advanced Cardiology first introduced PRP into the practice for use in offering patients a minimally invasive, in-office, non-surgical treatment option for a wide range of acute and chronic joint and orthopedic conditions, including tendinitis/tendinosis and osteoarthritis. Those who use PRP for these issues see a reduction in pain and stiffness, while improving range of motion, mobility and functionality. "There is rarely anyone who says they don't get a benefit from it," Warren says, adding that nearly all patients report a complete resolution or significant improvement in symptoms.
Now, the practice is expanding its regenerative medicine offerings beyond just the musculoskeletal applications. "PRP is low risk, and we can use it in lots of other areas of medicine, many of which are beneficial to our practice since we focus a great deal on integrative medicine and treating the patient as a whole person," she says.
It is now well known that cardio- vascular disease affects all areas and systems of the body. One of the most common complaints that cardiac patients present with are symptoms of erectile dysfunction and other sexual dysfunction, often as a result of arterial disease which impairs blood flood to vital organs and tissues. Warren says these patients may not respond to medications that are traditionally effective for sexual dysfunction. "PRP can even be used to regenerate tis- sues in these areas of the body as well, leading to an improvement in sexual function," she says. "We are very excited to be able to offer this alternative treatment to our patients, many of whom have exhausted all other options. We recognize that sexual health is a very important part of the human experience and maintaining an active sex life is very important for maintaining the health of both the mind and body."
In addition, there are also some aesthetic uses for PRP which Advanced Cardiology is deploying. "Part of providing integrative functional medicine services for our patients is addressing hormonal changes that occur as we age. These hormonal shifts can produce profound changes within the body both internally and externally, which amongst other things can pose an increased risk of cardiovascular disease," states Warren. She further explains that as patients begin to receive treatment for hormonal imbalance(s) they feel younger and more energetic and often ask if there is anything to help correct the exterior physical changes of aging such as hair loss and thinning, loose thin skin, and fine lines and wrinkles. "With PRP we are now able to offer a solution for these common complaints. We are able to use the growth factors released by the platelets to generate new hair growth and skin cells to smooth fine lines and wrinkles and to improve skin elasticity," she continues.
"People often ignore the importance of self care when it comes to total body health. Self care is essential to mental, emotional and physical health. When we feel good on the outside, we are more motivated to take care of ourselves on the inside," Warren says. "This therapy gives patients the opportunity to reverse some of the effects of the aging process in a safe and healthy manner. Patients are able to see what their own body tissues are capable of doing, which helps to maintain a good sense of health and well-being."
Holistic and alternative medicine approaches have always been an integral part of treatment at Advanced Cardiology. Warren says as this technology progresses, it will become a quicker process—and more commonplace. "This is a great thing for medicine. Regenerative medicine offers a wide range of patients with various medical conditions alternative treatment options that do not require the use of medications, invasive procedures or surgery," she says. Regenerative medicine is a growing discipline within the medical community. In a fast-paced progressive world driven by the "newest and latest and greatest" products on the market, perhaps some of the greatest products even in medicine are found within ourselves.
To make an appointment at Advanced Cardiology of South Jersey, please call (856) 241-3838.
Advanced Cardiology of South Jersey
4 Burton Lane, Suite 100 | Mullica Hill
(856) 241-3838
AdvancedCardiologySJ.com
Photography by Alison Dunlap
Published (and copyrighted) in Suburban Family Magazine, Volume 10, Issue 10.
For more info on Suburban Family Magazine, click here.
For information about advertising in Suburban Family Magazine, click here.
To find out where to pick up your copy of Suburban Family Magazine, click here.