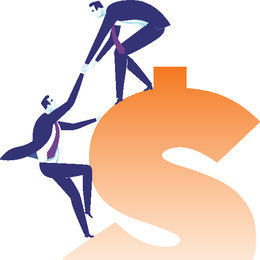 When is it Time to call a Financial Planner?
The life events that may require the help of a professional.
At the beginning of every year, people set goals and objectives they'd like to accomplish. Health and fitness often top the list, while financial wellness takes a back seat. Yet, finances should be just as important for an individual or family's well-being.
"Finances are unfortunately a necessity and many times a small problem can get much worse if ignored. The first part of the year tends to be our busiest as many folks resolve to take care of lingering financial issues in the new year," says David N. Reinherz, Esq. of Reinherz Law.
"I believe in New Year's resolutions, and I always look to be a bit healthier. But I find many of my clients don't think of their financial health when making promises to do better," says Sean Balliet, CPA/CFP, partner at Baratz & Associates, PA. "January is a great time to check in with your accountant. Maybe you should adjust your withholding? Perhaps you can elect to set an additional percentage into a 401(k), 509 or HSA plan? It pays to talk to your CPA frankly and ensure I know your goals for the future. I want the best for your family too."
The next decade is not going to be anything like the last, says Stan Molotsky, president and CEO of SHM Financial, especially with a presidential election on the horizon. "The world is erratic and exciting, but that unpredictable nature means your financial house must be in order if you want to withstand the storms. … Our rule of thumb is to put aside at least 5 to 15 percent of every check into some sort of plan, whether it's saving for a new house, a child's college education, your own retirement—nobody is going to do it for you. Pay yourself first."
If any of these major life events are on your list for 2020—or if they occur unexpectedly—it's time to contact a financial professional and here's why:
? when you're ready to start a retirement plan
"I tell all of my clients to tell their kids to max out their 401(k)/403(b) etc. plans. It is my opinion that anyone under 40 should be 100 percent invested in equities and should not own bonds. Youth allows you plenty of time to recover from any downturn, even if we had another occurrence like 2007-2009. You should also have some type of investment plan outside of your retirement plan at work. After-tax investing in a ROTH IRA when you are young will pay off big when it comes to your tax bill in retirement," says Jim Turpin, president of Chelsea Wealth Management.
? when you're asking yourself if you will have enough money for retirement
"Last year was a great year for the stock market. So, for our clients, starting the year off with a bang means reviewing your asset allocations. It's important to make sure your portfolio is in line with your risk tolerance so that you can reach your financial goals. Don't wonder how much you will have for retirement—plan for what you need," says Salvatore Cocivera, CFP/MSFS, president of CORA Capital Advisors.
? when you're ready to save for your child's college
"Start early and invest/save money on a regular basis. Every little bit counts and the sooner you start, the better off you will be. Here's a simple example; if over the last 18 years, you started with $1,000 and all you did was invest $100 in an S&P index fund or ETF, your investment would have grown to approximately $42,500 by the time your child was ready for college," says Turpin.
?when you go through a life-changing event such as divorce or the death of a spouse
"These things are impossible to plan for and you don't want to plan for a negative. … Divorce happens often now, and we normally suggest that people have separate accounts plus a joint account, so each person has their own money and the major things go into the joint account," says Molotsky.
Turpin adds that, in times of marriage strife or death, an advisor should be there as a person outside the family to help make non-emotional financial decisions.
? when you have questions about estate planning
"The rules around estate planning in New Jersey have changed dramatically in the last three years for high-net-worth individuals. There isn't the need to do the type of detailed and expensive planning, however if you aren't leaving your money to your kids, your beneficiaries could still be looking at a hefty tax bill. Even for the other 99 percent of us, everyone should have at least a will, power of attorney for health care and financial and a HIPPA release form. These are the basics and they should be reviewed every five years or after a major life event," Turpin says.
"It's always a good time and never too early to talk to your financial advisor about an estate plan. Don't put it off. Good planning will impact your family for generations," says Cocivera.
? when you need a fresh start
"Bankruptcy is often thought of as a fresh start. While it is not appropriate in every circumstance, it can be a very powerful way to clear debt or restructure it. Many times medical issues, job loss and divorce are common events that I see causing my clients the most problems," says Reinherz.
Published (and copyrighted) in Suburban Family Magazine, Volume 10, Issue 10.
For more info on Suburban Family Magazine, click here.
For information about advertising in Suburban Family Magazine, click here.
To find out where to pick up your copy of Suburban Family Magazine, click here.