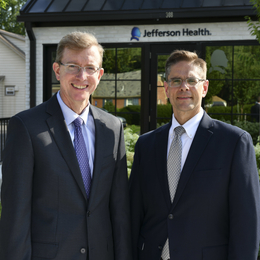 A Groundbreaking Way to Practice Medicine
Jefferson Health Primary & Specialty Care pioneers a new health care model in South Jersey.
JEFFERSON HEALTH NEW JERSEY has a comprehensive network of primary and specialty care providers who specialize in diagnosing, treating and preventing a wide variety of medical conditions. Jefferson Primary & Specialty Care physicians are supported by a team of registered nurses, licensed social workers, registered dietitians, certified medical assistants and certified health coaches. This comprehensive approach provides well-rounded, personalized health care that is tailored to a patient's specific needs.
Primary care offices offer same-day appointments and weekend hours, as well as office hours as early as 7:30 a.m. and as late as 10 p.m. These extensive hours help patients avoid costly and time-consuming visits to the hospital emergency rooms or urgent care centers for acute medical situations. They also offer walk-in visits at three convenient Care Now locations in Cherry Hill, Stratford and Washington Township.
In early July, Jefferson Health Primary & Specialty Care launched a new, exciting care model at one of its two Haddonfield medical practices.
Suburban Family spoke with Jefferson Health New Jersey Chief Physician Executive Dr. Carman Ciervo about this groundbreaking new medical practice.
Q & A
Q: What, exactly, is Direct Primary Care?
A: Direct Primary Care (DPC) is a truly unique medical practice model that provides patients with greater access to their care provider. A DPC practice does not bill your insurance—meaning patients no longer have to deal with co-pays, deductibles and coinsurance. There is a flat monthly fee of $125.
Q: What are the benefits of DPC?
A: There are many. Enhanced access to your physician, extended visits, guaranteed same- and next-day appointments and on-demand telehealth visits for improved convenience and access. I also want to stress that the doctors in our DPC have made the life decision to be part of this innovative care model and change the way they practice medicine to provide even more in-depth, personalized care.
Q: What services are included with the DPC membership?
A: Services include:
• 24/7 access to your personal physician
• Comprehensive primary care, including preventive care, consultative care, urgent care and sick care
• Guaranteed same-day and next-day appointments
• Extended visits with your doctor
• Navigation within our region's premier health network—Jefferson Health
• Annual flu shot
• Convenient, at-home telehealth visits
• Flexible office hours
Q: Will the new Jefferson DPC practice accept my insurance?
A: The new practice—the only DPC Jefferson practice in New Jersey—does not bill insurance. The only ongoing cost will be the monthly $125 membership fee. You will have no co-pays, deductibles, nor coinsurance.
Q: Does joining a DPC affect my existing medical insurance?
A: No, because your traditional insurance will still cover services outside of our scope, such as diagnostic imaging (X-rays), laboratory testing or a hospital stay.
Q: Is Direct Primary Care the same thing as Concierge Medicine?
A: No. Although both models charge a membership fee, DPC is ordinarily less expensive, while also covering the cost of office visits with your doctor. Concierge medical offices typically charge a monthly fee, in addition to charges associated with insurance billing, including co-pays, deductibles and coinsurance.
Q: Where is the new DPC practice located and who will practice there?
A: Dr. James Runfola and Dr. Leonard Ridilla practice at the new DPC office, 308 N. Haddon Ave., in Haddonfield.
Q: What about their original office on Redman Avenue in Haddonfield?
A: Redman Avenue Primary Care will remain open as a permanent location with Drs. Beena Daniel, Eric Kaminetsky and Jeffrey Mazure.
Q: Is the DPC model of care a recognized and accepted one?
A. Yes. The American Academy of Family Physicians supports the physician and patient choice to, respectively, provide and receive health care in any ethical health care delivery system model, including the DPC practice setting.
Q: Can a DPC membership fee be paid with Health Savings Account funds?
A: No. However, there is currently pending legislation in Congress to recognize HSA and FSA funds within the DPC model.
Q: Since the launch, what has been the reaction from the community and patients about DPC?
A: The community has had numerous questions about the practice. We consider this a good thing.
Our doctors have invited community members to visit the DPC office and have a conversation about the care delivered in the DPC model. We have found this "open-door policy" to be an effective way to communicate with patients as to whether or not DPC is a good fit for them. In addition, we have held information sessions about this model of care at local restaurants.
Q: Do you plan to offer this model anywhere else in the southern New Jersey region?
A: Yes. Tentatively, we are looking at Marlton and Moorestown.
Q: How can I find out more about the Jefferson Health New Jersey DPC office?
A: Visit JeffersonHealth.org/DPC, email a DPC representative directly at DPC@jefferson.edu or call the office at (856) 833-5249. We look forward to having you as a patient in this very special medical practice.
Jefferson Health Primary & Specialty Care
308 N. Haddon Ave. | Haddonfield
(856) 833-5249 | JeffersonHealth.org/DPC
Published (and copyrighted) in Suburban Family Magazine, Volume 10, Issue 8 (October 2019).
For more info on Suburban Family Magazine, click here.
For information about advertising in Suburban Family Magazine, click here.
To find out where to pick up your copy of Suburban Family Magazine, click here.