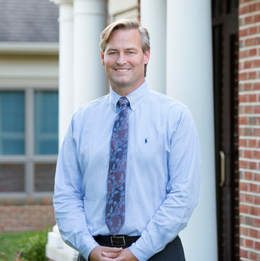 Getting Your Smile Back
Dr. John Thurber of Thurber Dental Spa is one of the only dentists in New Jersey to perform Ultratooth, a revolutionary way to replace a tooth instead of dental implants.
Just the thought of having a tooth removed isn't very appealing, and getting dental implants can be a painful procedure. But Dr. John Thurber, owner and founder of Thurber Dental Spa in Marlton, performs a procedure that has patients walking out of his office with a temporary working tooth with little to no pain, not to mention the ability to eat again and have their smile back, as well as their confidence.
It's called Ultratooth, and Dr. Thurber is one of the only dentists in the tri-state area to perform it.
"The main difference between Ultratooth and other implant systems available is that once I place the implant fixture, I use a mechanism that allows me to flare the tooth at the end of the implant, and by flaring the end, it redistributes the pressure. In the majority of the cases, this allows me to create a functional implant the day it's placed," Dr. Thurber explains.
There are other benefits to Ultratooth in addition to leaving your first appointment with a temporary tooth, including the entire process taking less time from start to finish than regular dental implants, which means fewer appointments.
"From an aesthetic benefit, you don't have to wear the partial denture until you wait for the implant to heal—you have a functional tooth," Dr. Thurber says. "It also shortens the time frame for the overall implant procedure. It usually takes three to four months from start to finish, but with this procedure, it takes four to six weeks from start to finish in most cases. Time efficiency is on the patient's side as well, not having to come back multiple times over several months and also getting greater stability of bone support around the implant over time compared to other implants."
Although Ultratooth seems like a new technology, the first Ultratooth was performed almost 30 years ago by its inventor, Sargon Lazarof, MD. Lazarof, also a dentist who is based out of Southern California, came up with the idea in the late '80s when he knew there had to be a better way of getting dental implants instead of waiting months for the screws in patients' mouths to heal.
"I said, instead of waiting, why not have a screw that expands and locks itself in the bone, that way the patient can use it while healing? That theory was put to test and we did a lot of mechanical testing and the first Ultratooth was placed in 1990," he says.
According to Lazarof, it became the first implant that was cleared by the Food and Drug Administration (FDA) for full functional loading in 1994.
"To this day, it's still the only implant that is fully functional loading. No other [implant] has that approval," he says. "The FDA put this in a separate category as root form with special fea- tures; this is why we call it Ultratooth and not an implant. Dental implants need healing time for screws, while Ultratooth is an expandable device that can take full function."
Another unique aspect of Ultratooth and Thurber Dental Spa is the direct relationship Lazarof has with Dr. Thurber. Lazarof says he has confidence in him to use Ultratooth to treat his patients.
"[Dr. Thurber] is a very good clinician. He's proven himself throughout the years on other things we've worked with," Lazarof says.
Sandy Stern went to Dr. Thurber due to a broken tooth after the recommendation of her husband who has been a patient of Dr. Thurber for many years. She had Ultratooth done and raves about the results and the procedure from start to finish.
"At my appointment [Dr. Thurber] immediately put in the temporary tooth and I had no pain. I went back about a week or two later, he checked everything and took my temporary [tooth] off, cleaned the area and made sure everything was fine," the Marlton resident recalls. "I also had two crowns done the same time he put the new tooth n and it looks great. I was in no pain.
"Dr. Thurber is terrific and the tooth looks wonderful," Stern says. "I am very, very happy."
Having happy and satisfied patients is what Dr. Thurber and his staff have strived for since Thurber Dental Spa opened 13 years ago. That includes designing his office a certain way to make patients feel welcome and relaxed from the moment they walk in and creating relationships with each and every patient.
"It makes a tremendous difference in terms of making patients feel valued," he says. "We focus on the person and create relationships where they trust we're working in their best interests, while taking care of their oral health."
Listening to patients' concerns is also a high priority for Dr. Thurber, especially considering many people have a phobia of going to the dentist.
"We asked ourselves, what can we do to break down those barriers? The biggest thing we do as a staff is understanding some people have fears, but there's a human being attached to the mouth we're working in," he says. "We focus on listening to the needs of our patients—what brings them in, what are their main concerns, what bothers them, what doesn't—and how we can resolve them."
Dr. Thurber knew from a young age he wanted a career where he could help people. Combined with his love for science, that made it an easy decision to go into dentistry.
"I always liked working with my hands and wanted to have a career that was involved with the sciences, and that was constantly changing and evolving, and where I was able to help people on a regular basis," he says.
What's also important to Dr. Thurber is community. After all, he was born and bred in South Jersey and attended dental school at the University of Pennsylvania, so it's no surprise he wanted to give back and open his practice in this area. His practice also sponsors local sports teams and he volunteers at various organizations.
"Growing up doing different activities, there were many people around me volunteering their time, helping me grow, as well as my parents. … I enjoyed my time here growing up and wanted to raise my kids here," he says. "There's a great sense of community and I love being able to give back as a volunteer and a business owner."
Thurber Dental Spa
771 Route 70 | Suite D-175 | Marlton
(856) 983-7715 | ThurberDentalSpa.com
Photography by Alison Dunlap
Published (and copyrighted) in Suburban Family Magazine, Volume 10, Issue 8 (October 2019).
For more info on Suburban Family Magazine, click here.
For information about advertising in Suburban Family Magazine, click here.
To find out where to pick up your copy of Suburban Family Magazine, click here.