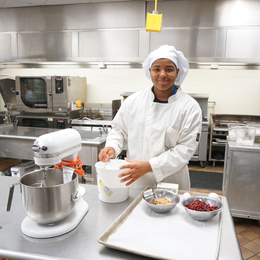 Changing the Narrative
GCIT is breaking the stigma of vocational schools and offering a comprehensive, career-themed educational experience to its students.
THERE IS A WIDE RANGE OF MISCONCEPTIONS THAT SURFACE WHEN DISCUSSING A VOCATIONAL HIGH SCHOOL, and James Dundee has heard them all while acting as principal at the Gloucester County Institute of Technology (GCIT). However, his message to parents and prospective students is to put aside what they think they know about GCIT and discover what so many other families in the area have already realized—that this flourishing institution not only prepares its students for higher education and the workforce, but also offers the complete high school experience.
"Interested families always ask if we have sports, extracurricular activities and school-based events," Dundee says. "We offer daily high school activities—including athletic teams, clubs, dances and a school musical—with a bonus. Students can walk out of here with up to 30 college credits depending on their chosen course of study."
Founded in 1971, GCIT draws from Gloucester County school districts. It has everything that is available at a traditional school, but offers students a head start by preparing them for their future endeavors. GCIT has career concentrations in 18 programs including engineering, medicine, construction, cosmetology and culinary, to name a few.
For example, the partnership between GCIT and Rowan College of South Jersey (RCSJ) is a unique collaboration where GCIT seniors can earn college credits before graduation. The two ways to earn credits are through dual credits built into the high school curriculum or the Collegiate High School, where students can actually take classes on the RCSJ campus, with busing provided.
"That has been a great partnership and the college credits are only going to increase for our students," Dundee says. "The Class of 2019 had 16 students graduate with their associate's degree before their high school diploma." In addition, students can earn valuable certifications in their career areas such as the American Welding Society (AWS) Certified Welders Certification, Medical Assistant Certification (MAC), computer industry standard certifications, and several more.
Cooperative education is also an important facet of the school, and GCIT has many partnerships with local businesses to provide employment opportunities, internships and apprenticeships for its students. At the end of the 2018-19 school year, GCIT students participated in more than 450 job shadowing, cooperative education and school-based enterprise training agreements.
A wide range of clubs and career technical student organizations are also available, such as Family, Career and Community Leaders of America (FCCLA); Future Business Leaders of America (FBLA); International Thespian Society; DECA; and SkillsUSA. GCIT students have established a reputation for thriving at state and national competitions.
"Our club community is very strong and supports service learning. When students get involved they are very dedicated," Dundee says.
Put it all together, and GCIT is sure to shatter the stigmas associated with a vocational school.
"We're such a great melting pot of all the different districts and all the different kids in the county," Dundee says. "Kids have to want to come here, which makes the environment very positive for the students. They are excited to walk through the door every day."
GCIT Fast Facts
• Founded in 1971
• College credits offered to all students
• National site for SkillsUSA
• 15:1 teacher-to-student ratio
• 100% graduation rate in 2019
• Highest SAT scores in Gloucester County in 2017
GCIT'S STATE-OF-THE-ART FACILITIES INCLUDE:
? 5 computer labs
? 9 science labs
? 19 career-technical theme classrooms
? Olympic Aquatics Center
? 2 gymnasiums and fitness center
? Theater
? 3 commercial culinary kitchens
? Bakery kitchen and store (open to public!)
? 2 dance studios
? Automotive shops
? Television studio and media center
Gloucester County Institute of Technology
1360 Tanyard Road, Sewell, NJ
(856) 468-1445 | GCIT.org
Published (and copyrighted) in Suburban Family Magazine, Volume 10, Issue 8 (October 2019).
For more info on Suburban Family Magazine, click here.
For information about advertising in Suburban Family Magazine, click here.
To find out where to pick up your copy of Suburban Family Magazine, click here.