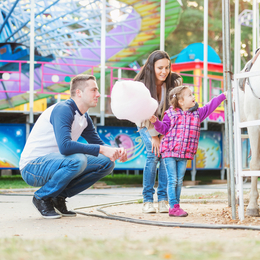 Suburban Family Bulletin & The Locker Room
News from in and around South Jersey.
STARS: Students & Teachers
Star Student
SHARON BENNETT
TABERNACLE
Bennett, a senior at Seneca High School, took part in the BMES Annual Meeting in Philadelphia for her poster project about Schmidtea mediterranea as a way to study neurodevelopmental toxicity in humans. Bennett worked on this project this past summer while studying biomedical engineering at the Research Immersion in Biomedical Science and Engineering at Rowan (RISER) where she says she gained insight into a career and a sense of purpose. —Sydney Kerelo
Star Teachers
TEACHERS WITH PEDALS WASHINGTON TOWNSHIP
Current and former teachers from Washington Township Public Schools, plus family and friends, participated in the Bike MS: City to Shore Ride 2019 last month. Known as "Teachers with Pedals," Team TWP raised over $13,000 for the MS Society, breaking its goal of $11,000. —S.K.
COMMUNITY CONNECTION: News from around South Jersey
In light of ongoing issues and complaints about a house once owned by Muhammad Ali, Cherry Hill Township Council unanimously approved an ordinance that would ban Airbnb and other short-term rentals. However, after public outcry from residents who earn additional income as Airbnb hosts, the council tabled the ordinance, which sought to prohibit the rental of a home or portion of a home for fewer than 30 days. A similar ordinance with key changes could be reintroduced.
Moorestown Town Council has introduced proposals to increase funding for two wastewater management plants by $3 million. The projects were developed to eliminate contaminants found in Moorestown's drinking water six years ago. Initial funding was approved last year, but costs have risen higher than anticipated.
Next Mount Laurel Council Meeting: Nov. 4, 7 p.m. at the Municipal Court Room
Next Medford Township Council Meeting: Nov. 5, 7 p.m. at the Public Safety Building
Next Washington Township Council Meeting: Nov. 13, 7 p.m. at the Municipal Building Council Room
Next Moorestown Township Council Meeting: Nov. 18, 7 p.m at the Council Chambers
School Dates
Nov. 2 SAT testing, multiple locations
Nov. 7-8 NJEA Convention, schools closed
Nov. 21 Cherokee High School Instrumental Winter Concert, 7 p.m.
Nov. 22 Cherry Hill East and West Homecoming Dances, 7 p.m.
Nov. 28-29 Thanksgiving break, schools closed
Bulletin Board: Updates and announcements about your local schools
Burlington County Institute of Technology is one of the first schools in the state to adopt virtual reality and augmented reality services from a company called Envision Innovative Solutions for training in the classroom. The software is being used in a wide range of subjects and giving students experience in such areas as an operating room, processing a crime scene and much more.
The Haddonfield Board of Education has an open seat due to the resignation of Maureen Eyles, who had served since 2013. An alumna of Haddonfield Memorial High School, Eyles was vice president of the board since January and worked closely with the Haddonfield Alumni Society and Haddonfield Educational Trust, among other groups.
Police Blotter
By Liz Hunter
Evesham Police Department responded to reports from customers at Fleming's Steakhouse who say fliers with anti-Semitic statements were left on their vehicles. Investigators collected information about the suspect's appearance and are asking for anyone with information to call the tip line.
A man is in police custody after allegedly robbing a TD Bank in West Deptford last month. He threatened to shoot employees if alarms were activated and after taking an undisclosed sum of money, he led police on a highway pursuit. He was charged with robbery, eluding, theft and terroristic threats.
Two women have been accused of tampering with a bingo card in order to win at a church bingo night in Runnemede. They allegedly claimed to have the winning card until a volunteer noticed a number had been taped on. They were charged with improper behavior.
THE LOCKER ROOM
By Matt Cosentino
Roster Beat: Team, player and coach news
Xavier Coleman scored three touchdowns to lead the Lenape football team to a 41-0 win over Allentown in early October. The school also recognized Cancer Awareness Night during the game, and several Lenape students donated their hair to be used for wigs for cancer patients undergoing chemotherapy.
The Moorestown Friends girls tennis team placed all three of its starting singles players in the semifinals of the South Jersey Interscholastic Championships: senior Renna Mohsen-Breen, sophomore Bella Pescatore and junior Lisa Seiler, a German exchange student. Mohsen-Breen went on to defeat Pescatore in the final for her second straight title in the annual tournament.
Riley Tiernan, a junior forward on the Eastern girls soccer team, broke the program's all-time record for assists when she recorded her 53rd in a win over Cherry Hill West last month. A Rutgers commit, she led the state with 30 assists last year, breaking the single-season school record held by her sister Madison.
Robbie Kaufman scored with two seconds left in the game to lift the Clearview boys soccer team to a thrilling 1-0 win over Williamstown. The victory clinched the Tri-County Conference Royal Division championship for the Pioneers.
STARS: Athletes & Coaches
Star Coach
RYAN NIXON
HADDONFIELD
The Haddonfield boys soccer team's 2-1 win over Rancocas Valley last month was the 100th of Nixon's coaching career at his alma mater. Since taking over for Joe Falana in 2013, Nixon has guided the Bulldawgs to double-digit wins in each of his seasons, including a 21-3-1 record in 2017. He has also been at the helm for three division championships and two trips to the South Jersey Group II final.
Star Athlete
AMANDA ATTANASI
WASHINGTON TOWNSHIP
Attanasi, a junior forward/midfielder on the Washington Township girls soccer team, became the program's all-time leading scorer when she netted her 59th career goal in a 6-2 win over Timber Creek. She also owns the school record for goals in a season, which she set during her freshman year when she found the back of the net 29 times. Attanasi is committed to James Madison University.
Published (and copyrighted) in Suburban Family Magazine, Volume 10, Issue 8 (October 2019).
For more info on Suburban Family Magazine, click here.
For information about advertising in Suburban Family Magazine, click here.
To find out where to pick up your copy of Suburban Family Magazine, click here.