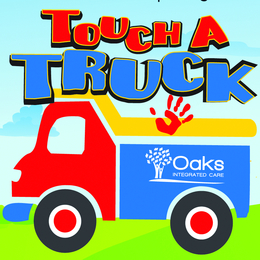 A Helping Hand
Oaks Integrated Care has a variety of youth-focused programs for those with mental illness and developmental disabilities.
It can be overwhelming when your child or family member needs some sort of help, whether they have a mental illness, behavioral issue or disability. Oftentimes caregivers don't know who or where to turn to or what the best approach is in getting that help for their family member.
In relation to mental illness, younger adults or children frequently take a trip to the emergency room when the situation requires a long-term solution rather than short-term one. The emergency room is meant for those who need critical care, possibly hurting themselves or someone else in the immediate timeframe, leading to an extensive wait time to see a crisis screener who might in the end not hospitalize the patient.
"The emergency room gets hairy because you have to be medically cleared which is oftentimes where the long wait times come into play," says Kate Fischer, Oaks' director of Early Intervention Support Services (EISS) Camden and Cumberland County, Coordinated Specialty Care (CSC) and Clinical High Risk Program (CHRP). "If you're there for mental health and you're sitting in a crowded emergency room, it's not helping you."
Alternatively, patients can rely on Oaks Integrated Care for immediate mental health services. The nonprofit was started 50 years ago by a small group of volunteers who wanted to establish a mental health organization that would provide counseling and emergency intervention to individuals. Since then, the facility has grown to offer 230 programs for those with mental illness, developmental disabilities and addiction.
One of those programs is Early Intervention Support Services, which is similar to an urgent care center but for adults 18 and over experiencing psychiatric distress not needing to be hospitalized. The EISS program at Oaks—which has two Early Intervention Support Services in South Jersey—was developed to reduce the volume going to crisis while also providing the immediate care that might not be received from an outpatient provider or state-funded program.
"At EISS, people can walk in during our hours of operation and meet with a therapist that same day," Fischer says. "In other situations, it could take three months to see a therapist and then if you're trying to see a psychiatrist for medication, that could be an additional three months. … Through EISS, not only is a person beginning therapeutic services but he or she also may begin psychiatric medications on day one."
Because EISS takes an urgent care approach to treatment, case managers begin discharge planning on the first day so there aren't any gaps in the service. Based on the person, treatments range from individual counseling, support groups, psychiatric consultation, medication treatment and a referral to follow-up services. Fischer says that because the services only run about two to four weeks on average, most times the patient continues services through an outpatient provider or partial care program after EISS.
Aside from EISS, Oaks Integrated Care offers mental health assessment services for adults and younger individuals who have a psychotic disorder. Coordinated Specialty Care early intervention services are for those 15 through 35 who were diagnosed or showing signs of a disorder (such as delusions or hallucinations) no more than two years prior. This program allows specialists to work within the patient's home or meet somewhere in the community for treatment.
Another program, Clinical High Risk, is the precursor to Coordinated Specialty Care and has a younger targeted population (ages 12-25) because that's when psychotic disorders are typically exhibited and diagnosed in patients. To be eligible for this service, individuals need to show signs of possible psychosis even if they don't meet the technical criteria for the disorder yet.
"We want to start services as early as possible to really help a person's outcome and improve their daily life functioning at an early age," Fischer explains. "Research shows if you can intervene earlier, the outcome is way better in life than if treatment starts after the diagnosis has already been there."
Children's Mobile Response (CMR) is another service that helps children and families who are in crisis. It could be for a child who is having behavioral issues or mental health concerns. Once the call is made, a worker is sent out to the home within an hour. A crisis plan is put into place in the hopes the issue doesn't continue and to avoid further issues, such as a trip to the emergency room for a crisis screening or removal from their home.
"CMR's goal is to empower the family as a whole, for the family to make decisions about how the crisis is being handled and what kind of services they are interested in receiving or not," says Lisa Nocera, vice president of Children's Residential Services and Children's Mobile Response. "All of it, starting from the door, is about the family and their immediate needs and how to stabilize the youth within the family, so even the crisis plan is called a family crisis plan because it really involves everyone."
Oaks Integrated Care takes into consideration the value of family in the treatment process in all of the services they provide. Bridging Family Support provides in-home and community support for children diagnosed with autism or people with developmental disabilities, and focuses on engaging all family members in the treatment process.
"It's really a wonderful service because we're helping folks understand the behaviors of the youth or the adult that has a developmental disability and being able to help [the family] work with that person so that they are thriving in the community," Nocera says.
"We hope families really feel connected, not alone anymore, and know that their loved one is getting the care that they need. At the same time, we hope that the family is feeling supported and communicated with too," Fischer says.
Oaks Integrated Care
770 Woodlane Road, Mount Holly
(609) 267-5928
Access Center: 1 (800) 963-3377
OaksIntCare.org
Photography by Alison Dunlap
Published (and copyrighted) in Suburban Family Magazine, Volume 10, Issue 6 (August 2019).
For more info on Suburban Family Magazine, click here.
For information about advertising in Suburban Family Magazine, click here.
To find out where to pick up your copy of Suburban Family Magazine, click here.