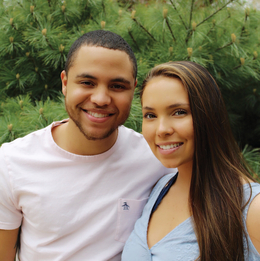 Home Away From Home
Reign Athletics is the newest All-Star cheer gym that prides itself on offering competitive programs, as well as a friendly atmosphere for all athletes.
ONE COULD SAY CHEERLEADING IS IN KAYLA PIERCE'S BLOOD. Her mom, Christina—a former cheerleader—owned a cheer gym in Pennsylvania for a number of years where Pierce practically grew up and fell in love with the sport at a young age. She started coaching at the age of 12 and down the road All-Star cheerleader Tyler Washington joined the staff. They connected right away and decided they should combine their cheerleading talents and coaching skills in the next step of their careers.
"We had an instant connection," Pierce recalls. "We always agree on things and have the same mind coaching wise. So it made sense to open a gym together."
Pierce and Washington—who each have nearly 15 years' experience in All-Star cheerleading—opened Reign Athletics in Moorestown this past May. This All-Star cheer gym already has eight teams and 70 athletes starting at age 3, with two of those teams being Worlds teams that compete at the prestigious World Cheerleading Championship in Florida.
"It's the biggest event in the cheer industry," Pierce says. "It's extremely hard to have one Worlds team because the athletes are that talented, so we're really lucky to have two Worlds teams."
Part of the reason for Reign Athletics' early success is the number of cheerleaders who followed Pierce and Washington from Pierce's mom's gym which closed, and wanted to stay with the coaching duo.
"We are really thankful because there's a lot of good competitive teams in New Jersey within 10 minutes of us and many of [the cheerleaders] decided to come join our gym," Pierce says.
Reign Athletics has a wide variety of classes to choose from and offers many different levels, ranging from beginner to elite. The elite program is a rigorous schedule with practices twice a week for two hours each and tumbling classes one hour each week, and traveling up to nine competitions a year across the country from Maryland to Tennessee and Florida.
"The schedule is demanding, but it's well worth it in the end," Pierce says.
Similar to the elite level is the prep program, which Pierce says is also competitive in that they go to competitions, but it's a smaller commitment—there are less practices and shorter routines.
The tiny novice program is an entry-level program for kids ages 3 to 6. "They compete only in New Jersey from December to March about three to four times a year, and their routine is a bit simpler than our prep team," Pierce says. "It's a little more advanced than our FUNdamentals program, where younger athletes are introduced to the big stage."
The FUNdamentals program introduces anyone to All-Star cheer. "Anyone any age can do it, male or female, and we teach them the basics of All-Star cheer," Pierce says. "It's once a week for three months, low commitment, less expensive and they get to perform in front of friends and family after each session. … The price is very reasonable, especially compared to other AllStar programs in the area. It's probably the least expensive All-Star program you can find. Athletes will learn the basics of tumbling, jumping, stunting and performance, as well as a short routine to perform for family and friends."
Reign Athletics makes sure everyone who wants to cheer has the chance to with their special needs/cheer abilities program that runs September through March. In this program, athletes learn a short routine they perform at local competitions, and those athletes cheer for free.
What separates Reign Athletics from the many cheer gyms in the area is how approachable the staff is. Whether it's needing extra help with a certain stunt or tumbling routine or needing someone to talk to about something outside of cheerleading, Pierce and Washington offer a comforting and open environment.
"At Reign, we help athletes reach their goals all while making sure they are in a safe, comfortable environment. We are very open and welcoming," Pierce says. "Our No. 1 goal is to make sure athletes feel welcome, whether they come here from a different gym or have never cheered before. Reign Athletics strives to make every athlete who walks in the gym feel welcome, appreciated, loved and at their home away from home."
Reign Athletics | 225 Executive Drive, Suite 7 | Moorestown
(856) 524-9655 | ReignAthleticsCheer.com
Published (and copyrighted) in Suburban Family Magazine, Volume 10, Issue 6 (August 2019).
For more info on Suburban Family Magazine, click here.
For information about advertising in Suburban Family Magazine, click here.
To find out where to pick up your copy of Suburban Family Magazine, click here.